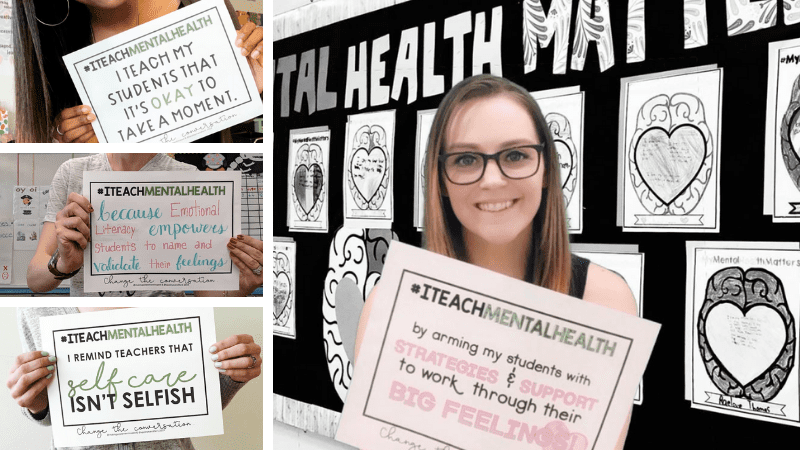 Over the past week, there's been an outpouring of teachers sharing why they teach mental health, and we couldn't be more supportive of this latest social media movement. Using the hashtag #iteachmentalhealth, educators are helping to start an important conversation about mental health issues and the stigma around mental illness.
Instagram users @makingastatementinsped and @appleyeverafter1 launched the movement on May 3, offering a free printable for educators to customize and share their own reasons for teaching mental health.
View this post on Instagram

#iteachmentalhealth because we can only begin to break down the stigma of mental illness when we are aware of the feelings inside us and understand how to handle them. Personal post: Depression and anxiety is something I've struggled with for years. When I had my son, I was beaten down so hard by post-partum depression. My brain kept telling me that I wasn't good enough for my beautiful baby boy. I would think, 'I can't take care of him.' 'I can't live up to the expectations put on me by the world.' 'He deserves a better mom than me.' 'This is too hard.' Things slowly (like 2 years) started to turn around again. Then when I was in university, I lost a baby. I didn't even see an ultrasound, but I felt in my heart that she was a little girl. I gave her a name. I had an idea in my head of how wonderful our lives would be. I imagined what she looked like and how she would be just as funny and adorable as I am. And then my Whole. World. Came. Crashing. Down. I lost my baby. I lost my spirit. I lost my path. I could not function. I was a zombie. I was ready to be done with life. When I looked at my son I knew that I couldn't ever leave him but that didn't stop the nagging thoughts from continuing to beat down my broken spirit. Those feelings have faded over the years, but the pain behind it all still lingers in my shadow. I've learned to cope with my demons and to tuck that hurt deep down somewhere inside me but even as I sit here and type this out, I cry. When it happens to you, it feels like you're being swallowed by black hole and you just don't know how to get out. I feel the pain that was there before. It's a smaller scale, and I do know how to help myself cope now, but it still hurts to dig down deep and open up about something so personal and difficult. We need to ARM our children with ways to OVERCOME the struggle of mental illness and BREAK DOWN the STIGMA THAT casts a dark shadow over mental health so our children can learn how to cope. #iteachmentalhealth #mentalhealthmatters #iteachtoo #makeadifference Click on the link in my profile. https://docs.google.com/presentation/d/1aA4TrCVJ5lqjssnGbOn4eOIaf11AIbmZonR6u6-qVjE/edit?usp=sharing

A post shared by Apple-y Ever After (@appleyeverafter1) on
"Depression and anxiety is something I've struggled with for years," wrote @appleyeverafter1 in her kickoff post. "We need to arm our children with ways to overcome the struggle of mental illness."
Yes! With the rise of anxiety, teen suicide, and mental health struggles in our classrooms, we agree this conversation needs to happen early and often. We encourage physical health through P.E., health class, school lunches, and brain breaks—and we need to prioritize mental health in the same way.
Other teachers were quick to jump on board, sharing some of the crucial reasons they support mental health education.
Because mental health issues start early…
And we need to normalize it.
Because kids need to know it's okay to take a break…
And that there should be no shame around mental health struggles.
Because self-care isn't selfish…
For students OR for teachers.
Because we all need a mindfulness toolkit…
And developing one is just as important as learning how to read.
Because we need to be open about mental health challenges…
So that kids know they are not alone.
Because naming feelings is powerful…
And helps kids to process them.
We'd love to hear—how do you approach mental health in the classroom? Have you joined the #iteachmentalhealth campaign? Come and share in our WeAreTeachers HELPLINE group on Facebook.
Plus, why we need to do more for teachers who are exhausted and burned out.
Share this post if you enjoyed! 🙂