[ad_1]

Press Release Summary: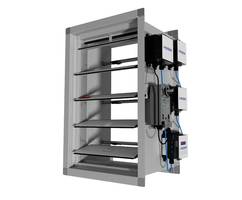 The new AIRFLOW-IQ from Ruskin is calibrated to provide an effective standpoint airflow control from 0 to 5,000 FPM. It features thermal dispersion flow, 24-volt modulating actuators, and a low-leakl CD50 aluminum damper. The damper meets leakage requirements for the International Energy Conservation Code.
---
Original Press Release:
Ruskin® AIRFLOW-IQ brings together electronic air measuring station with BACnet actuator and Class 1A damper
Grandview, MO – (Aug. 15, 2018) – Ruskin® introduces the AIRFLOW-IQ, which combines the features of the Ruskin TDP05K air flow and temperature measuring probes with the Ruskin CD50 control damper and the Ruskin VAFB24-BAC RAMS Air Measurement BACnet actuator. The unit is factory-assembled and calibrated to provide effective setpoint airflow control from 0 to 5,000 FPM (0 to 25 m/s) using analog or BACnet interface. The ultra low-leak, class 1A-rated CD50 damper meets leakage requirements of the International Energy Conservation Code.
Features of the AIRFLOW-IQ include:
Thermal dispersion flow and temperature sensors
Factory-calibrated controller in nonvolatile EPROM
BACnet standard TDP05K and IP or MS/TP from actuator controller
Factory-mounted 24-volt modulating actuator(s)
Low-leak CD50 aluminum damper
Factory-mounted and wired
Single point 24-volt power connection
Temperature and altitude compensated
The AIRFLOW-IQ helps satisfy the requirements for minimum outside air as required by ASHRAE 62.1, 90.1 and 189.1, California Title 24, International Mechanical Code (IMC) and International Energy Conservation Code (IECC).
Additionally, the AIRFLOW-IQ can be customized to fit a variety of applications, with options including:
Custom density probe/sensor array
NEMA 4 control enclosure
Opposed damper blade action
Insulated blade damper
Silicone damper blade seals
Stainless steel linkage
Stainless steel jackshaft
120-volt primary and 24-volt secondary transformer shipped loose
To learn more about the Ruskin AIRFLOW-IQ, visit www.ruskin.com/model/airflow-iq. For more information about Ruskin, visit www.ruskin.com.
Download Spec Sheet
Related
[ad_2]

Source link