[ad_1]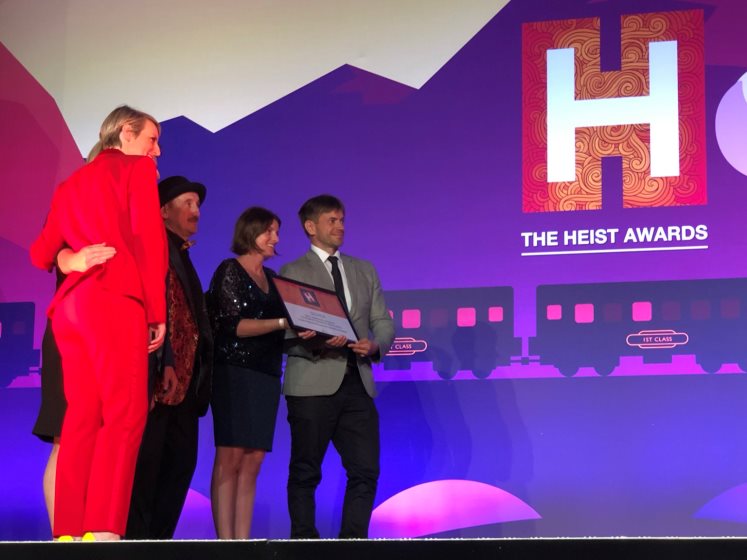 The LSE IQ podcast team celebrated receiving two awards at the 2019 HEIST Awards for marketing innovation in further and higher education.
LSE IQ, which promotes LSE and other social science research, was recognised in two categories at the awards in Manchester.
The podcast achieved the silver award in the category, 'Best marketing initiative to promote research excellence'. The judges praised the podcast for, "the obvious passion, creativity and commitment of the team behind it. A refreshing way to showcase research excellence with phenomenal results."
It was also highly commended in the category, 'Best use of content'. The judges said that it was, "a creative, refreshing and successful take on promoting topical academic research and making it accessible" and that "this is an achievement all marketing teams can learn from".
The monthly podcast poses one question per episode which LSE academics and other experts help answer. Recent questions include, 'How does the modern world affect relationships?', 'How can we age better?' and 'Is gender equality possible?'
Sue Windebank, one of the co-producers of the podcast, said: "These awards reflect the hard work and commitment of the team over more than two years and 25 episodes.
"We set out to showcase the relevance of the brilliant research that happens at LSE to many timely and interesting questions. And so often we find that the research reveals how complex and nuanced issues are, and this helps make the podcast an antidote to the emotion and tribalism that drives so many current debates."
The LSE IQ team is Nathalie Abbott; Joanna Bale; Ollie Johnson; James Rattee; Tom Williams; Sue Windebank; and Jess Winterstein. Shey Forbes Taylor has also provided production support. Design support is provided by Jonathan Ing and social media support and advice is provided by Dave Smith and the LSE social media team.
The podcast also won the Guardian University Award in 2018 for 'Best marketing and comms campaign'.
Want to hear what all the fuss is about? You can listen at www.lse.ac.uk/iq or search for LSE IQ on your favourite podcast app.
[ad_2]

Source link