Want to amp up the participation and fun in your school recycling program? Try football recycling! 
We love coming up with creative ways to recycle, like a recycling obstacle course or creative trick shots. And now we've done it again with football recycling. First, we turned a plain recycling bin into a goal post, using tape and plastic bottles. This encourages students to toss or kick their bottle into the bin. Just don't forget to teach students to pick it up if they miss! To encourage recycling, keep a running tally of recyclables. When you hit a certain number or fill the bin, have a group celebration! 
In case you want to make this football goal post for yourself, check out this video or find the instructions below. We even tell you how to turn it into a game! 
If you're also interested in making the recycling hoops, scroll all the way down for instructions. We used Hula-Hoops and broom handles for that DIY project, and it's so easy to make.
What You Need 
Recycling bin 
Empty plastic bottles 
Duct tape
Step 1: Connect the bottles.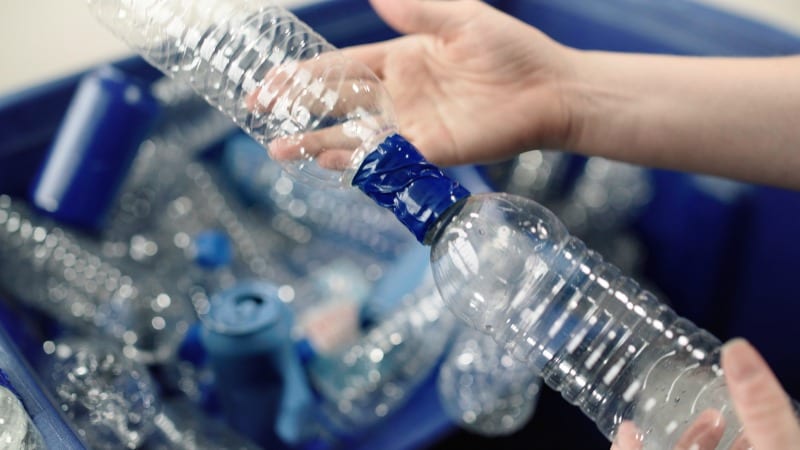 It helps to use bottles that are all the same size and shape, so they'll help balance one another. You'll want to connect tops to tops and bottoms to bottoms to create each post. Use duct tape to secure each area. The length of each post will vary, depending on the size of your recycling bin. Measure the height and width of your bin to determine how long your bottom and horizontal posts should be. 
Step 2: Secure your posts onto your recycling bin.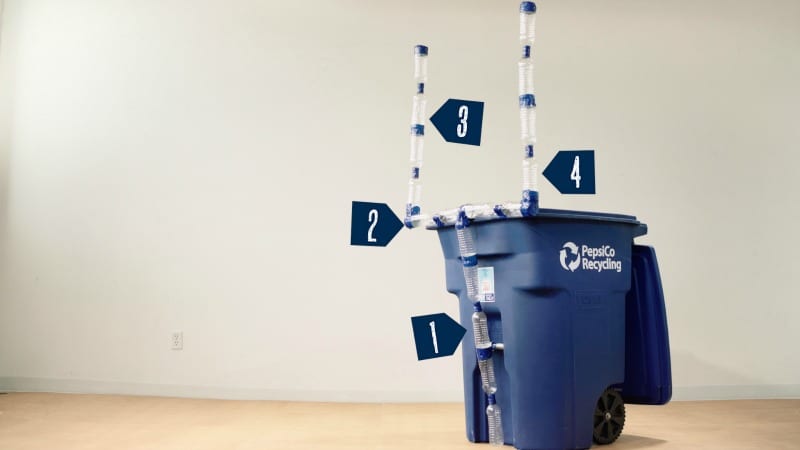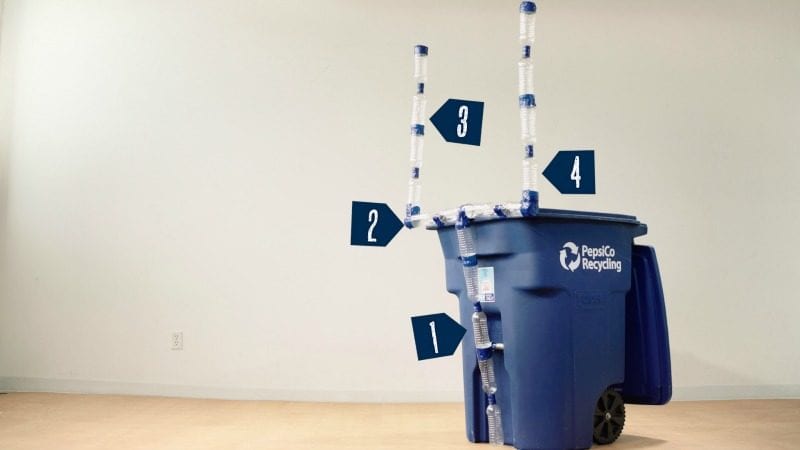 After you have created each pole, it's time to tape them to your bin. We started with the bottom one, making sure it was secured to the middle of the bin. Then we added the second one, which goes across the lid of the bin. Finally, posts three and four are added at the corners. Use extra tape to secure them. If the posts seem too tall or like they might topple over, make them shorter by removing a bottle or two. 
Step 3: Paint your goal post.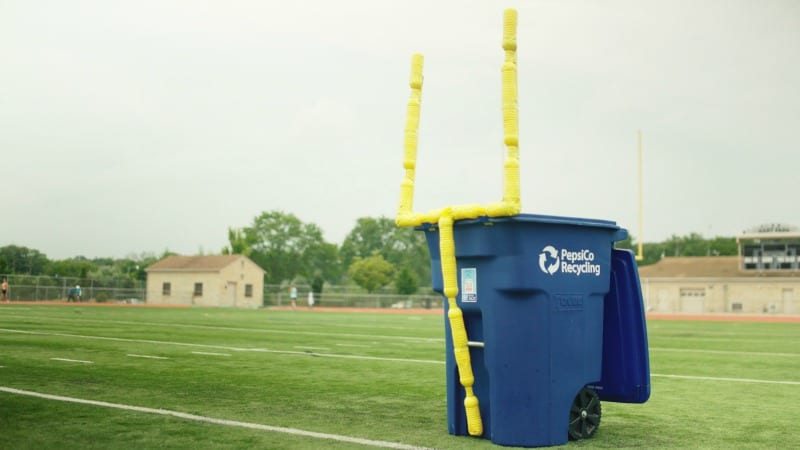 You can leave your goal post clear, but we recommend painting it yellow to really make it pop. Then move the bin to its final destination. Is it outside on a football field? Or is it in a classroom or cafeteria? Get it set up so it's ready to go and double-check to make sure it's secure. If it seems wobbly, you might want to add more tape or glue to help hold it in place. 
Step 4: Toss or kick recyclables into the bin.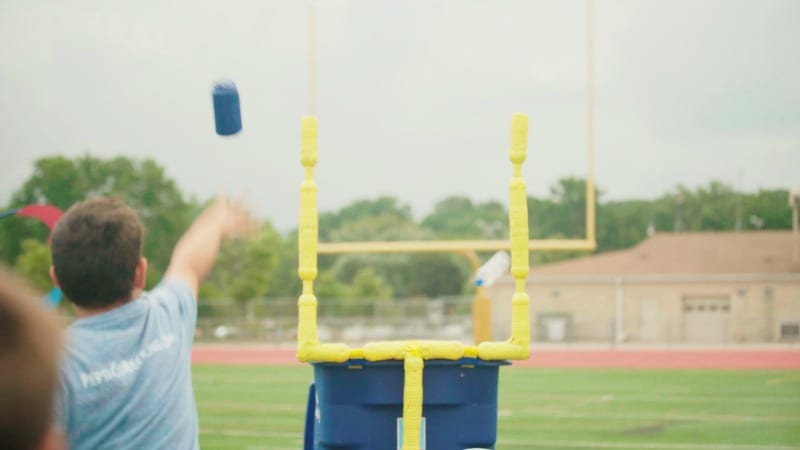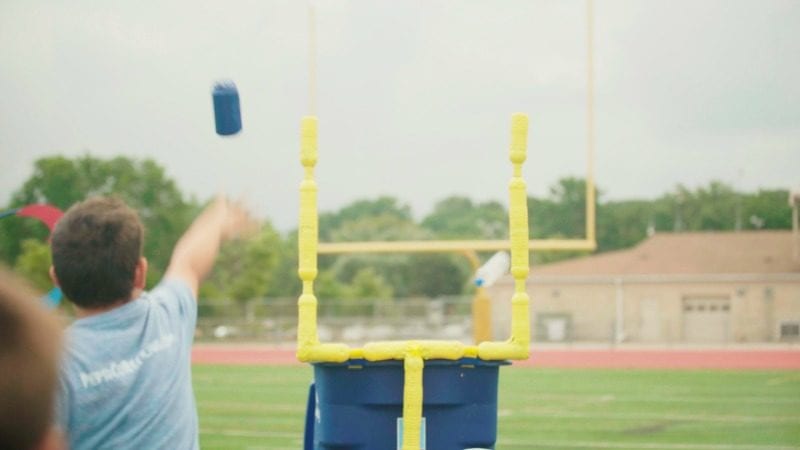 Encourage this by putting up a fun sign or turning it into a relay game. Don't forget to remind students to make sure ALL recyclables get into the bin, even when they miss. Try offering an incentive. This way, they'll have a reason to fill it up, whether they're tossing, kicking, or just walking by. 
Step 5: Turn it into a game.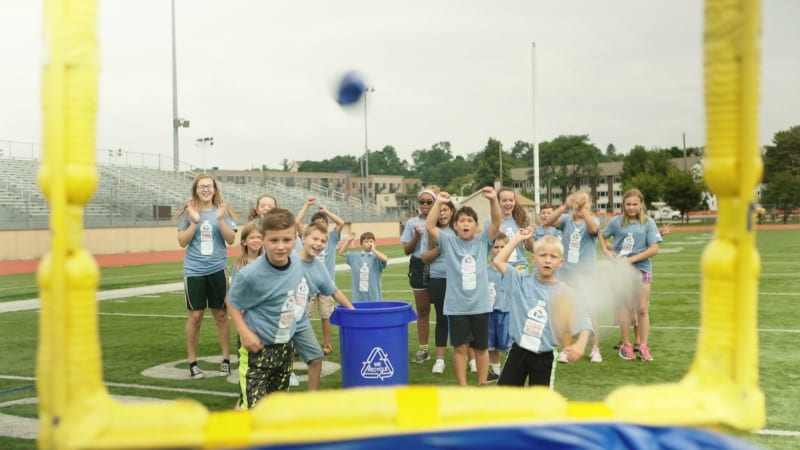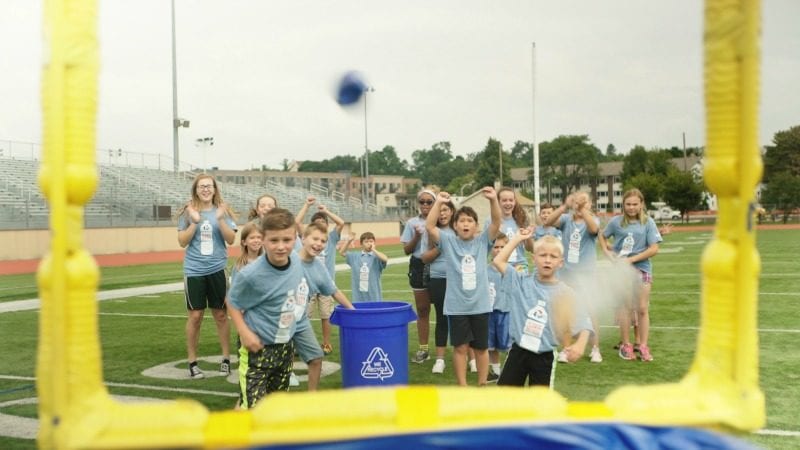 The goal post doesn't have to be used in a game, but it can be! Here's how it works: Set a timer for two minutes. When you say go, students can pull an empty bottle or can out of one bin to toss or kick into your goal post bin. A made toss counts for one point. A made kick counts for three points. If they miss, they go and pick up the bottle and put it in the bin. (Yes, the point still counts.) Once they've completed their turn, they run back to their team's line to tag the next person. After the timer runs out, you count up all the points. The team with the most points wins!
Make hoops to encourage recycling. 
Looking for the instructions to make the Hula-Hoop toss? Take a look at how we put them together. 
Get more recycling content for your school at PepsiCo's Recycle Rally Resource Library.