[ad_1]

LONDON: An 11-year-old Indian-origin girl in London whose parents hail from Mumbai has achieved the top possible score in a Mensa IQ test. Jiya Vaducha sat the Mensa supervised test alongside adults at Birbeck, University of London, on 16 May and got 162, the top mark. She now can join Mensa, the global high IQ society.
The feat has given a great boost to Jiya, who recently had her grammar school place bizarrely withdrawn.
Jiya's parents say it happened due to an administrative error on the school side whereby they "made a mistake in calculating ranks," but it knocked Jiya's confidence and they are appealing the decision.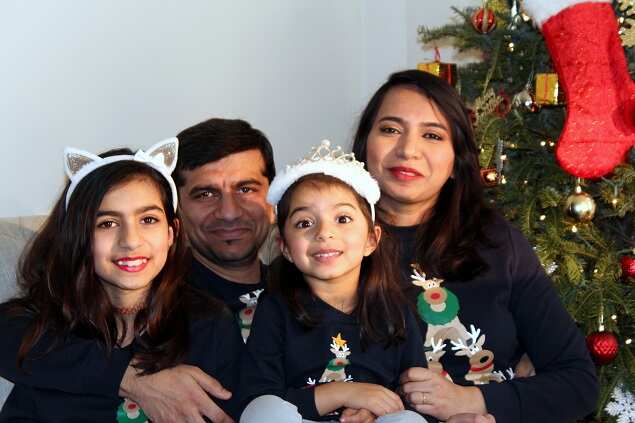 Grammar schools are selective state-funded British secondary schools for which pupils have to pass an academic exam. Jiya is moving up to secondary school in September.
Jiya said everyone stared at her when she sat the Mensa exam as she was the youngest in the room. "It was hard but not too hard. Some questions were difficult, others were not," she said. "I was really surprised with my results."
The Mensa test is split into two papers which test different types of IQ. Cattell III B includes verbal reasoning, while Culture Fair is diagrams and images. A score within the top two per cent on either is required for Mensa membership.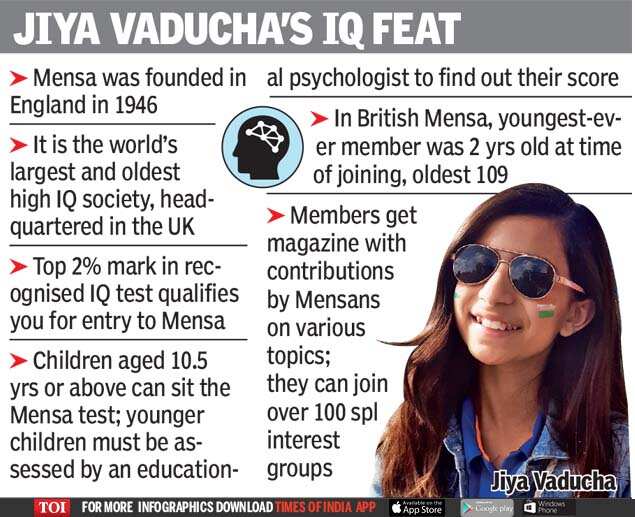 Jiya got a score of 162 in the Cattell III B Scale, putting her in the top one per cent in Britain, and in the Culture Fair Scale she came in the top three per cent with a score of 131.
"162 on the Cattell III B test is the highest score a child can achieve on this test — it is 161 for adults. Jiya's score puts her in the top one per cent of the population," a spokeswoman for British Mensa said. "Our current youngest member is three. We currently have 105 11-year-olds and 1,580 members aged 16 or under."
"I am looking forward to joining Mensa and I don't mind meeting older people. I will get a magazine and there are clubs I can join," said Jiya, who is an avid reader and loves lego and big jigsaw puzzles, as well as decorating her room with art, Marvel movies and Bollywood flicks. Right now she is transfixed by the cricket World Cup. "I am supporting India," she said.
Jiya, a Gujarati, was born in the UK and lives in Pinner in the London borough of Harrow, which has the highest density of Gujaratis in Britain.
Her parents, Bijal, an accountant, and Jignesh, a software entrepreneur, have not got any relatives in Mensa. "I would give the credit to her mother," said Jignesh, who was born and bred in Navi Mumbai, and came to the UK as a student in 2002. "Bijal is very academic. I guess I can take the credit for the logic," he added. Bijal, who is from Kandivli, joined him in the UK in 2005.
"We have always wanted Jiya to do the test, but we had to wait until she was 11 as before that it can only be done through an educational psychologist," Jignesh said. "We thought she would do well but we never expected her to get the top result. Throughout her schooling she has always been top table for maths and science. Sometimes she sits with me and helps me design mobile apps and the way she approaches a problem shows very good logic. She loves coding. Ever since she was young, she was nosey and inquisitive. We hope she will do something meaningful with her life."
There are 22,700 Mensa members in the UK and 1,500 in India. There are test centres across India and anyone can sit the exam.
John Stevenage, chief executive of British Mensa, said: "Well done to Jiya for achieving such a high score. I hope she takes up her offer of Mensa membership."
[ad_2]

Source link