[ad_1]

We asked teachers to submit their best back-to-school bulletin board ideas on Facebook, and we received hundreds of great submissions! Check out some of the best below, along with our other favorites from around the web, and make this your best back-to-school time ever!
1. Coming Soon
"This is my clipboard wall. It's so easy to quickly display student work." –Samantha M.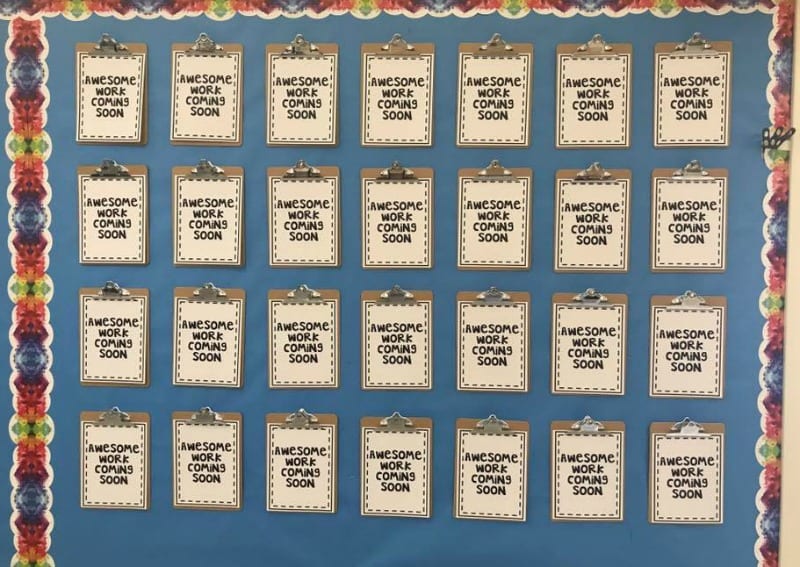 2. Wanted Posters
Saddle up for a year of rootin'-tootin' fun with this clever idea from Bunting, Books, & Bright Ideas.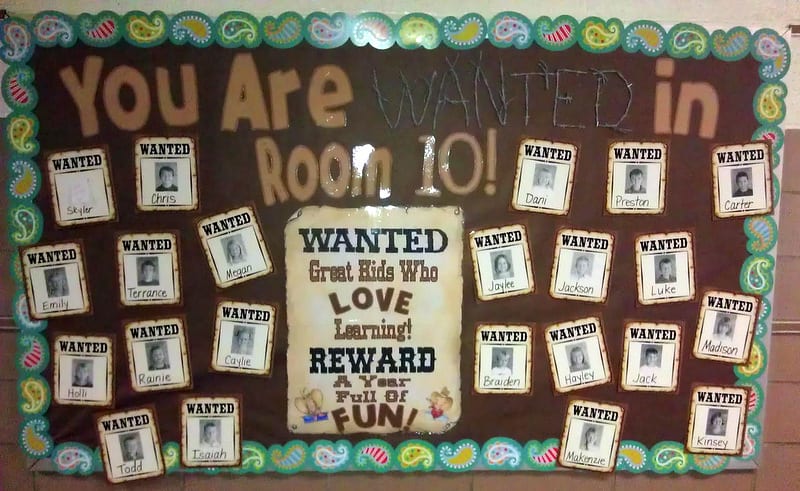 3. Classroom Goals
All the kids get involved in this one, writing on their individual cactus. Good idea, Amy M.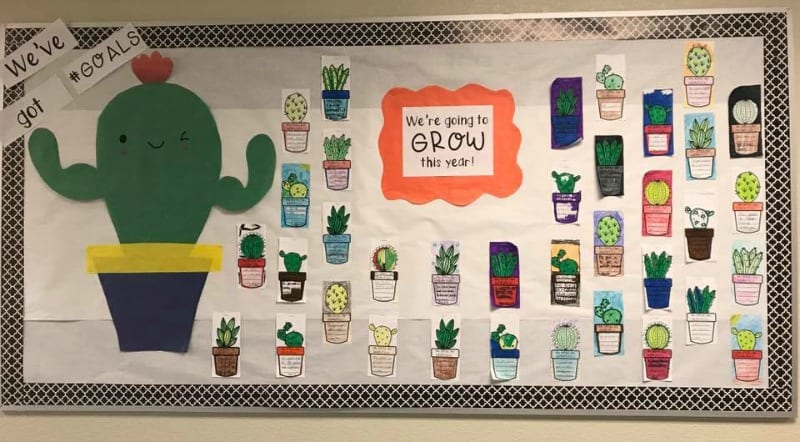 4. Away We Go
Love this adorable design from Kings River-Hardwick Preschool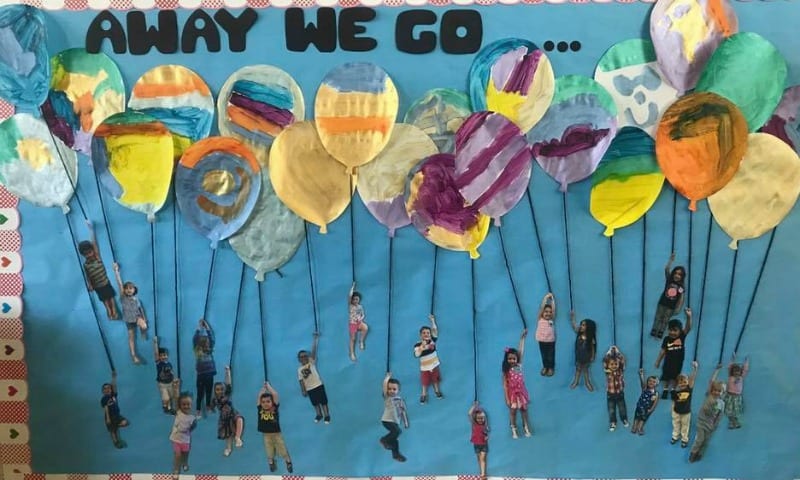 5. Reading is a Superpower
Reading and superheroes. Yes please. Thanks, Deirdre T.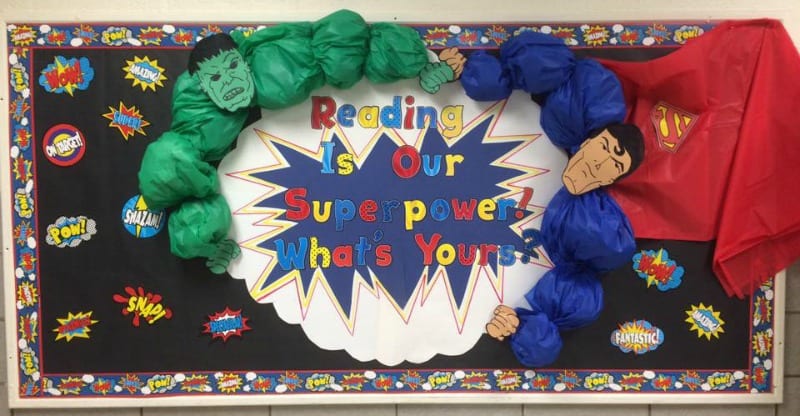 6. Wonder Wall
Speaking of superheroes, how about this "Wonder"-ful board from Jessica W. on Pinterest?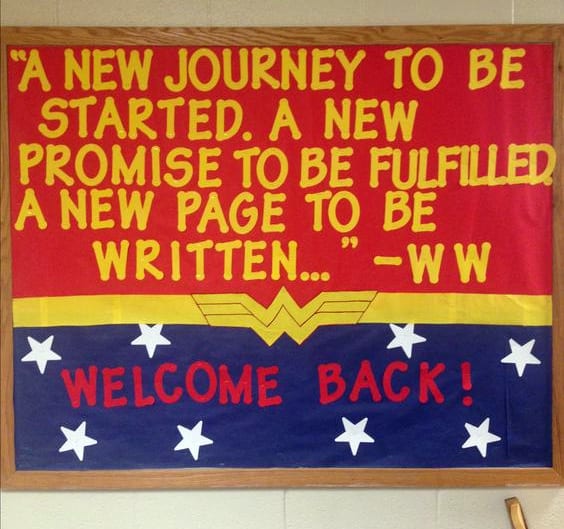 7. Chicka Chicka Awesome Room
A nod to a great book. Great idea, Holle B.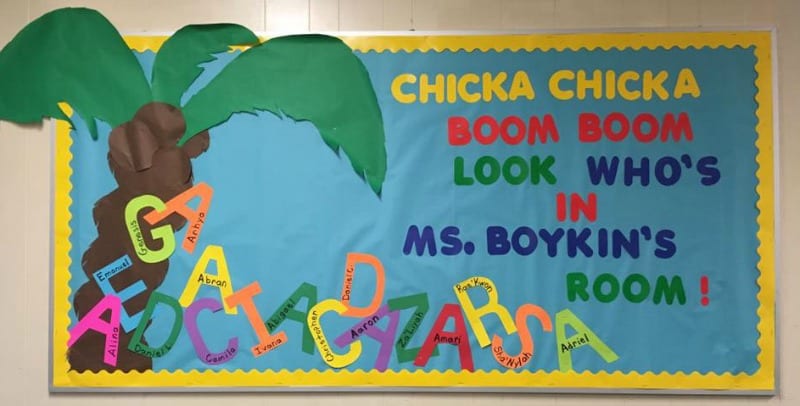 8. The Power of Yet
This bulletin board shows student's it's okay to be a work-in-progress. Thanks, Teresa J.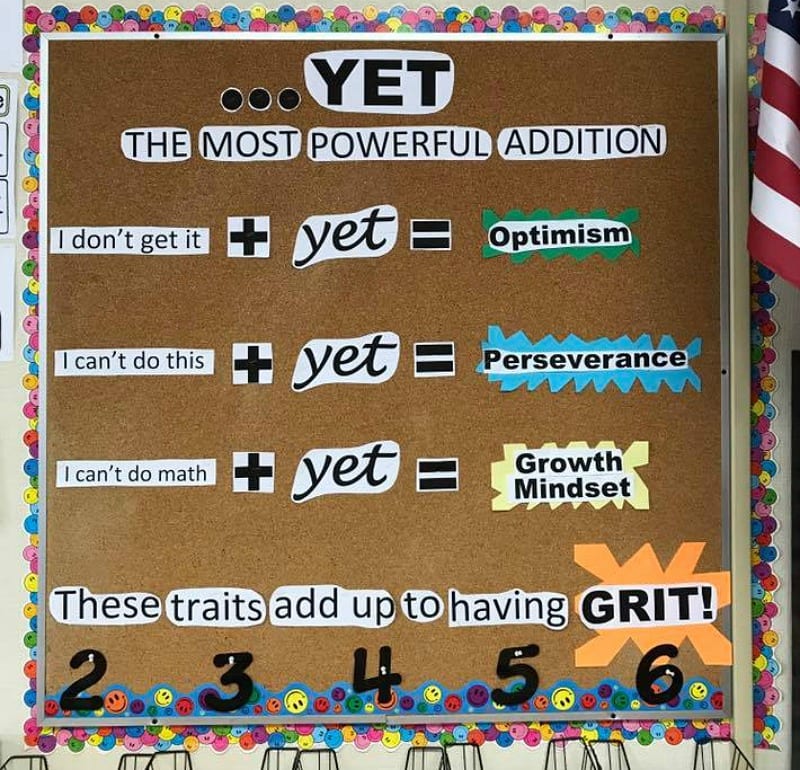 9. Seek and Find 
Have students (and teachers) draw themselves, then each week post a new person to find! A really cool idea from Art at Three Creeks.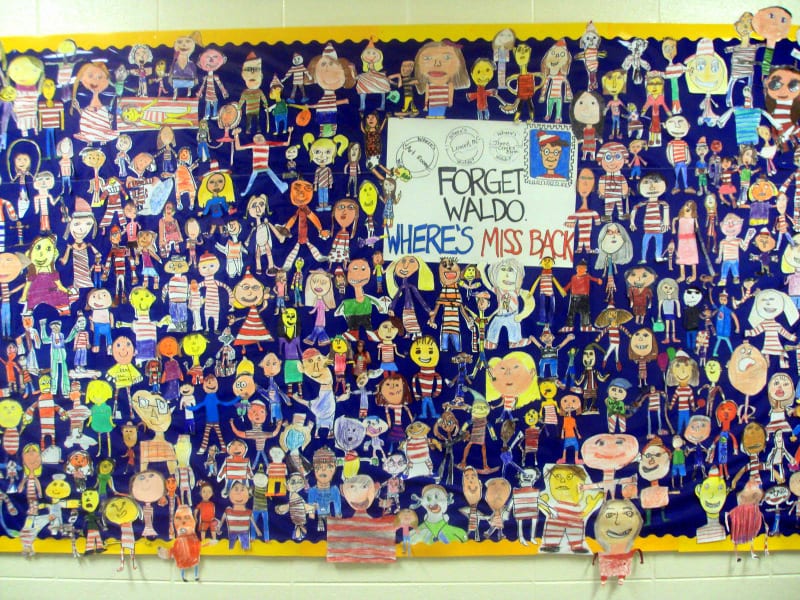 10. Summer Travels
"Teachers and students can fill out a paper telling what travels they did this summer. Then I add it to the board and put a piece of yard from their paper to where they visited." –Amanda Y.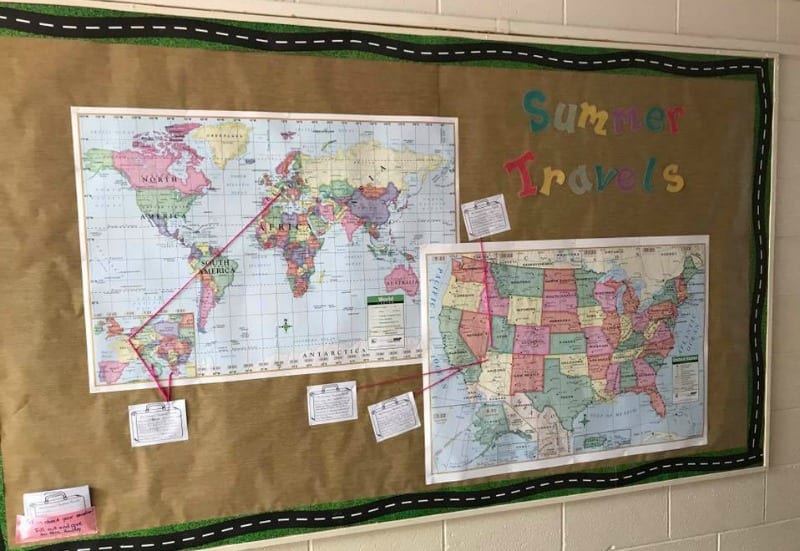 11. Adventure Begins Here
Nicholas S. is ready for an adventure with his design.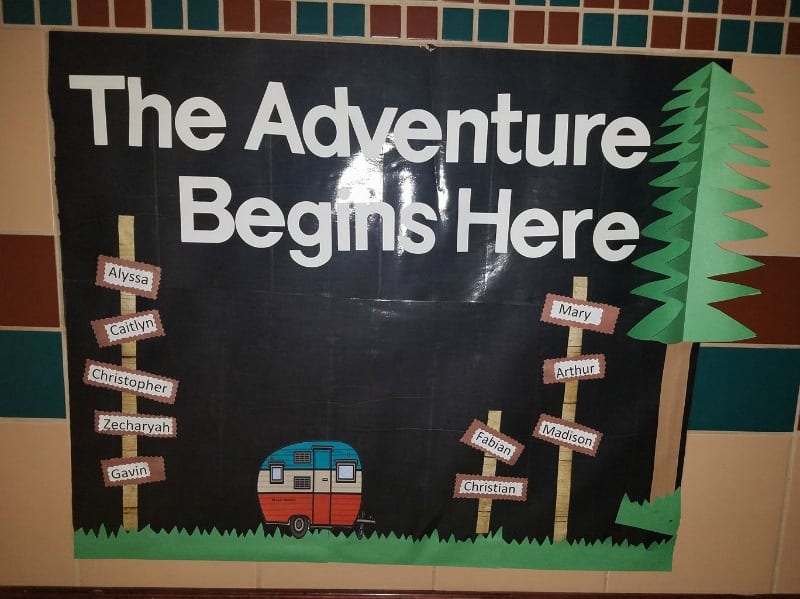 12. Blooming Board
Colorful 3-D flowers and a welcoming message in a lovely font make this board a pleasure to look at. Learn how to make the flowers at Art, Craft, & Bulletin Board Ideas by Manisha.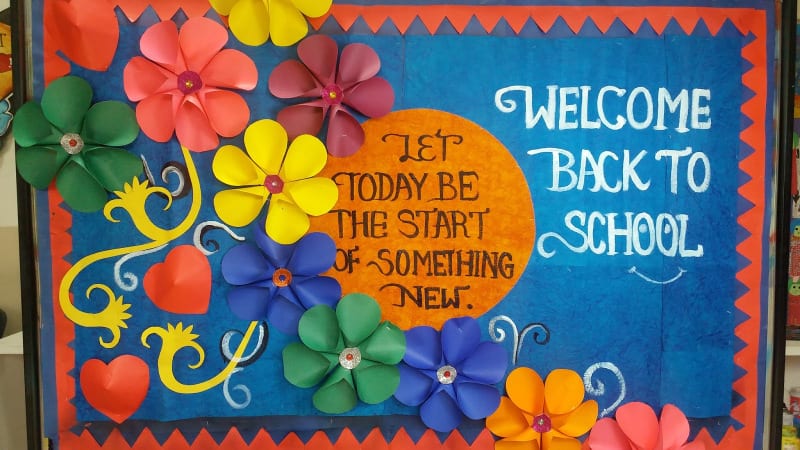 13. Borrowing from Scrabble
"I know I broke a few Scrabble rules, but oh well."–Anastasia E.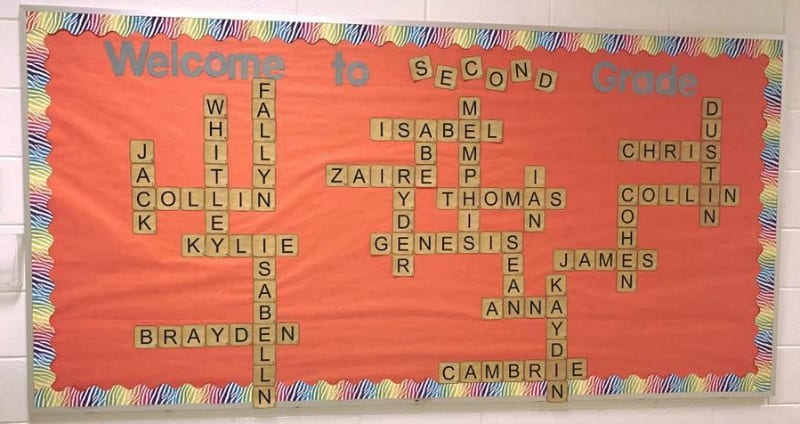 14. Fire it Up
"This really has the students fired up for 5th grade." –Jessicca C.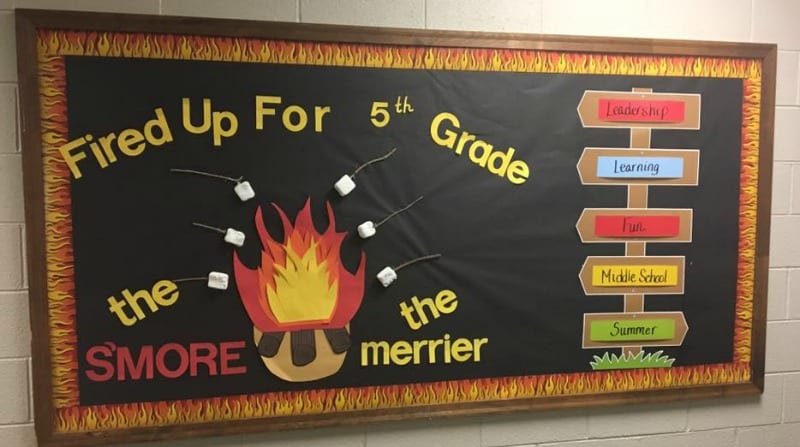 15. Hunger Boards
This board was originally created by Celia F. for her dorm, but wouldn't it be great in an English classroom?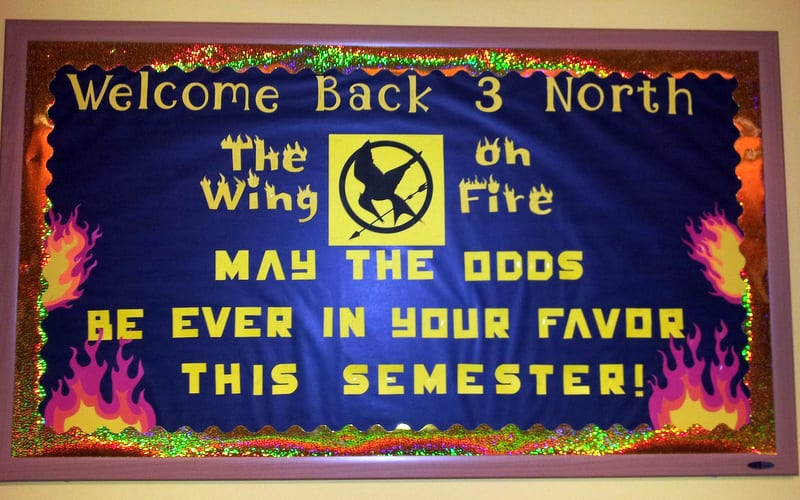 16. Marvelous and Magnifico
"This was my board from last year showing all my students. M&M stands for marvelous and magnifico here." –Ana M.
17. Ready for a Selfie
"This selfie frame is ready to document the important events of this year." –Stella F.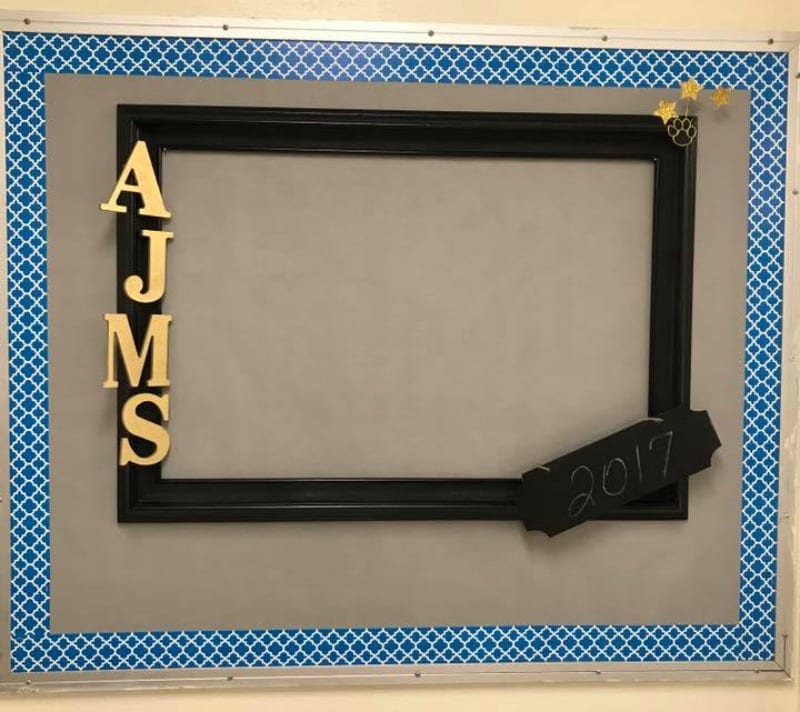 18. Practically Perfect
That Mary Poppins silhouette makes this board as sweet as a spoonful of sugar. Learn how to make one at Creativity to the Core.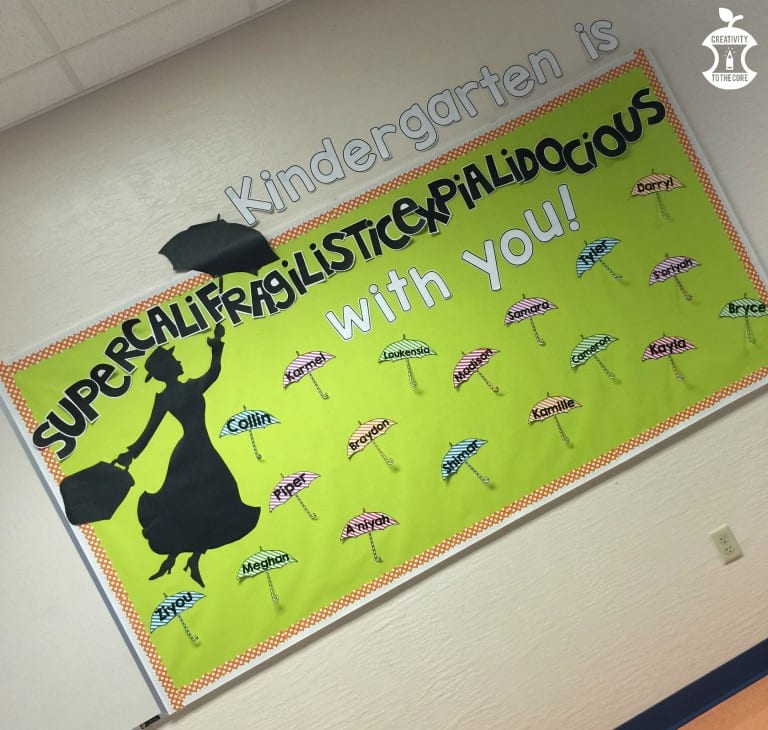 19. Throwing Kindness
"Students helped us create the confetti, and we've had so many comments about the good message." –Jeannie W.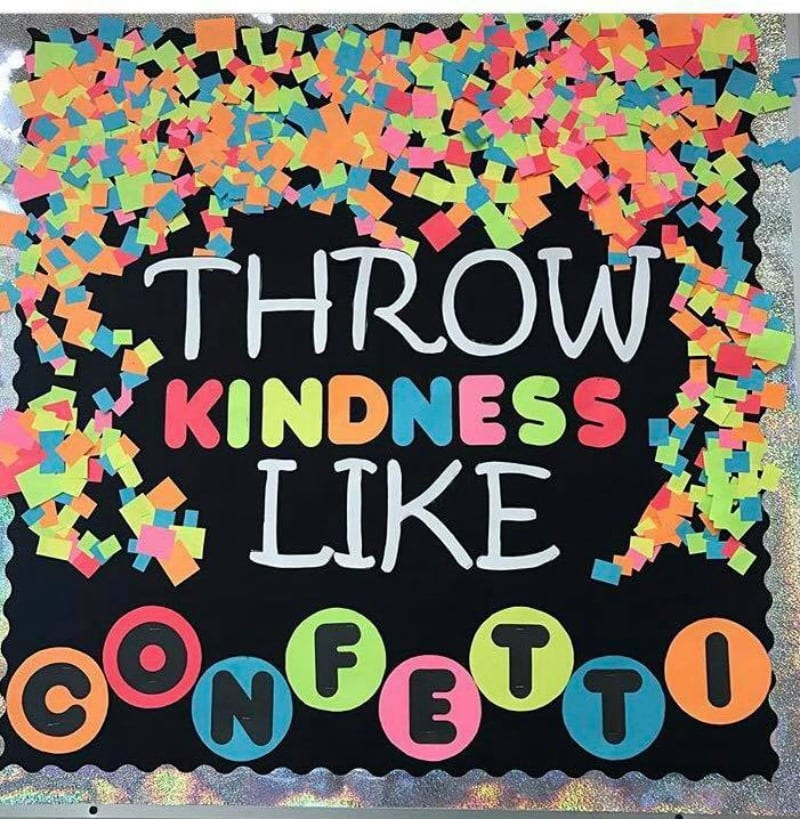 20. Be a Bookworm
"Students fill out a paper telling about their favorite book they read this summer and give it a star rating. I'll be adding to the board as suggestions come in." –Amanda Y.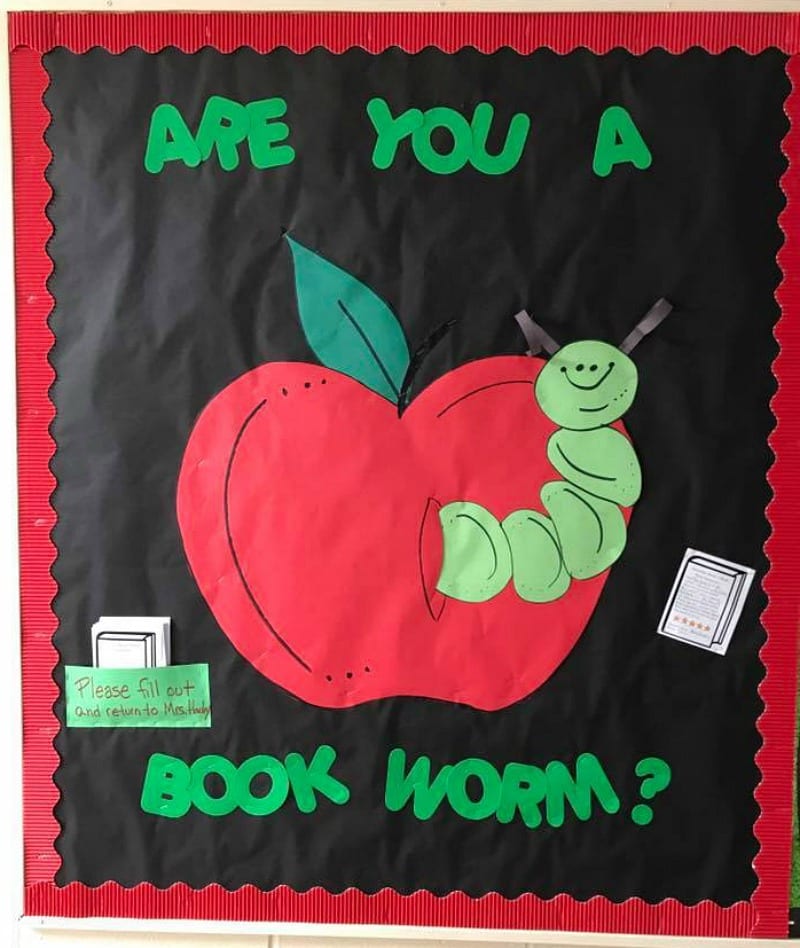 21. Chew It Over
You may not allow gum in the classroom, but you'll want to make an exception for this charming board by Doodle Bugs Teaching.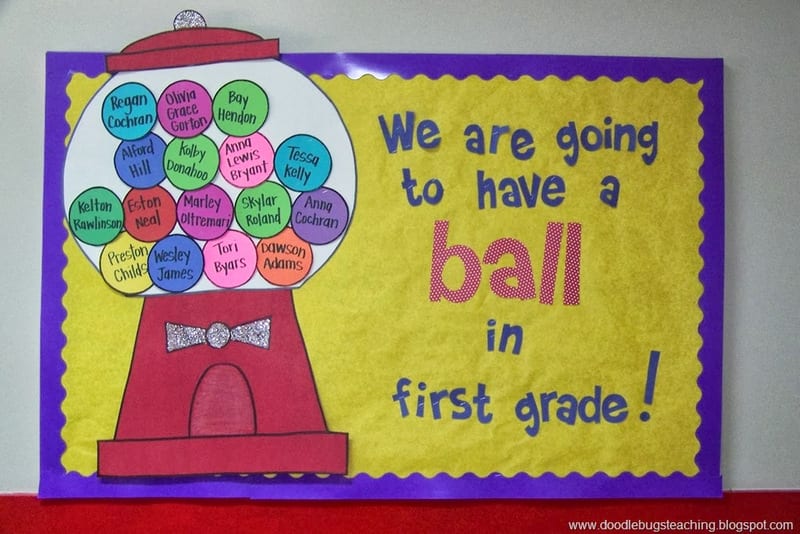 22. What Makes You Special?
"For this bulletin board, students created a personality assessment and then a nametag with a list of their I AM statements. It gives students ownership of the room right away." –Candace R.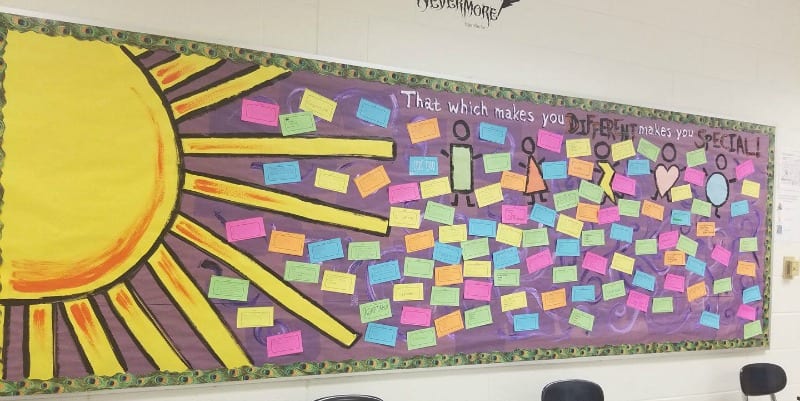 23. Like Boom
Give them something to believe in, right from the start.
24. Ladybug Love
Seeing spots can be a good thing, as this adorable ladybug board from Melissa W. on Pinterest proves!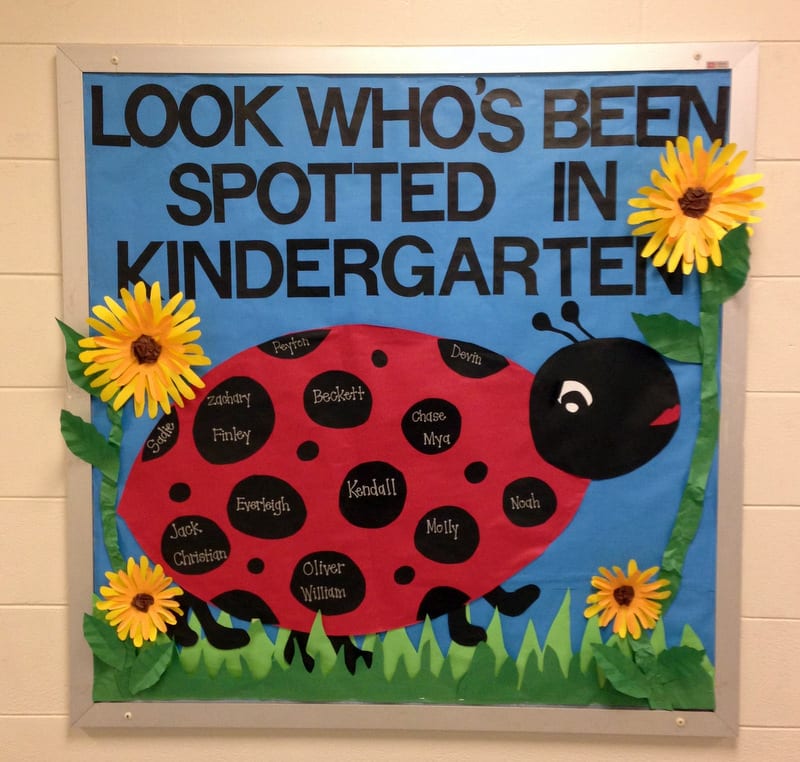 25. In the Genes
"We are doing a cross-curricular project about DNA. Here's the board the teachers I work with did to welcome our students. Each of our students wrote their first name within the DNA strands." –Kyle S.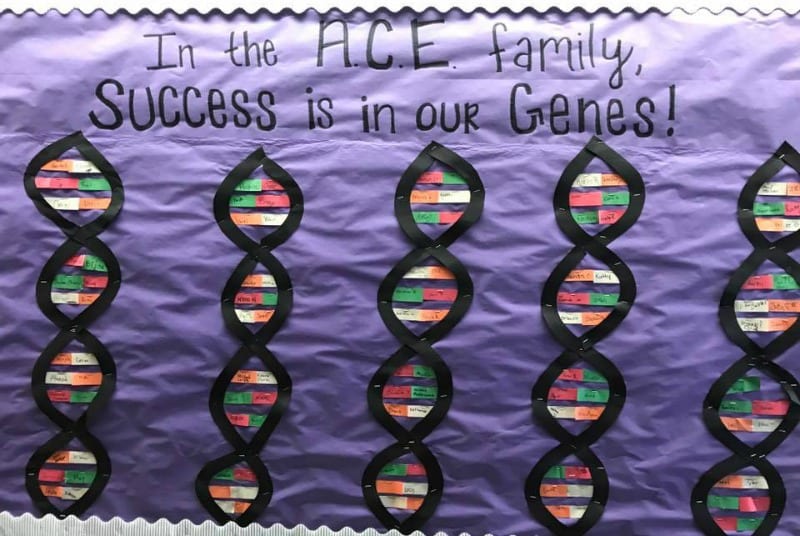 26. Shoot for the Moon
It's a simple message and brilliant design from Erin S.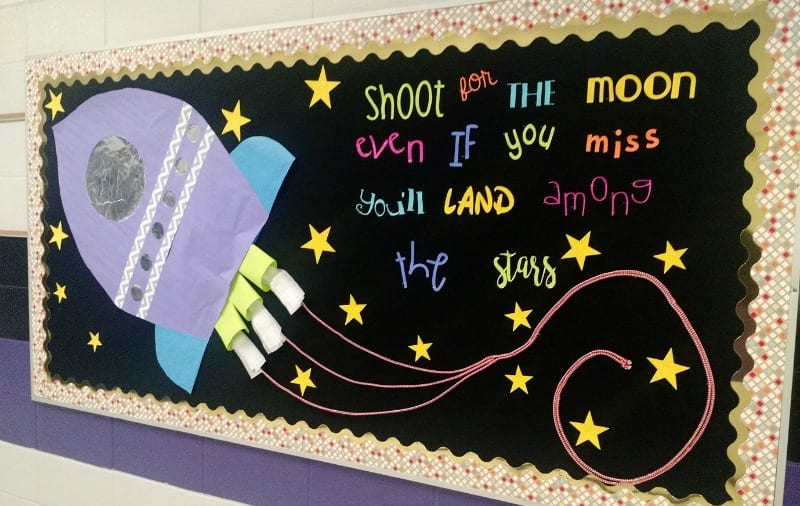 27. A Board with a Twist
This playful board was part of a board game classroom theme by Mrs. Shininger's Blog, but it would stand on its own just fine.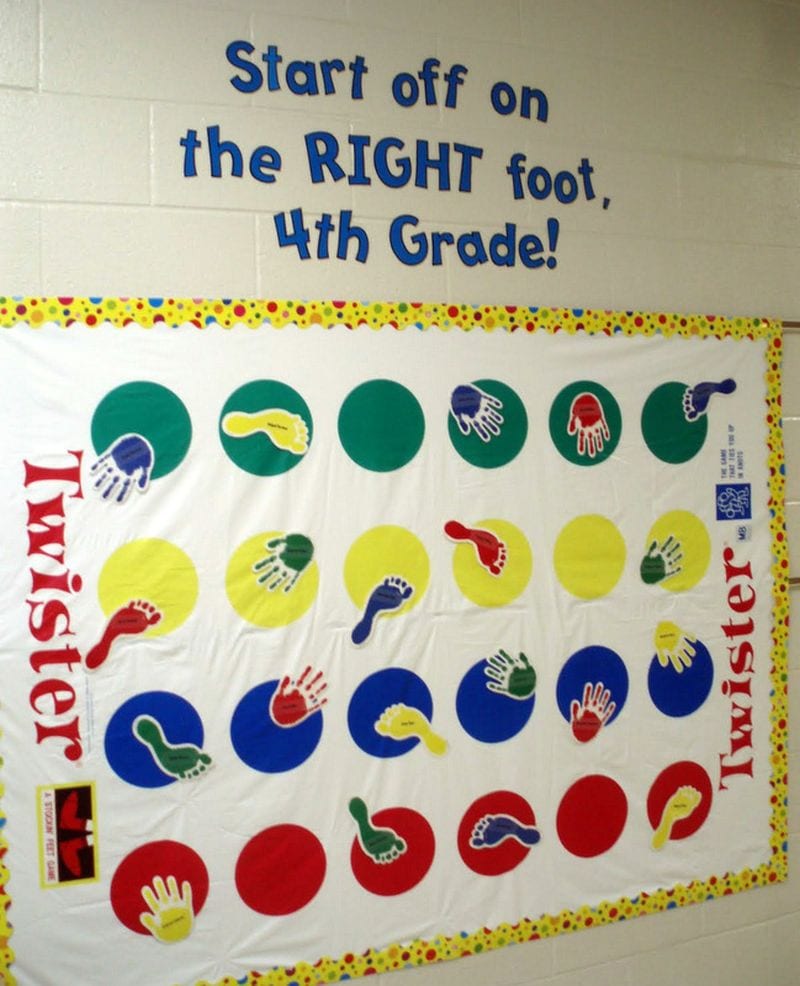 28. Chalkboard Conversion
"I turned my chalkboard into a big bulletin board." –Abbie L.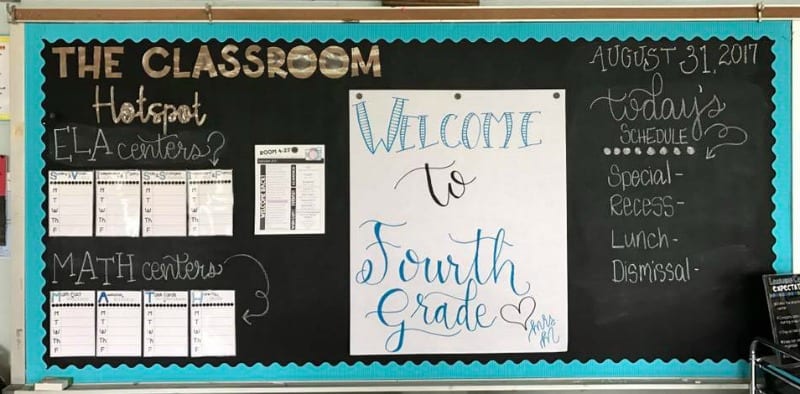 29. Celebrating with S'mores
A great design and message for this one from Stephanie N.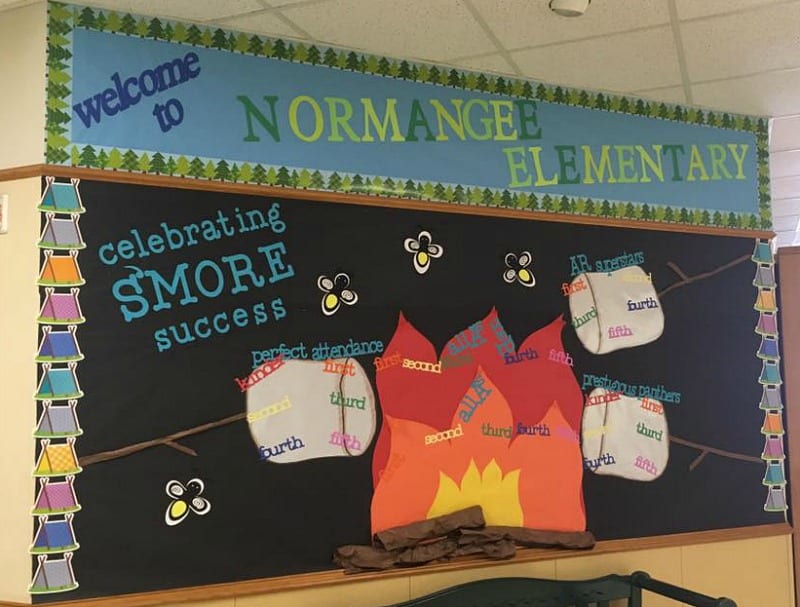 30. Oz-some Adventures
Any class would be over the rainbow to see this colorful and clever board by The Mall-ards!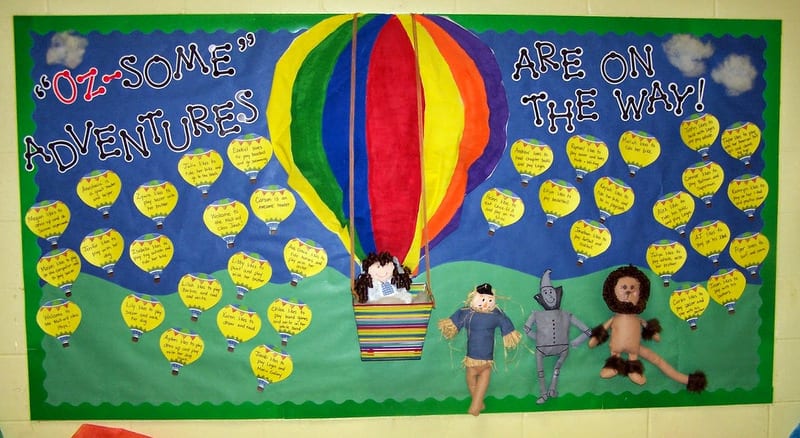 31. Welcome to Starbooks
"This isn't done yet, but my students will decorate their own book spine from their favorite book to put on the shelves of this board." –Kelly N.

32. The Places You'll Go
Stephanie N. made her entire wall leading into her classroom a bulletin board. Can you find Thing 1 and Thing 2?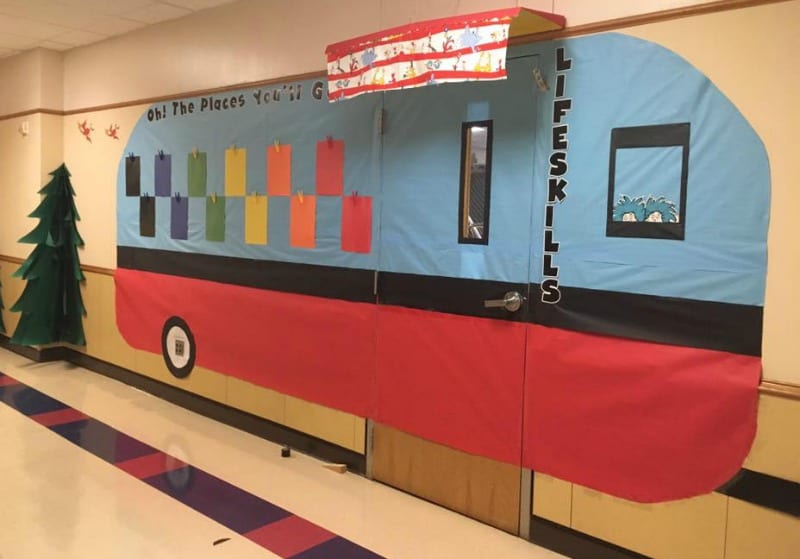 33. Seuss It Up
Rhyme your way to a year of learning with this simple but fun board by Saylor's Log.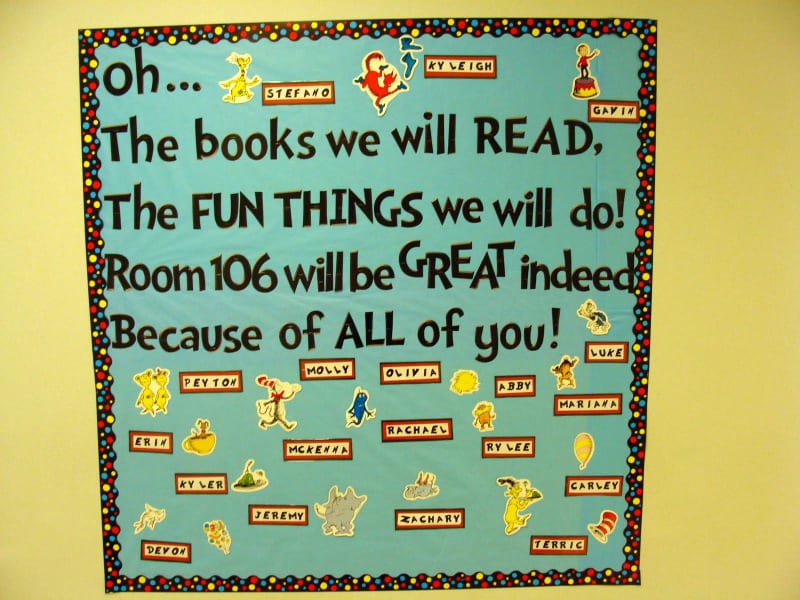 34. Start Dreaming
Julie A used a quote from Neil Gaiman for inspiration on this reading bulletin board.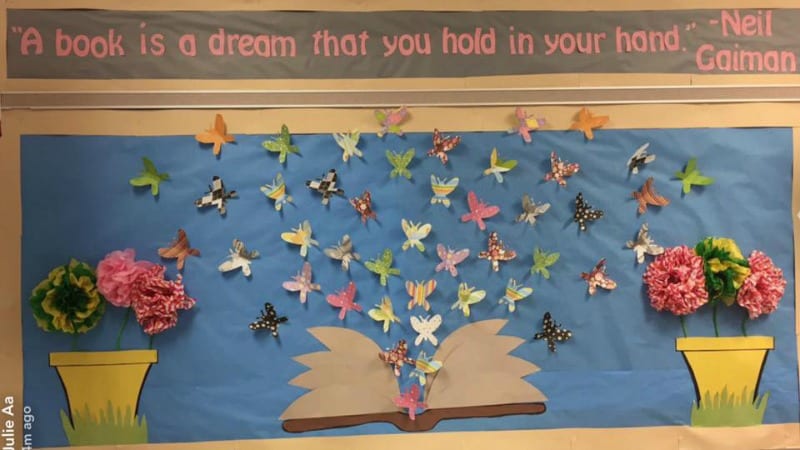 35. Rainbow of Possibilities
This bulletin board from Jolene O. sends a great message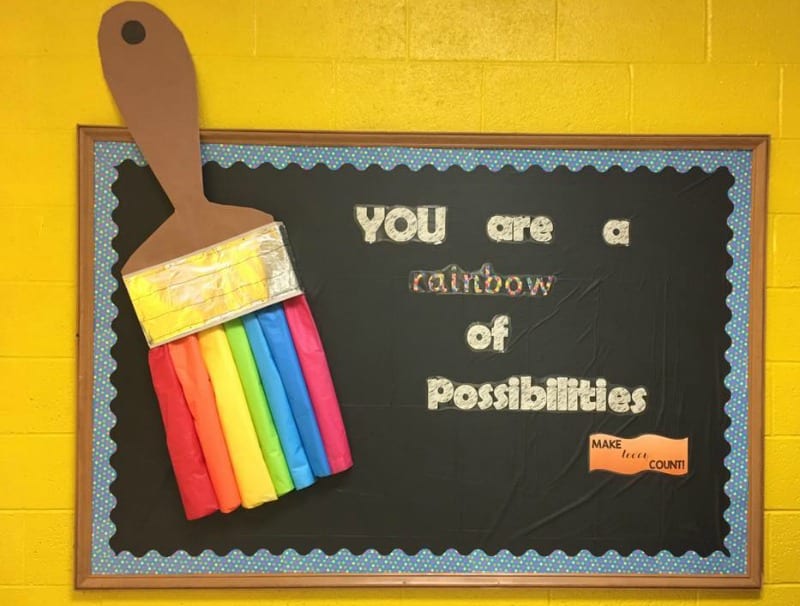 36. Have a Blast!
Explode into the new year with this attention-grabbing volcano board.
37. Celebrate the Scientific Method
A++ for creativity from Suzie G.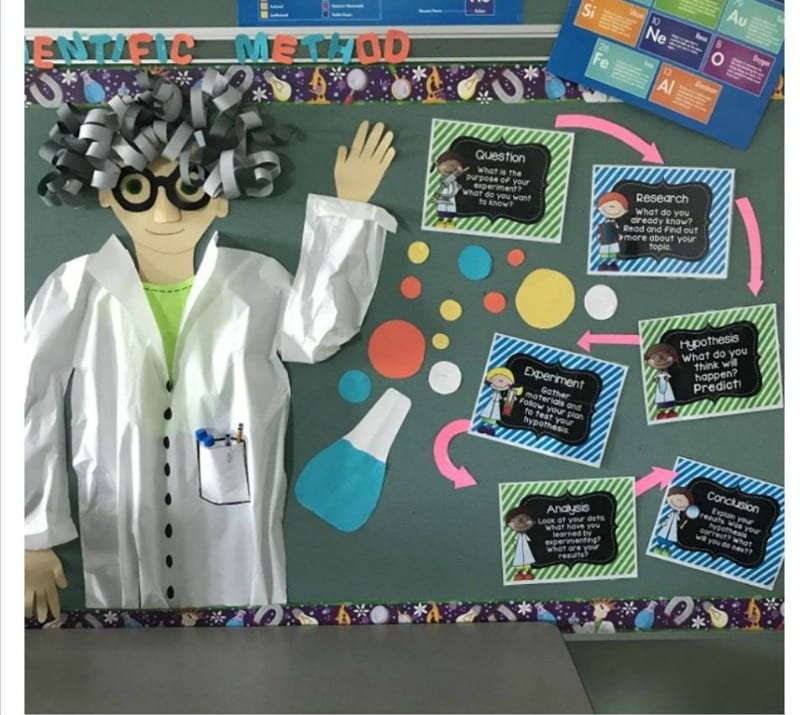 38. Doorway to Learning
Welcome students to your classroom, where they can be anything and learn everything. Created by Lessons With Learning.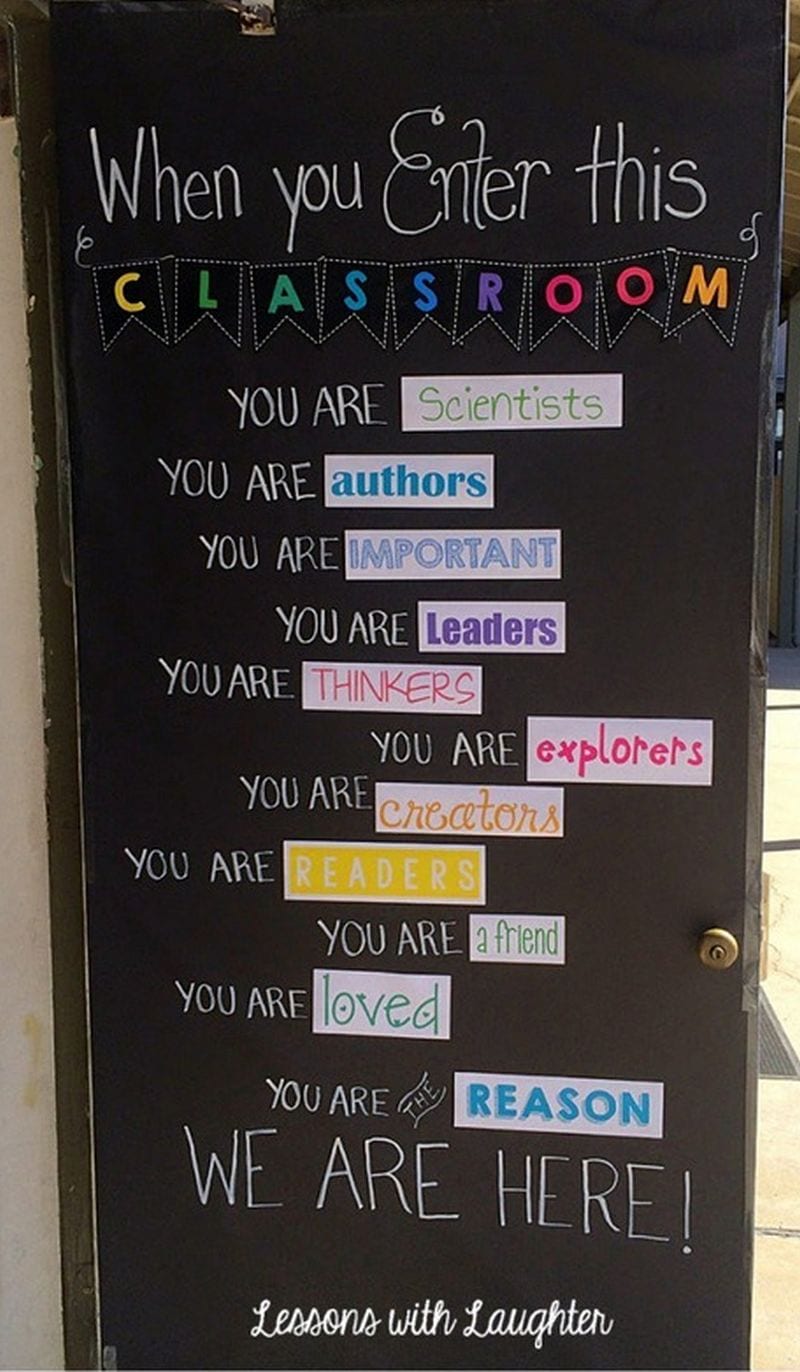 39. Gearing Up for Success
When you're in gear for a good year, try this idea from Bridget P.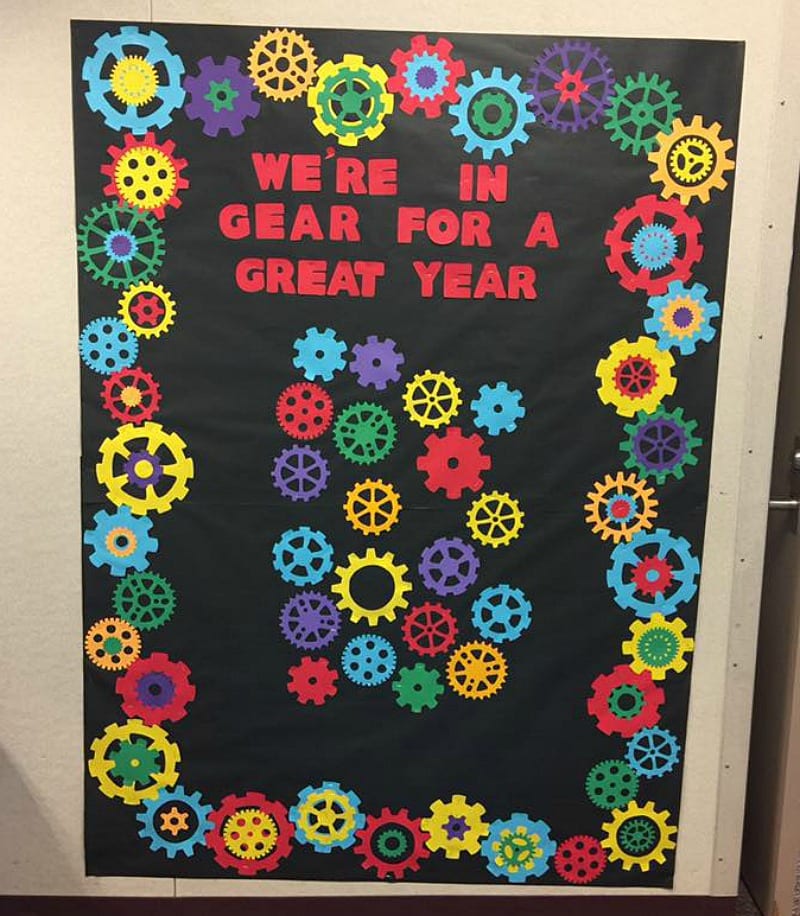 40. Time to Get Messy
If your school does uniforms, then try this idea from Louise J.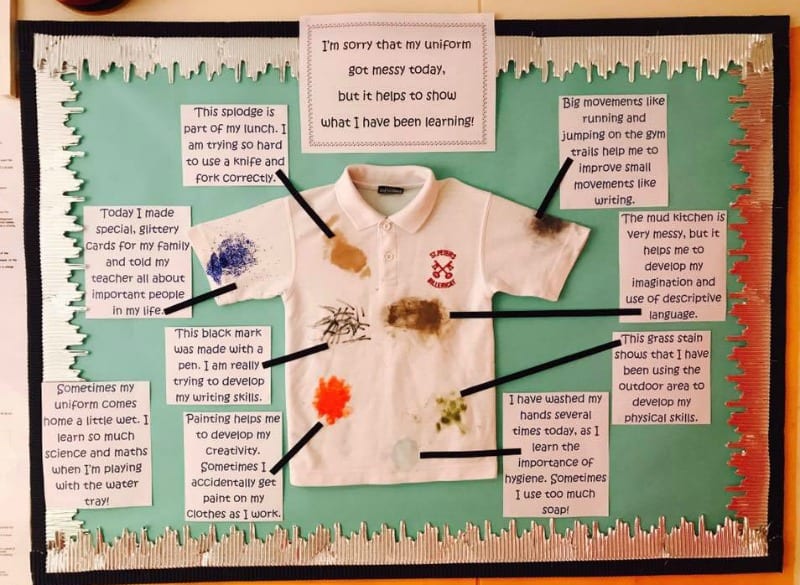 41. The Sharpest Bunch
Create cacti with tissue paper for this idea from Angela G.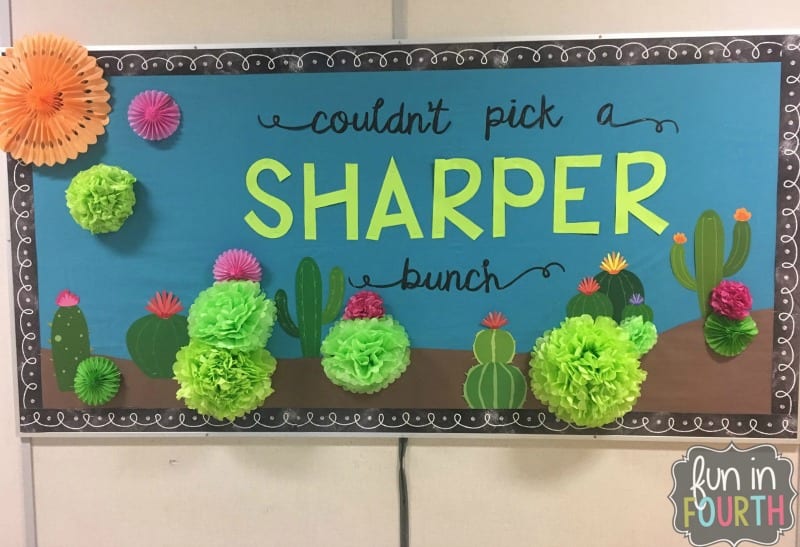 42. Libraries Love You Too 
Even the library books (and librarians) can get in on the act!
43. Selfie Station
Have students draw their own selfies, or snap them with your camera. Either way, this bright board by Differentiated Kindergarten will be a hit!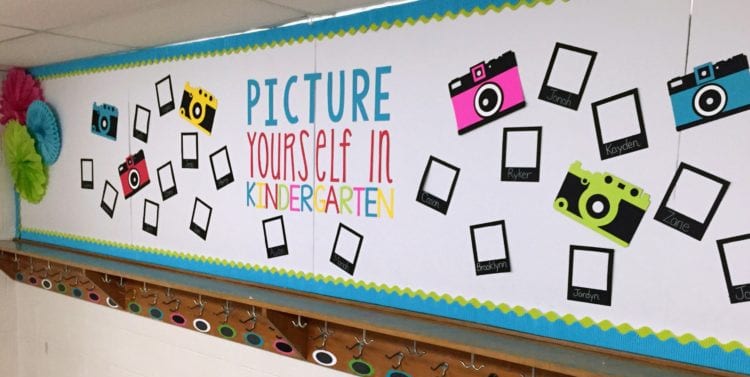 44. Another Kind of Selfie
A whole new meaning of selfie. Thanks for the idea Jennifer L.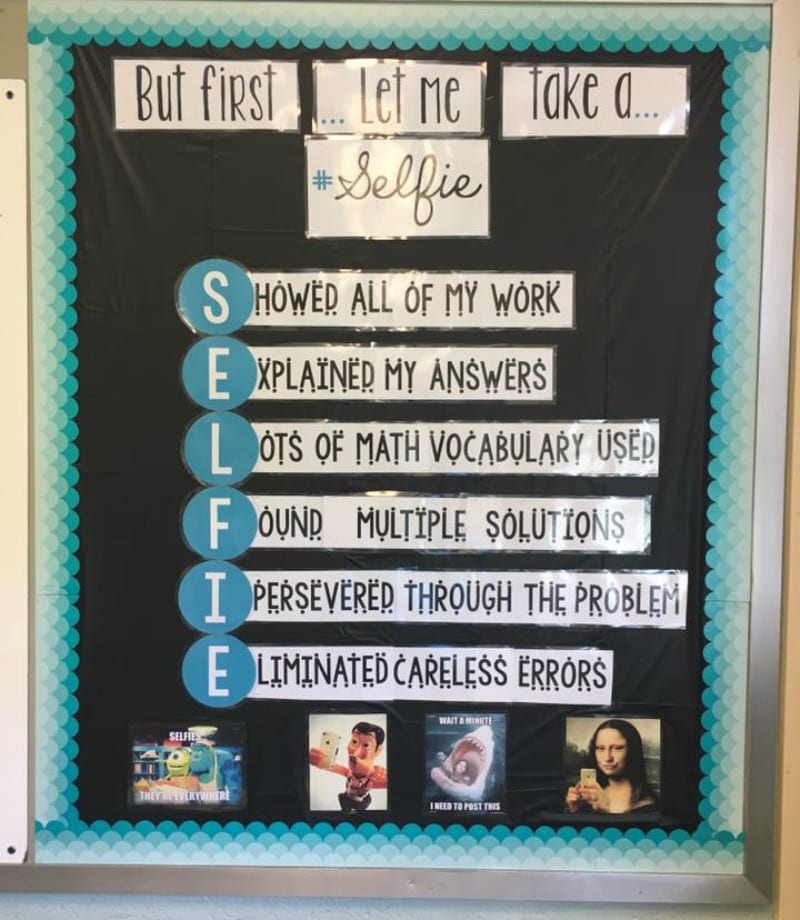 45. Time for Blast Off
Ready for blast off, thanks to Antwan W.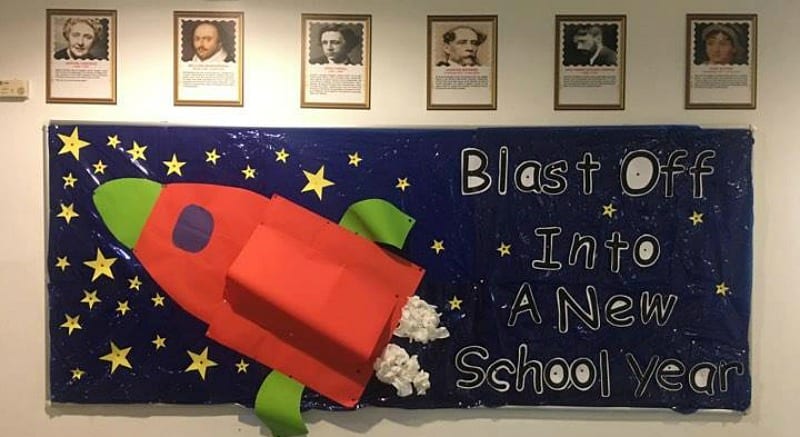 46. Arrgh!
Jeanne W. is getting ready for "Talk like a pirate day" in September.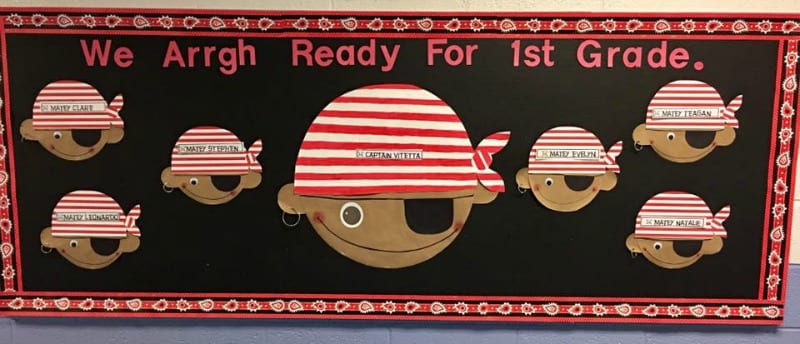 47. 180 Opportunities
Set the stage for all the incredible experiences to come in the days ahead.
48. Who Am I?
Students will get to know each other in no time flat when you post this board with self portraits and identifying clues. Get the how-to from The Thinker Builder.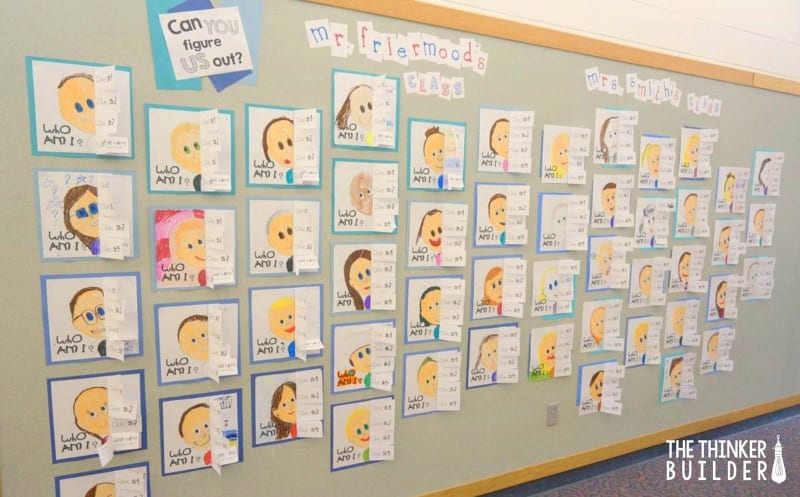 49. Team Effort
If you have a sporty group, try this idea from Alicia M.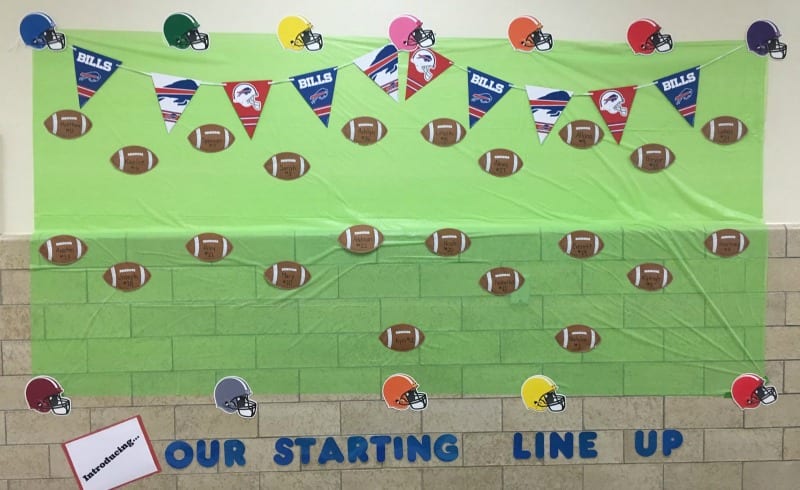 50. Super Teacher
The teacher is the star in this idea from Paula B.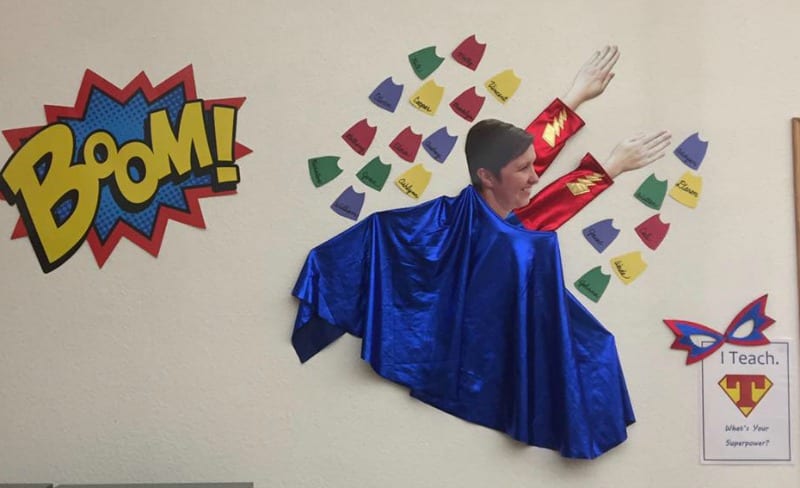 51. Wild About the Arts
Create your own lovable monsters with this idea from Ellen S.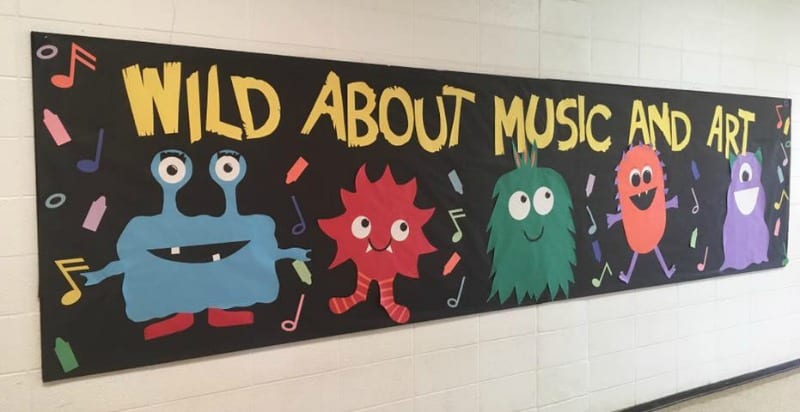 52. PAC-MAN Inspiration
This is a great way to recruit new members. Good idea, Rachell B.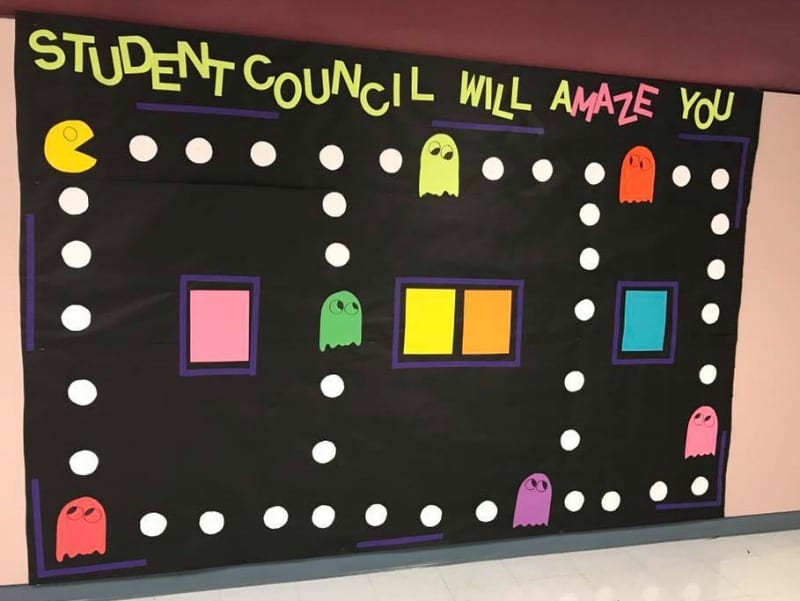 53. Why I Teach
This is a fantastic board to post in the main hallway to help parents and students get to know the teachers. What a great idea, Victoria D.!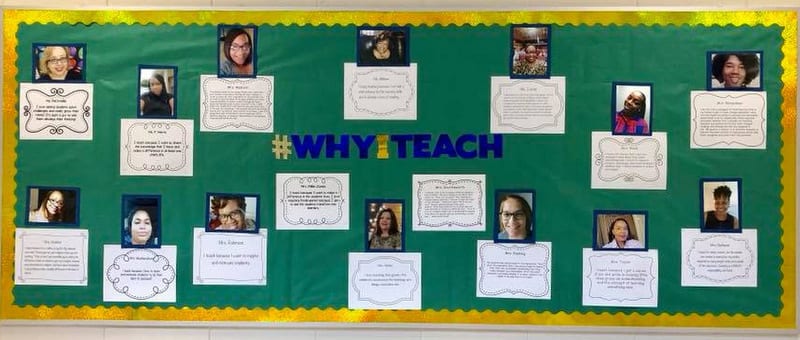 54. Creating a Future
Sometimes all you need is a powerful message like this one from Dulce E.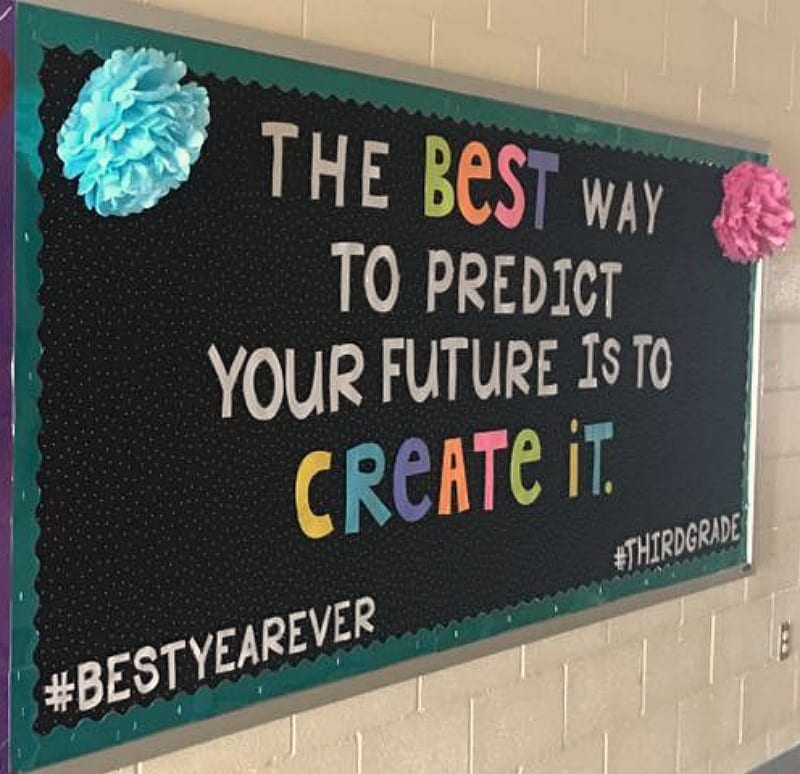 55. Garden of Learning
It's easy to create flowers like this idea from Jessi B.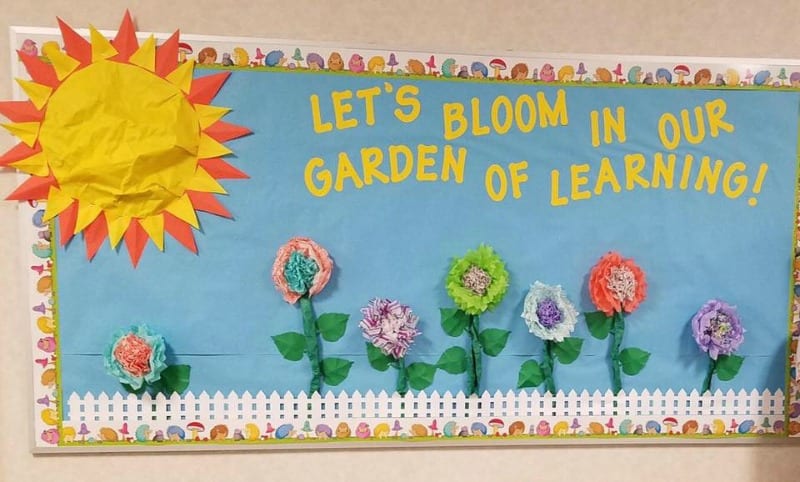 56. Ode to the National Parks
Ms. Embry has a National Park theme, so she made a bulletin board to match.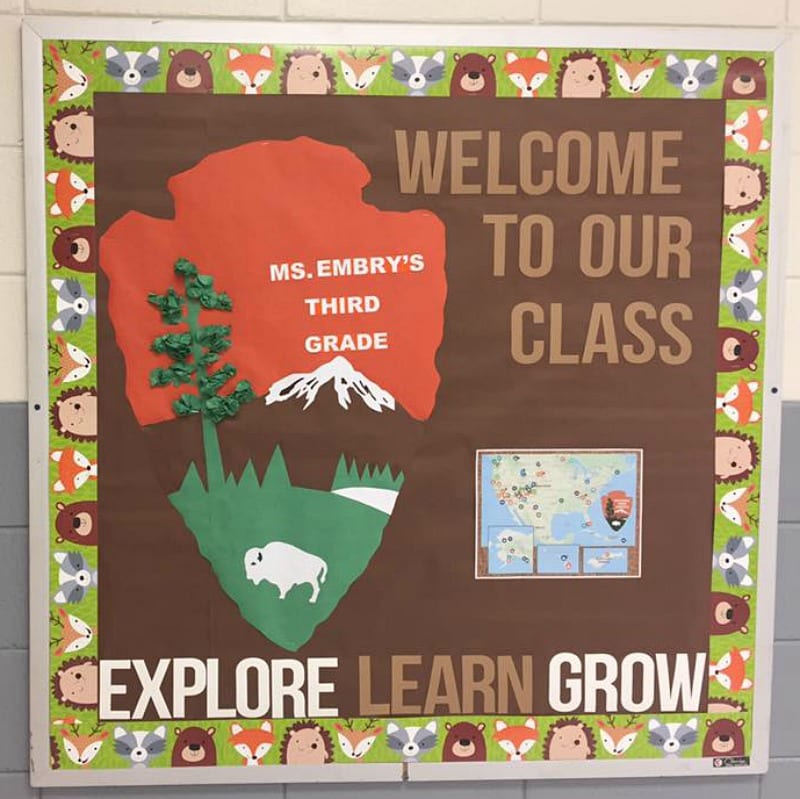 57. Going Places with Reading
Small bulletin board? No worries—add a bench like Julie W.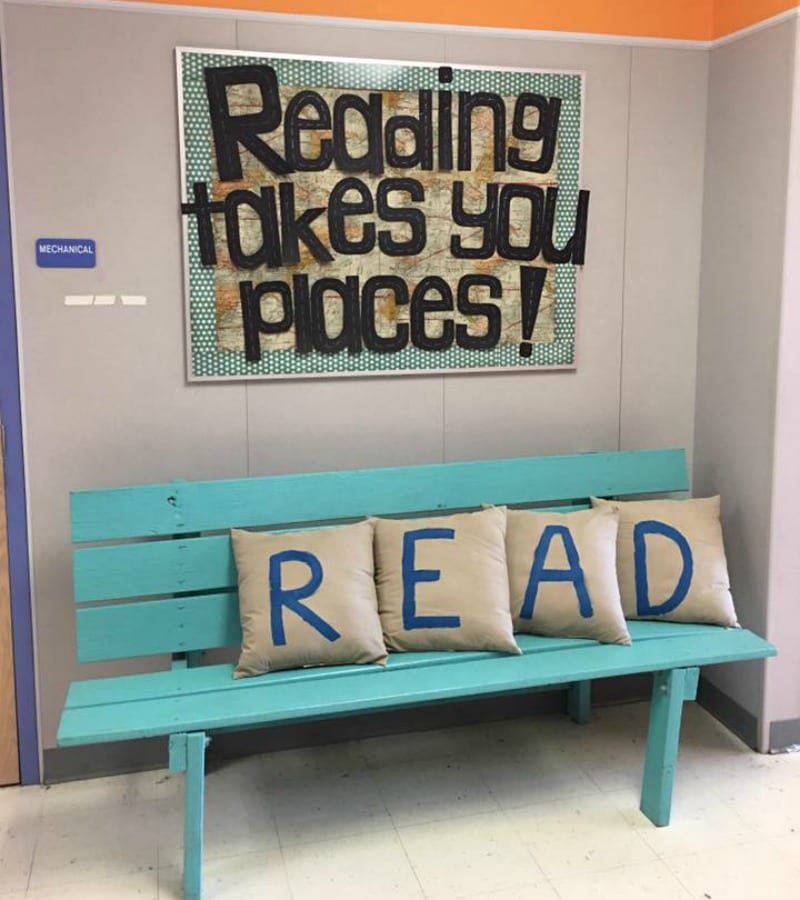 58. Escape to Narnia
"My weekly vocabulary list will be going on here. Many hours went into this." –Melanie Shank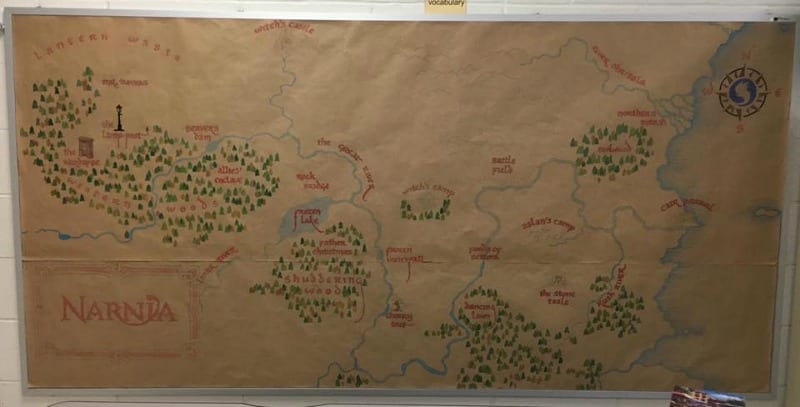 59. Super Stars
Watch little faces light up when you welcome them to your classroom with this shining idea by Miss Wells Kinder Stars.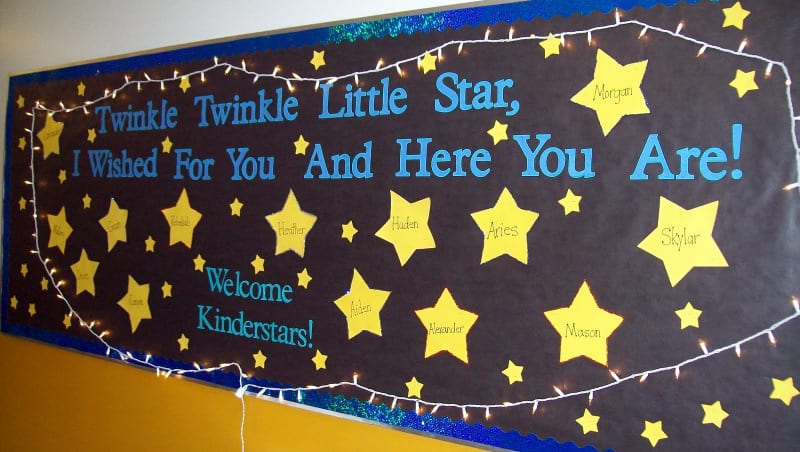 60. Whoo Loves Owls?
Create a giant tree, and the owls will do the rest of the work in this idea from Ashley F.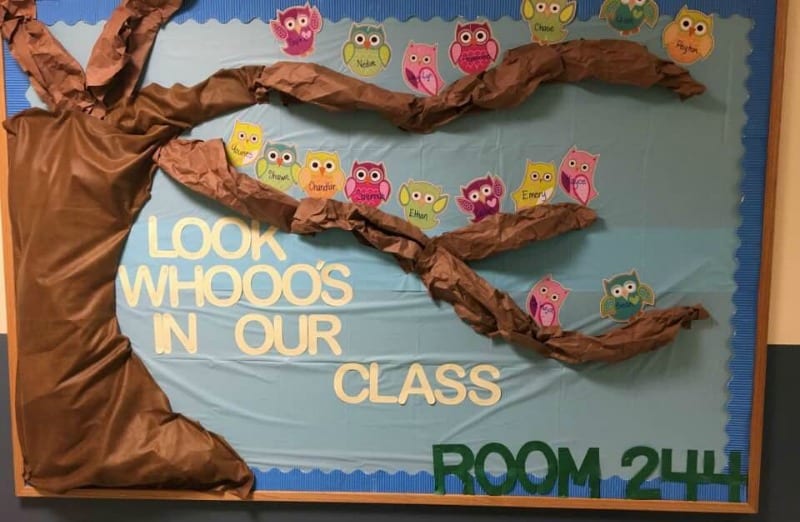 61. Unleash Your Hero
"I'm excited for our superhero theme this year." –Amanda F.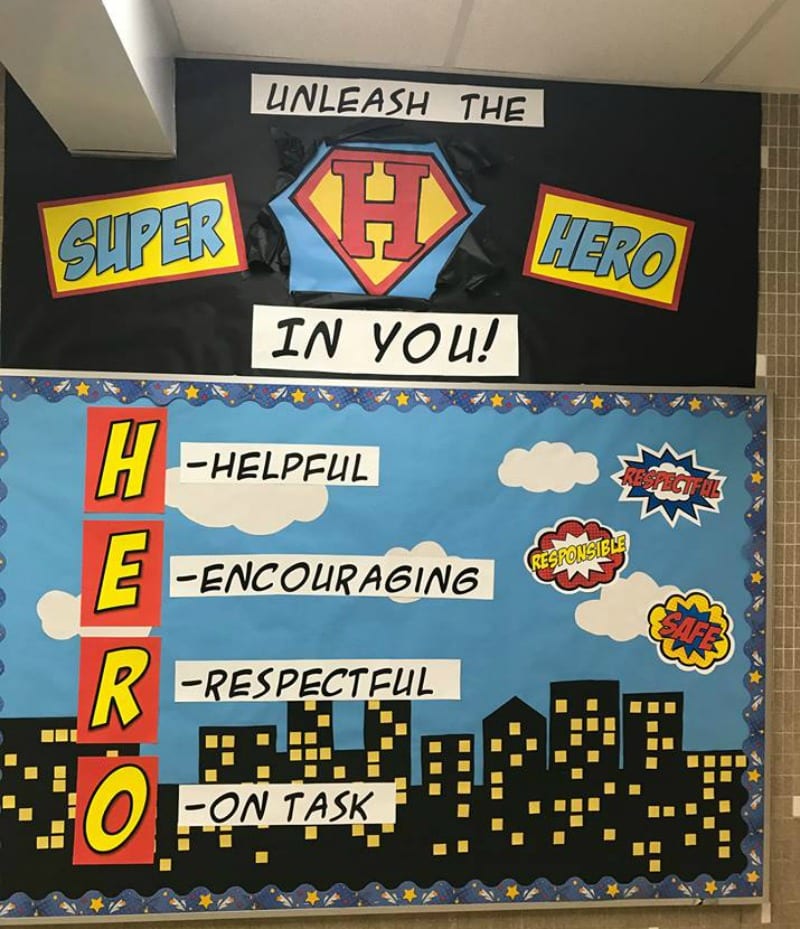 62. All the Emotions
Get students involved in created this unique emoji-inspired designs from Nancy L.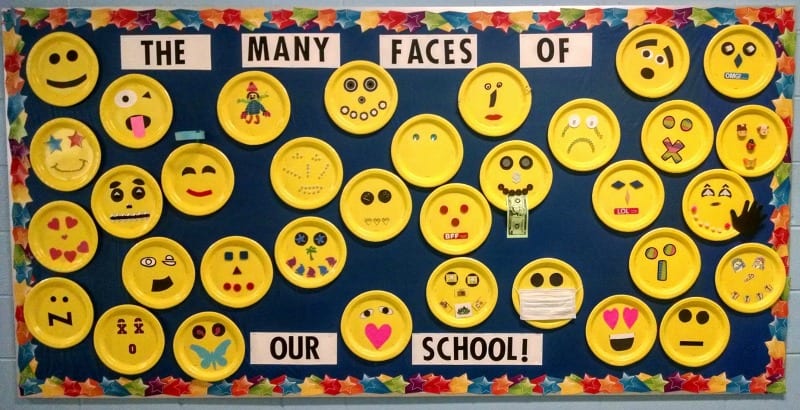 63. May the Scores Be with You
"High school students did this bulletin board." –Julie A.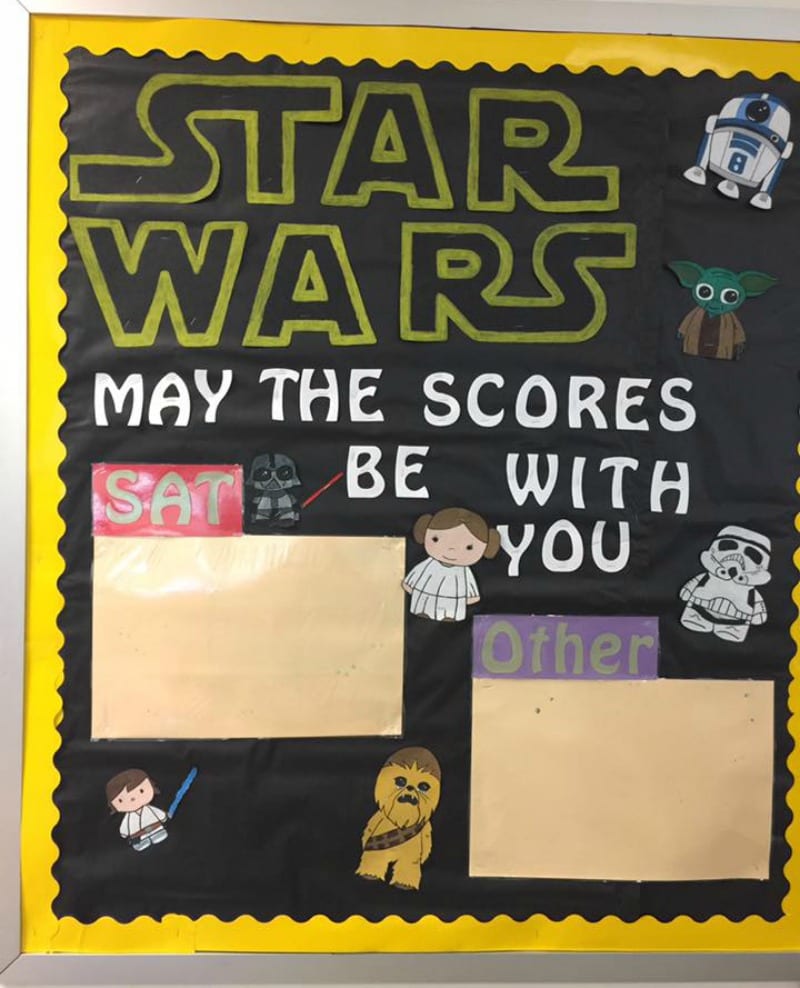 64. Latte to Learn
Amanda W. knows her audience with this design for 8th graders.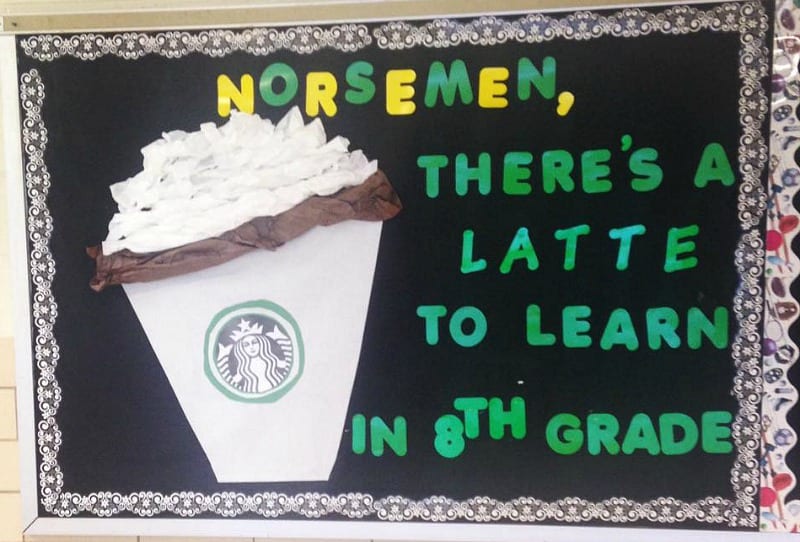 65. Mirror Mirror
A little aluminum foil makes this board a perfect reflection of exciting things to come. Shared by Mrs. Wills' Kindergarten.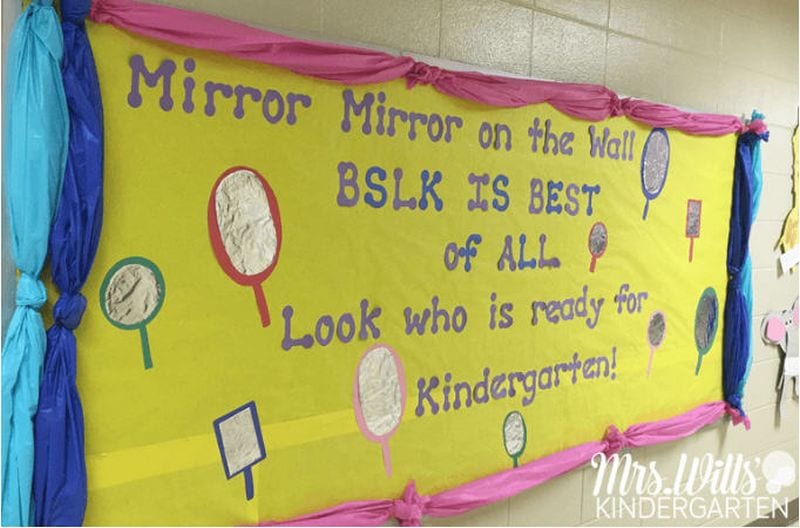 66. Remembering with Memes
"I did this one last year with different memes." –Melanie K.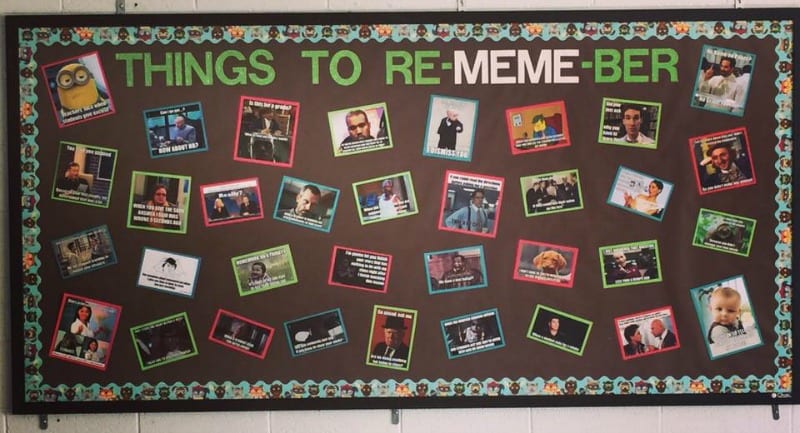 67. Emojin the Possibilities
Emojis and a pun at the same time! Thanks Jane S.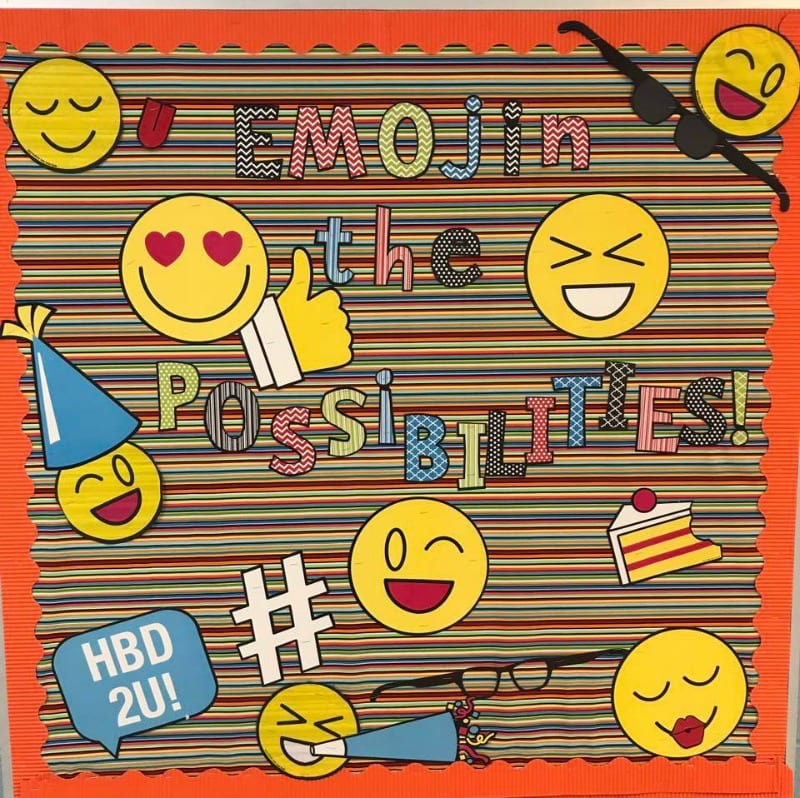 68. Even More Seuss
There's never enough Dr. Seuss, right, Becca H?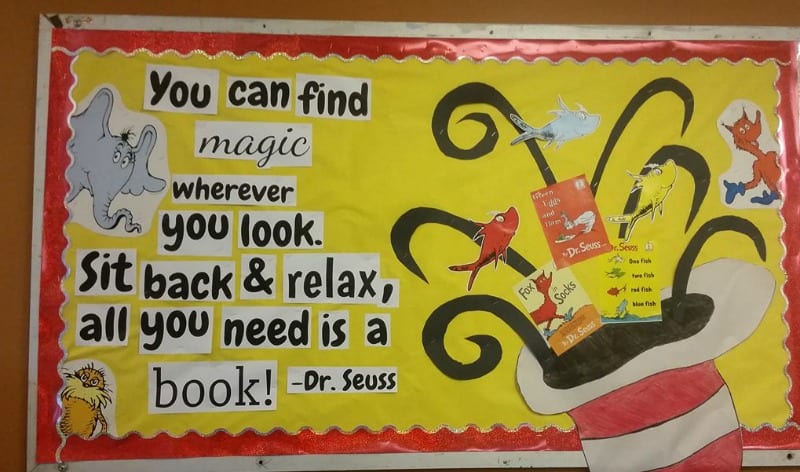 69. Looking Ahead
A great middle school message from Jen D.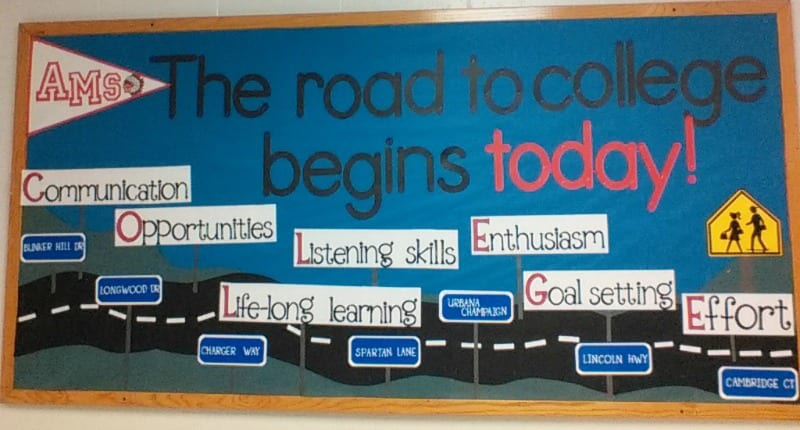 70. AVID Skills Matter
A good AVID message from Jen D.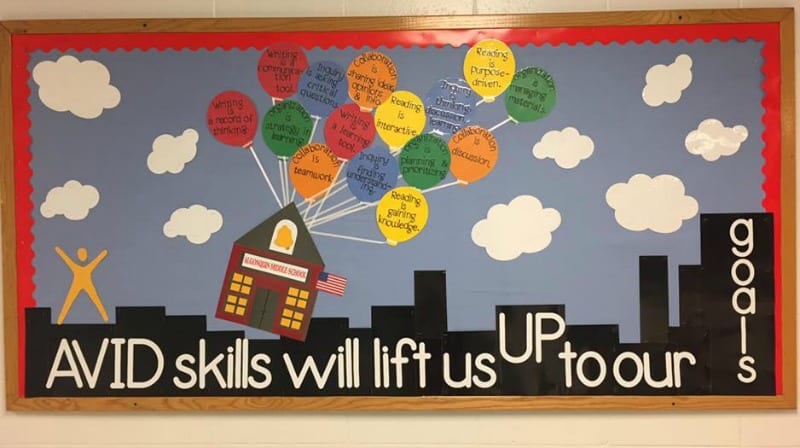 We'd love to hear your back-to-school bulletin board ideas as well! Come share your photos in our WeAreTeachers HELPLINE group on Facebook. 
Plus, take a look at all of our bulletin board ideas here.
[ad_2]

Source link