What do you get when you combine the concrete concepts of science, with the literary fluidity of poetry? Something amazing to share with your students! Encourage kids to look at STEM through a whole new lens with these science poems for students of all ages!
Best Science Poems for Elementary School Students
1. Science by Martin Dejnicki
"Everything works, because of science."
2. Butterfly Poem by Mr. R
"Two blue wings flapped by my eye…"
3. Science is Like Writing by Amy Ludwig VanDerwater
"The sun made a rainbow on my book."
4. Milkweed Beetle by Roberta Gibson
"Gently touch a milkweed beetle…"
5. My Frog Recycles All His Trash by Kenn Nesbitt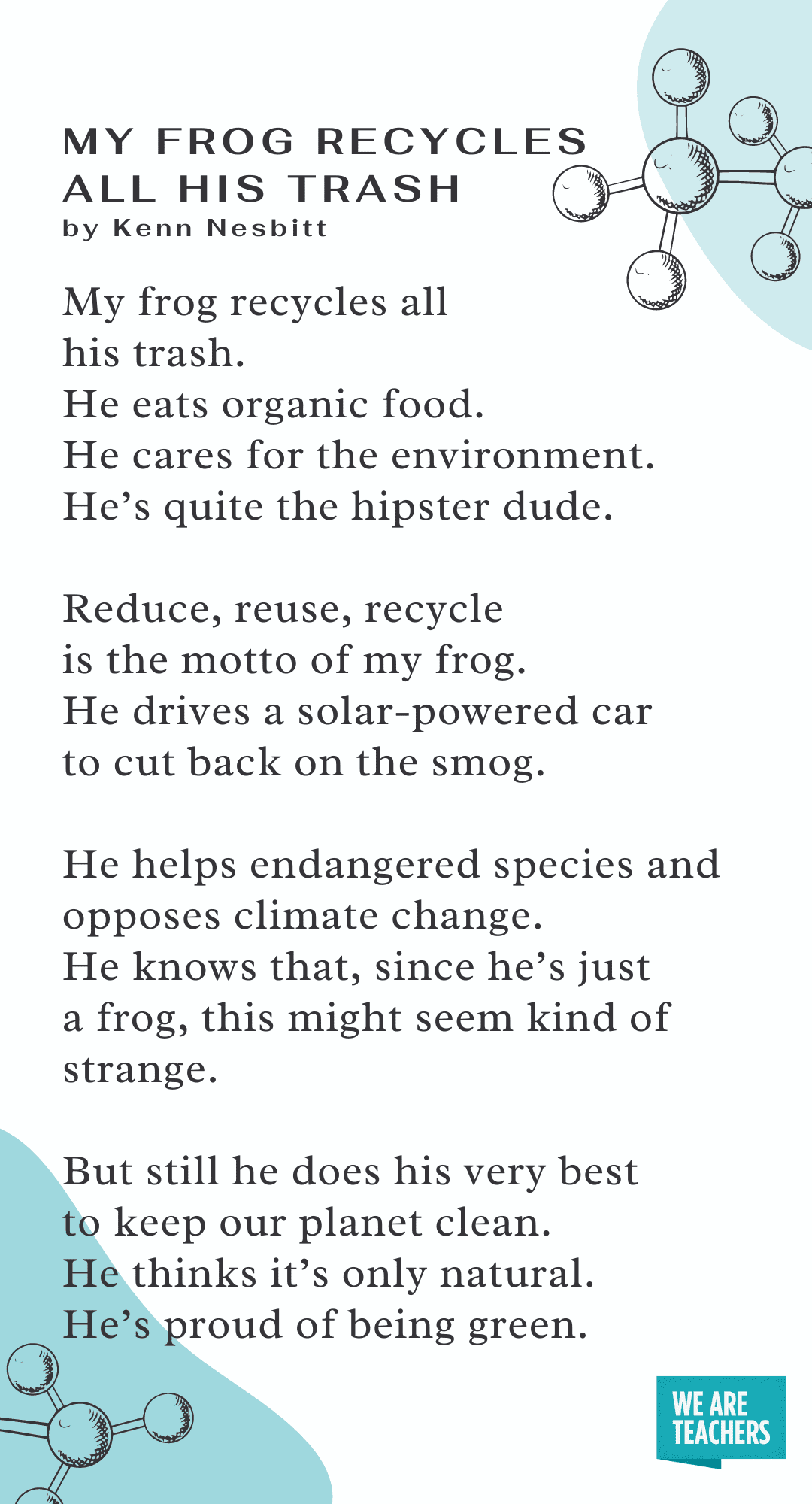 "He eats organic food."
6. Earthworm Poem by Mr. R
"This poem is slimy…"
7. Science Homework by Kenn Nesbitt
"I hope that you believe me for I wouldn't tell a lie."
8. Why by Celia Berrell
"It's part of our nature to want to know why."
9. When is a Fruit a Fruit?  by Toni Newell
"Did you know that cucumbers and tomatoes are a fruit?"
10. Buoyancy by Amy Ludwig VanDerwater
"Does it sink? Does it float?"
11. Celery by Barbara Smith
"Emerald pale stalks…"
12. Carotene Carrot  by Jeanie Axton
"It looked up at me and said 'Please wait.'"
13. Magnetism by Amy Ludwig VanDerwater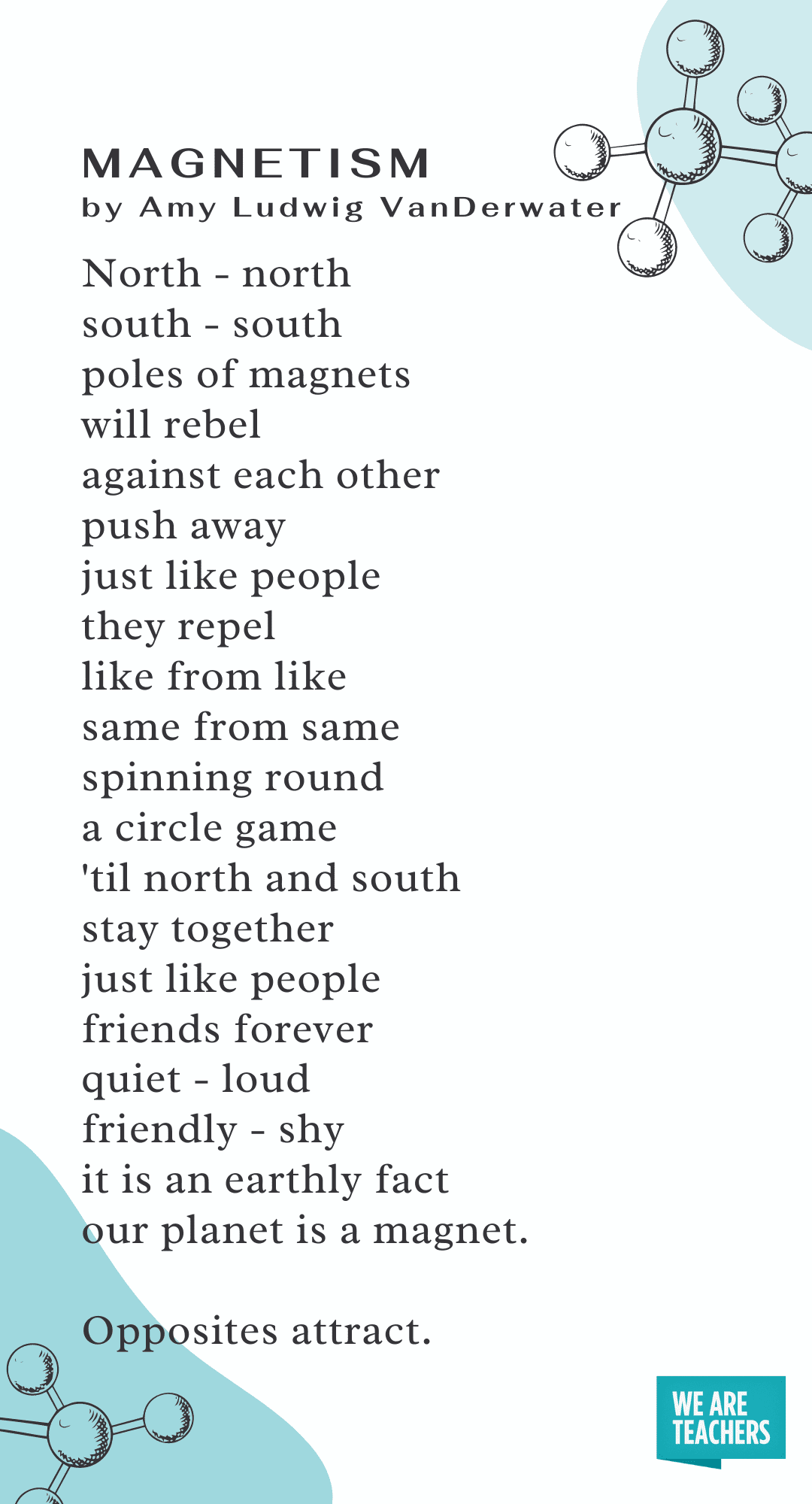 "Opposites attract."
14. The Turbulent Sea by Madonna George
"…shaking the corals and clams with fright."
15. Digestive System Poem by Mr. R
"Stomach's muscles are churning…"
16. I Have an Amoeba by Kenn Nesbitt
"Today is his birthday. I didn't forget."
17. Scary Shadows by Celia Berrell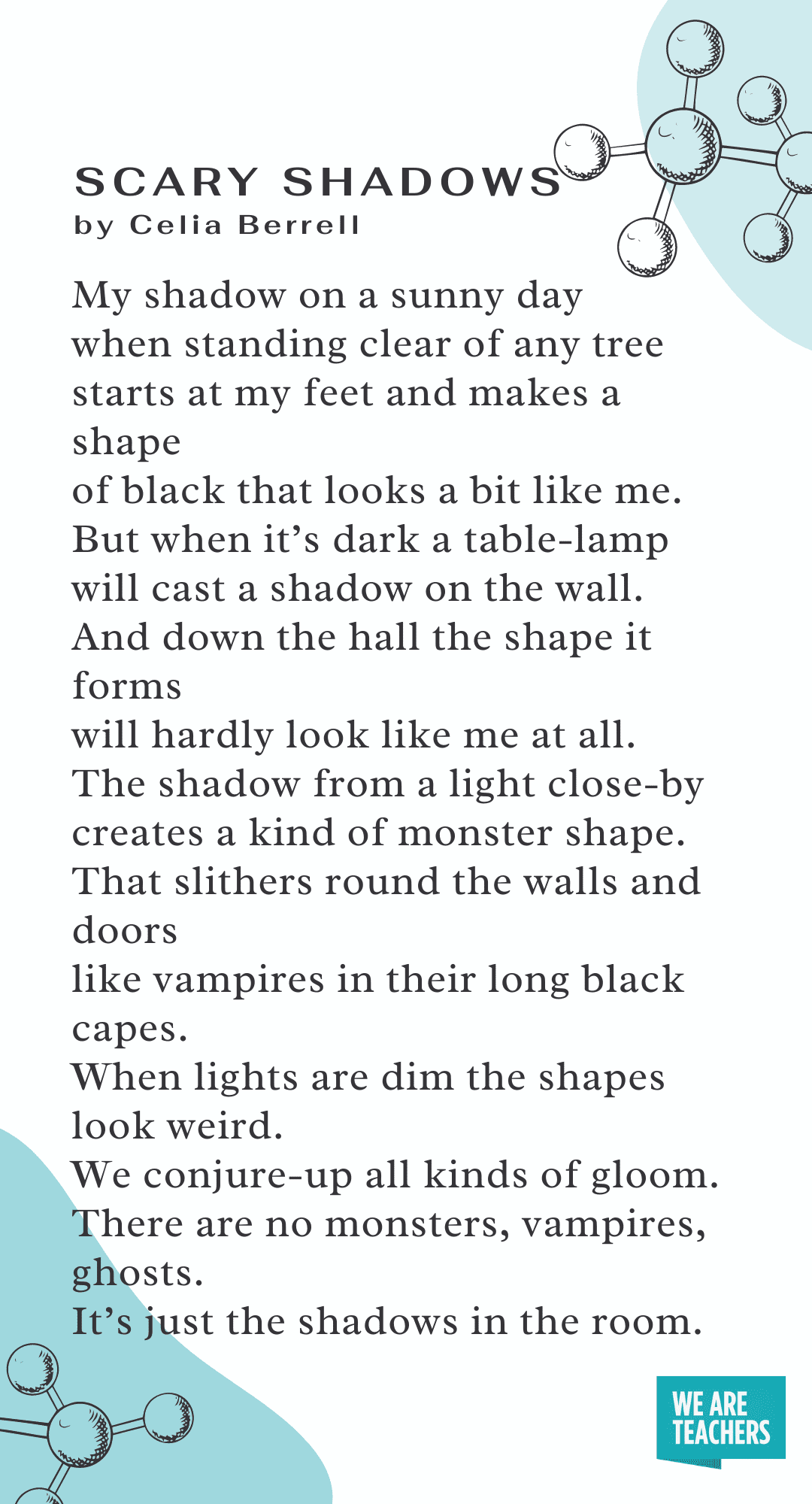 "When lights are dim the shapes look weird."
Best Science Poems for Middle School and High School Students
18. My Einsteinicity by Lynne Thompson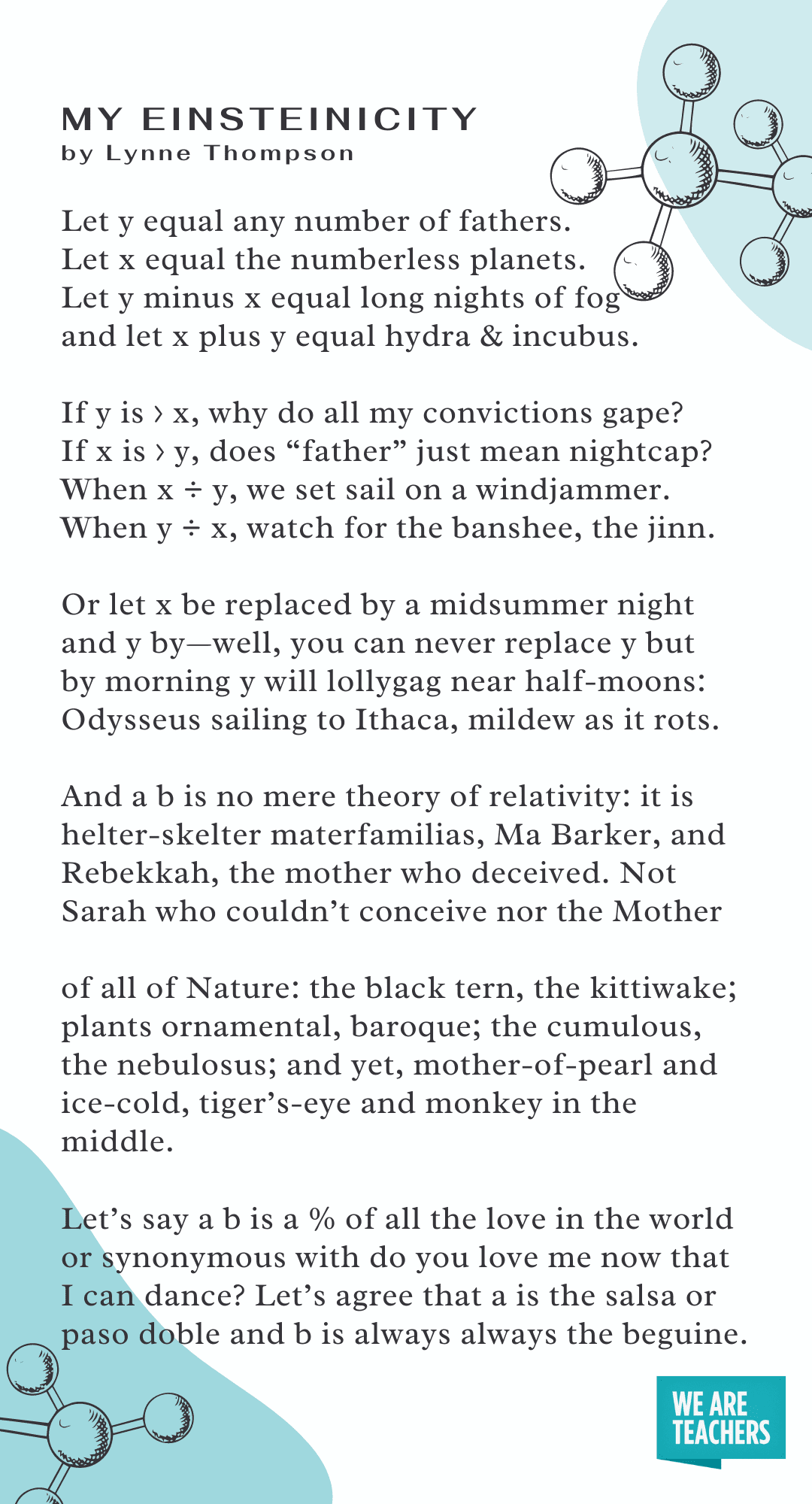 "Let y equal any number of fathers."
19. At Age 28, Chilean Astronomer Maritza Soto Has Already Discovered Three Planets by Vincent Toro
"Haloed by the glow of the multiverse swirling above La Silla Observatory…"
20. So They Say— They Finally Nailed— the Proton's Size— & Hope— Dies— by Rosebud Ben-Oni
"but love does not, Menelle Sebastien."
21. On the Religion of Nature by Philip Freneau
"The power, that gives with liberal hand…"
22. Unruly by Jari Bradley
"Hushed whispers in an undisclosed room."
23. Singularity by Marie Howe
"Do you sometimes want to wake up to the singularity we once were?"
24. Presto! How the Universe is Made by Stephanie Strickland
"On your Mark, one first O/riginal Form…"
25. Einstein Defining Special Relativity by A. Van Jordan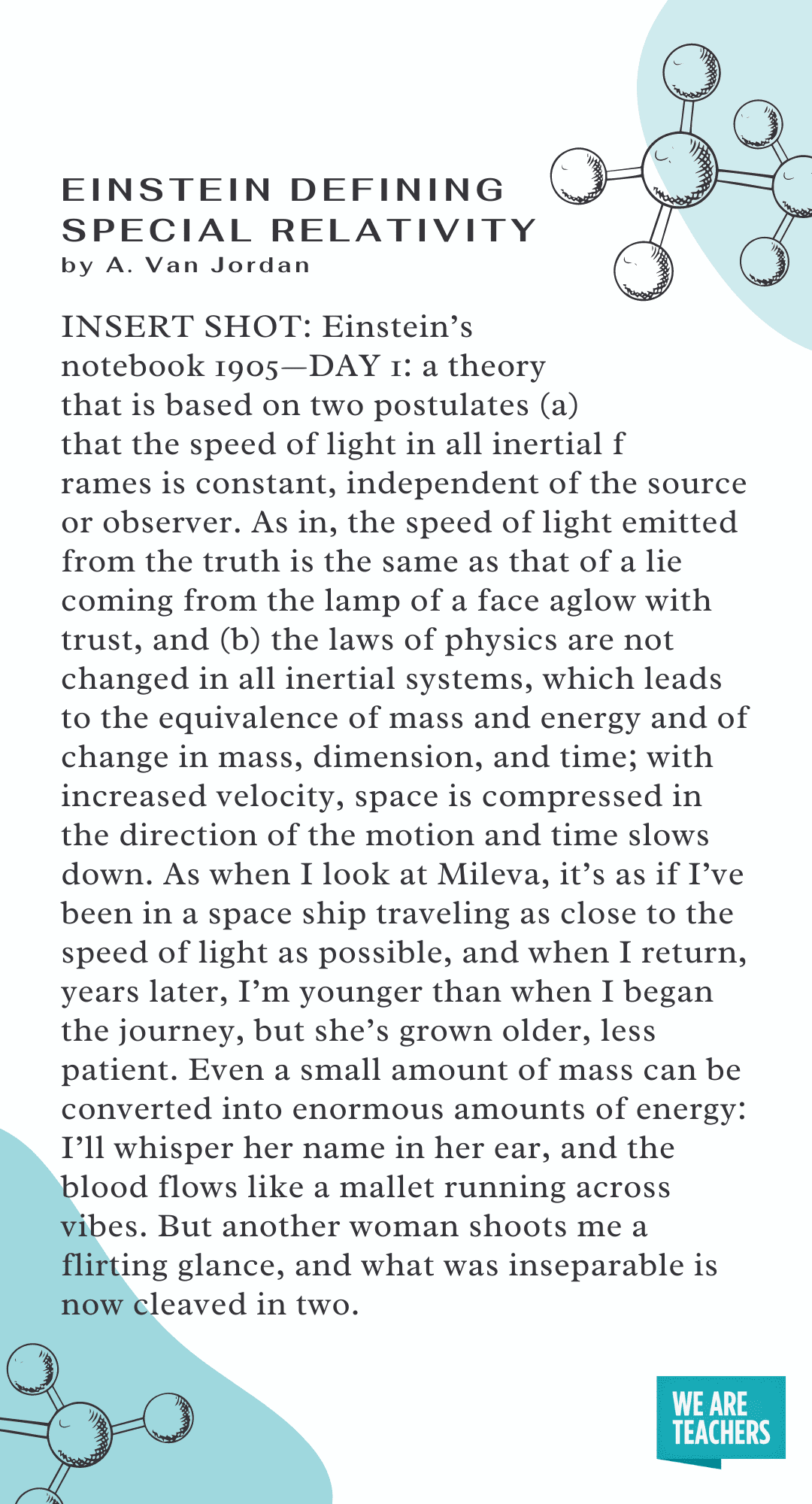 "INSERT SHOT: Einstein's notebook 1905—DAY 1…"
26. Triple Moments of Light and Industry by Brenda Hillman
"During our protest at the refineries…"
27. Second Law by Samiya Bashir
"Who was warned about these things…"
28. Apology to the Body by Lory Bedikian
"Sorry for mercury strewn in veins of fish…"
29. The Sciences Sing a Lullaby by Albert Goldbarth
"Physics says: go to sleep. Of course you're tired."
30. Of the Threads that Connect the Stars by Martín Espada
"Did you ever see stars?"
31. Annus Mirabilis by Sally Ball
"In retrospect there is no side to choose: in math…"
32. Blur by H. L. Hix
"Turns out lots of lines prove blurry I once thought sharp."
33. Negotiations with a Volcano by Naomi Shihab Nye
"We will call you "Agua" like the rivers and cool jugs."
34. To Science by Edgar Allan Poe
"Science! true daughter of Old Time thou art!"
35. We Know the Atom Consists Primarily of Empty Space by Art Zilleruelo
"But when the knife enters the trout…"
36. The Law of the Apple by Edwin Torres
"we convince ourselves of what we need…"
37. Not Nothing by Kimiko Hahn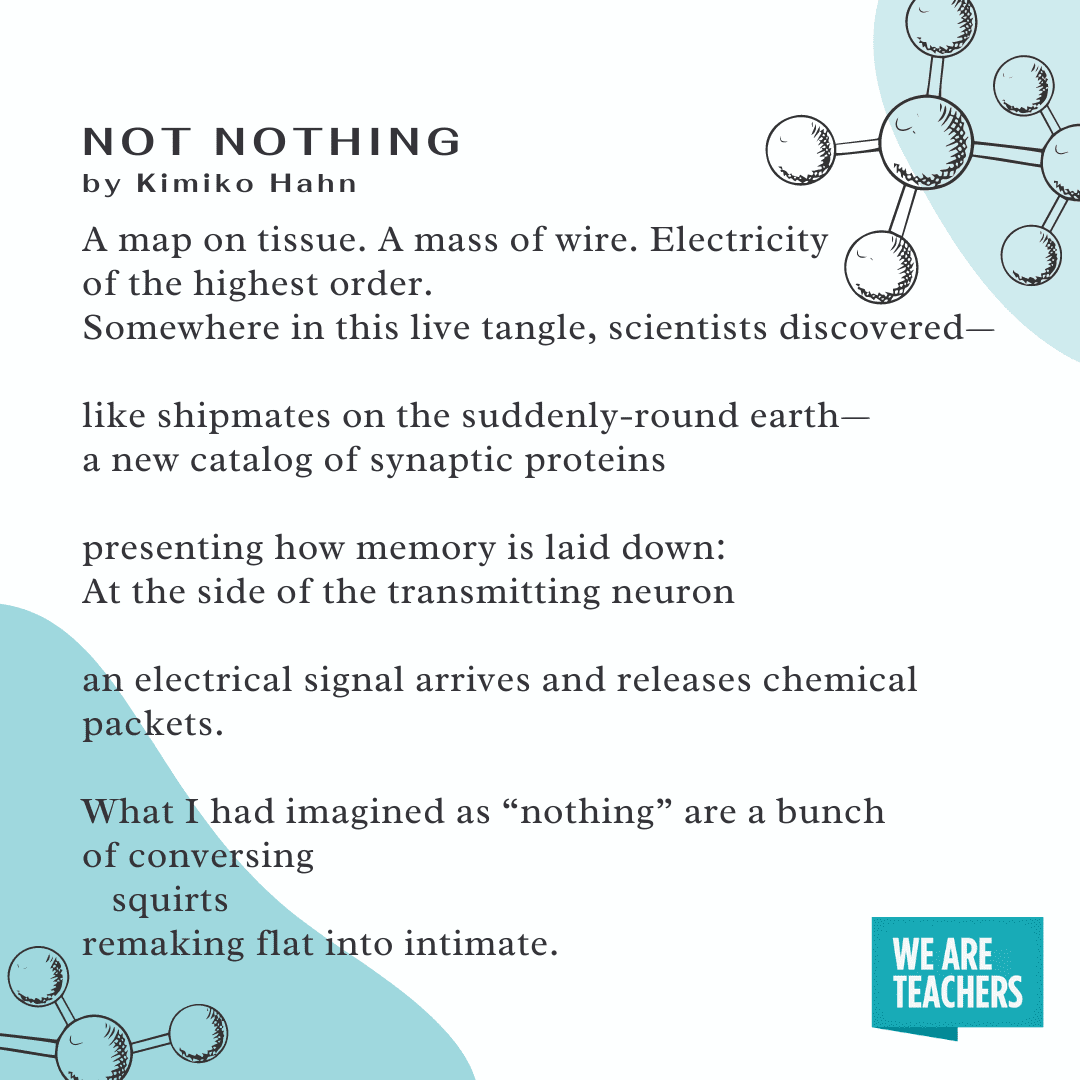 "A map on tissue. A mass of wire. Electricity of the highest order."
38. Vapor by Sara Eliza Johnson
"When it happens the rain is not black but powder."
39. Philip Larkin's Koan by Paisley Rekdal
"In the perfect universe of math it's said the world's eternal aberration."
40. A Conceit by Rae Armantrout
"Local anchors list the ways…"
41. Dark Matter and Dark Energy by Alicia Ostriker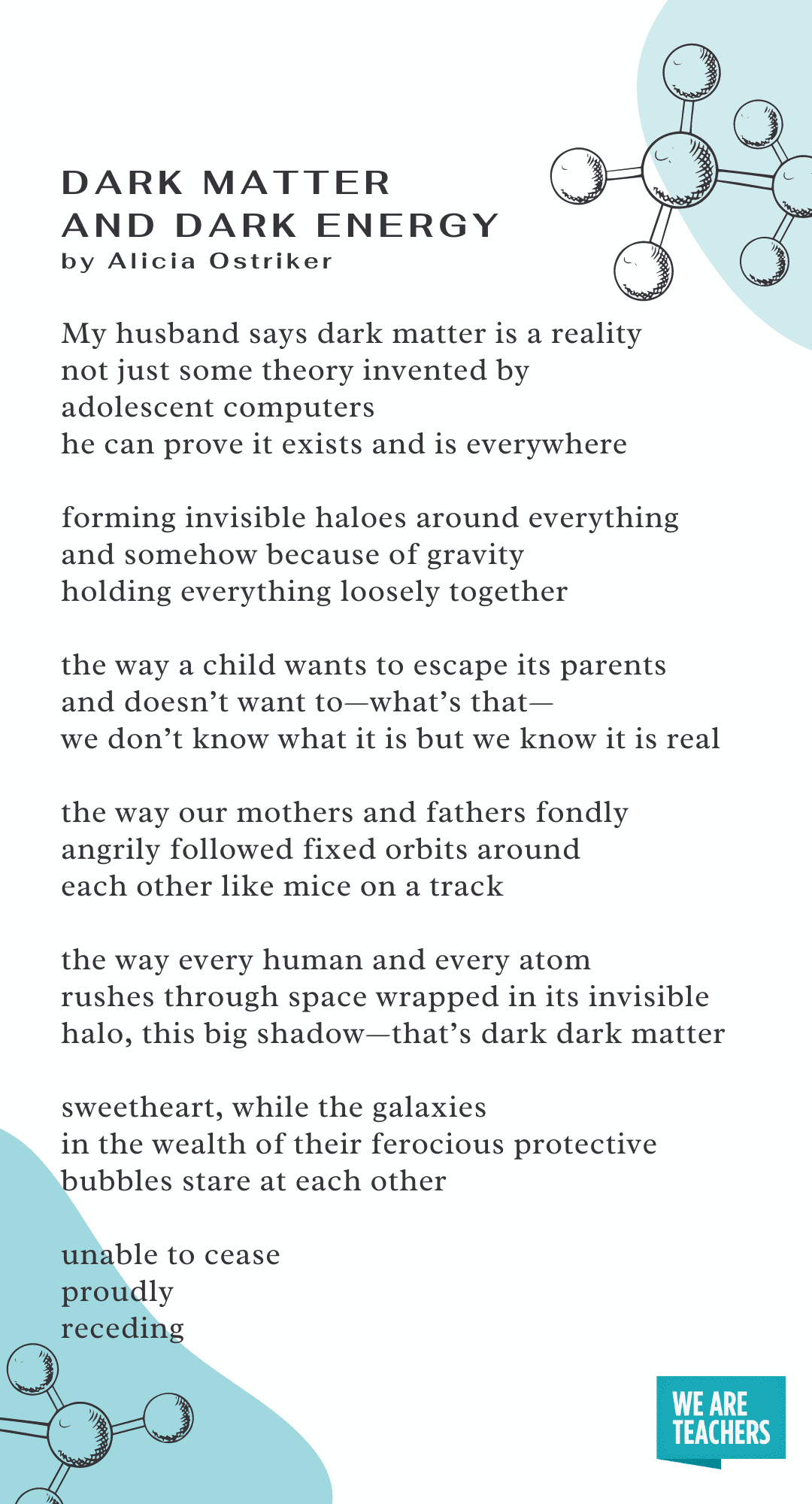 "My husband says dark matter is a reality…"
42. Panoramic View by Shanna Compton
"Last week Mars suddenly got a lot closer."
43. Textbook & Absence (Anatomy) by Catherine Barnett
"At school he studies the human body…"
44. Lament for the Makaris by William Dunbar
"I that in heill was and gladness…"
45. Mail-Order Planets by Adrian Matejka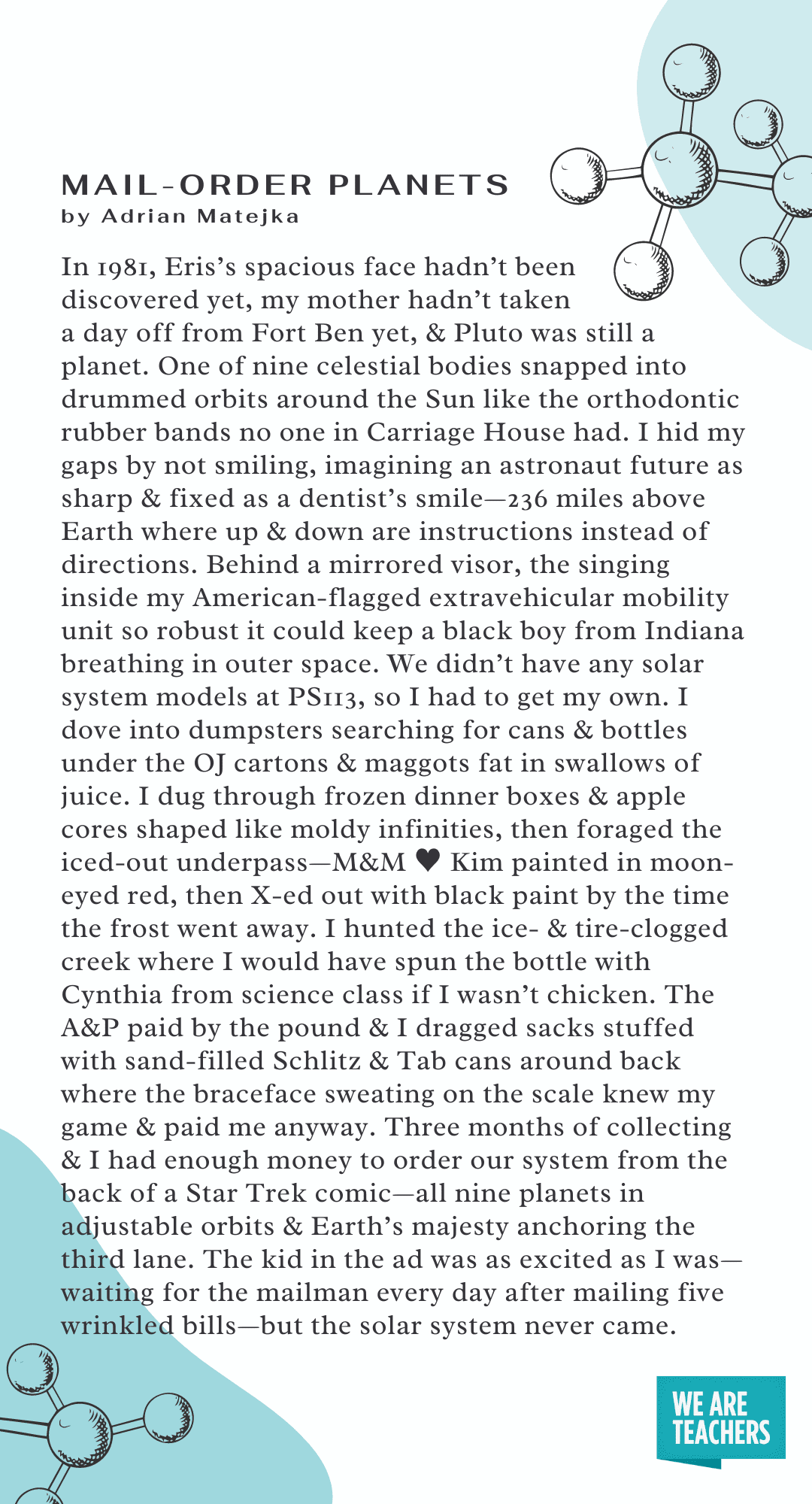 "In 1981, Eris's spacious face hadn't been discovered yet."
46. The Horrid Voice of Science by Vachel Lindsay
"There's machinery in the butterfly…"
47. NINE, 40 by Anne Tardos
"Take a good look, she says about her inventory."
48. First Probe by Barry Ballard
"When the earth is tempered, compressed and cooled…"
49. Anthropocene by Nomi Stone
"Nesting, the turtle seems to be crying even though she is simply secreting her salt."
50. When I Heard the Learn'd Astronomer by Walt Whitman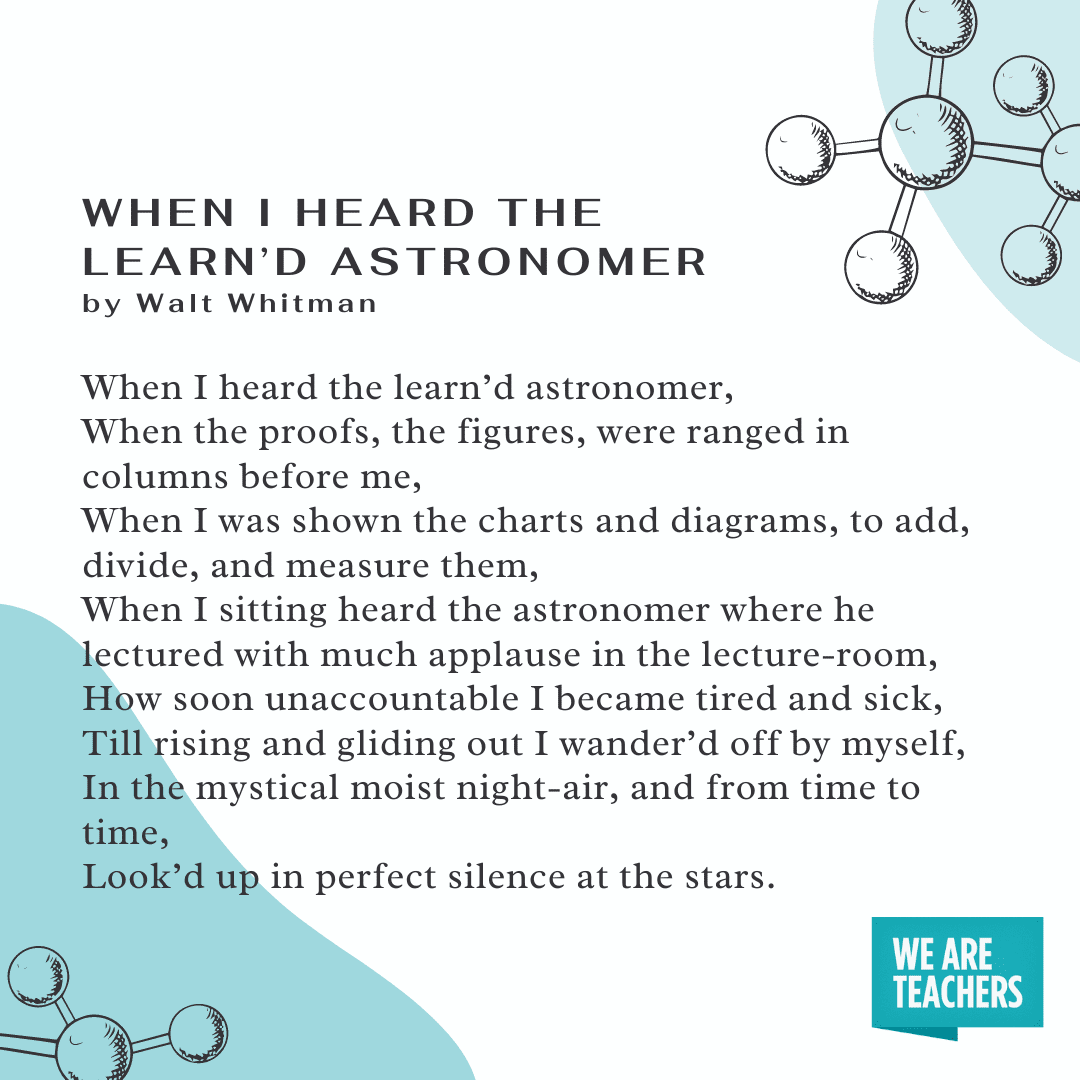 "When the proofs, the figures, were ranged in columns before me…"
Enjoy our list of science poems? Don't miss our poetry suggestions! Subscribe to our newsletter so you can get our latest picks.