As the summer months come to an end, the bittersweet transition to autumn begins. There's a lot to love about this season, which is why these fall poems are perfect for sharing with students. Embrace the change of season with some heartwarming poetry in your classroom.
Best Fall Poems for Elementary School Students
1. Fall Leaves by Sue
"Red, yellow, orange, brown…"
2. Five Little Pumpkins by Dan Yaccarino
"The First one said, "Oh my it's getting late!"
3. Fall by The Classroom Creative
"Leaves are falling."
4. Autumn Means Harvest by Lenore Hetrick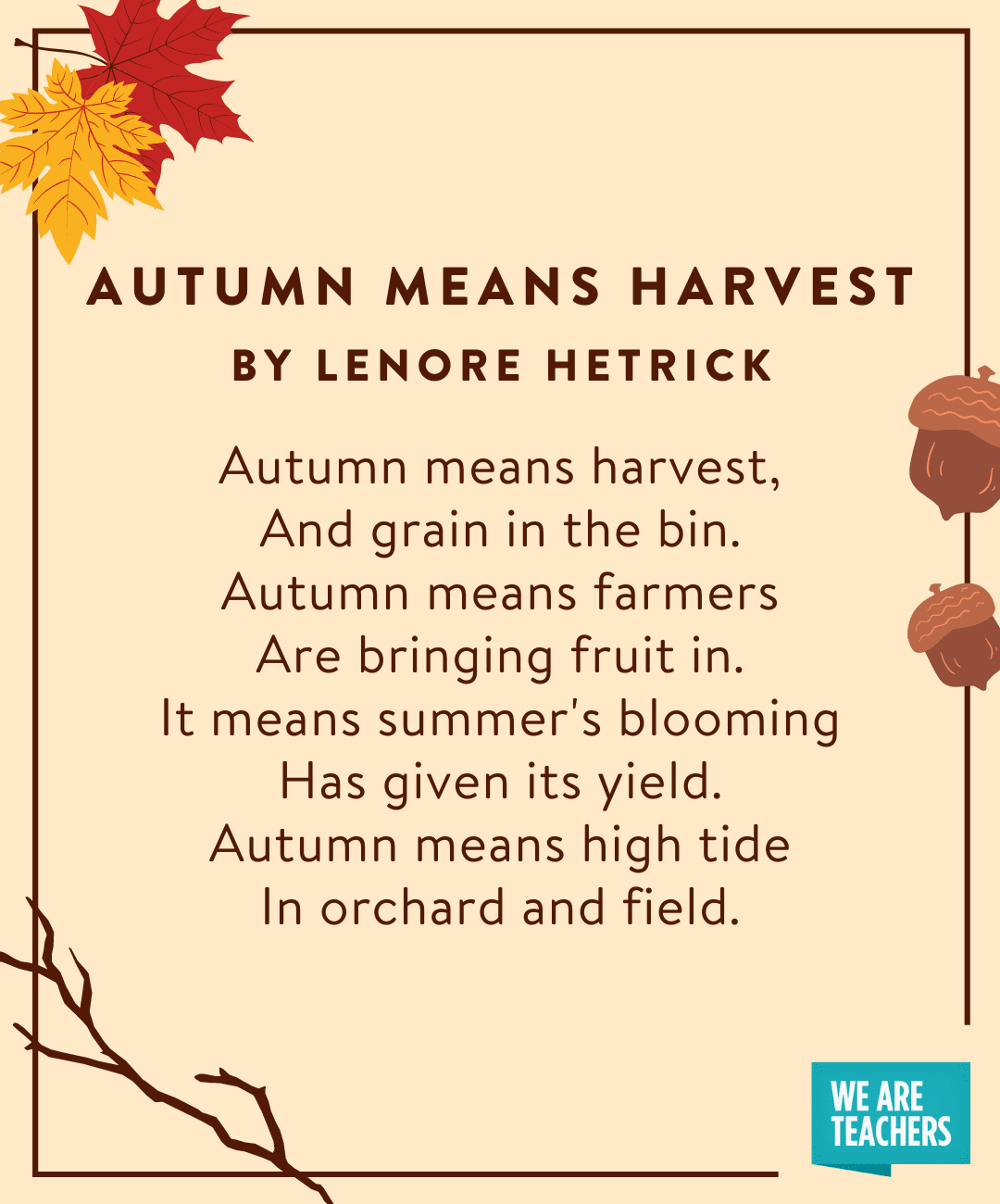 "And grain in the bin."
5. Five Little Acorns by Mrs. A
"The first one said, "I'm as happy as can be!"
6. A Fall of Colors by Little Miss Hood
"I like sunshine."
7. Taking a Walk by Mary Jackson Ellis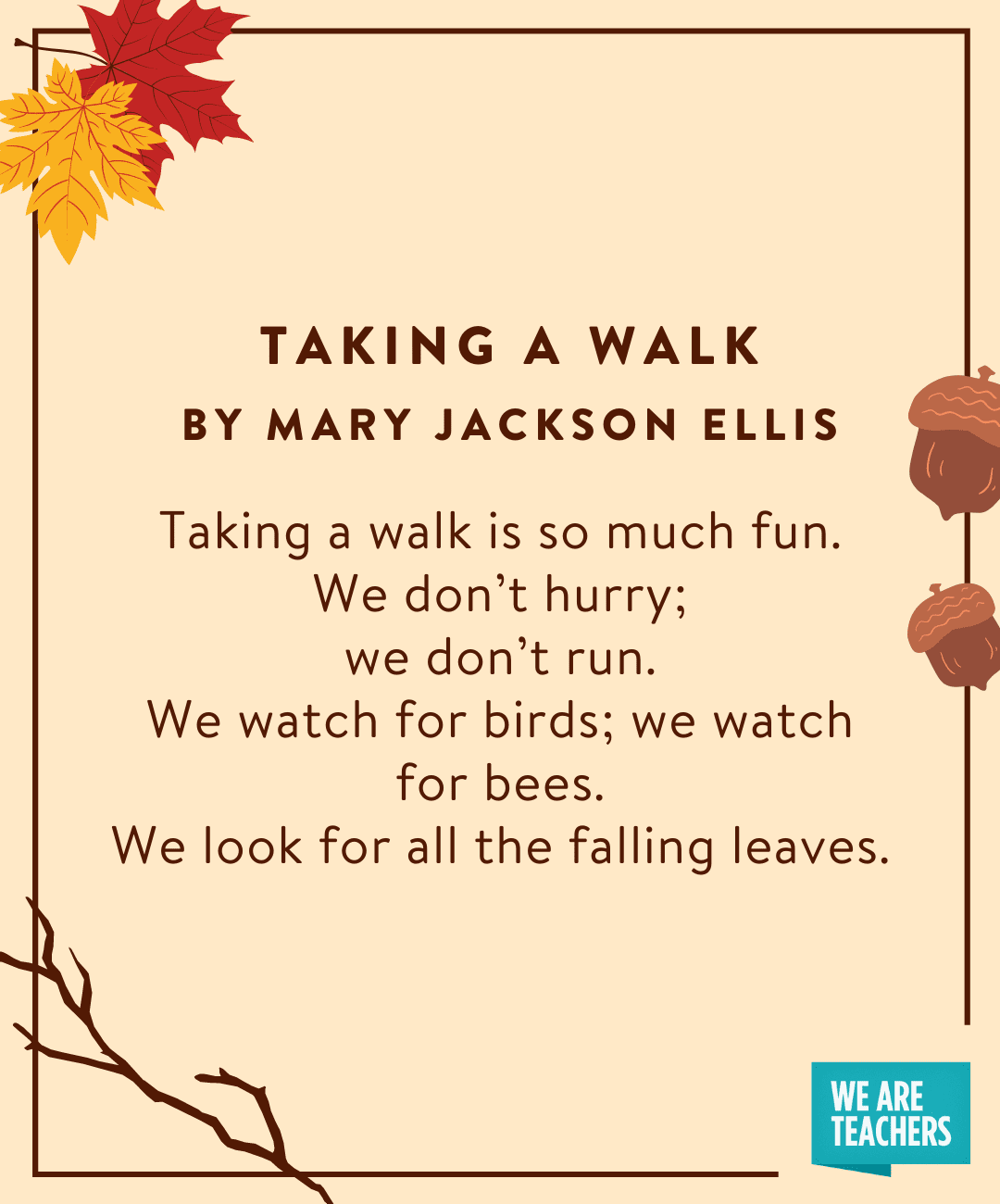 "We look for all the falling leaves."
8. A Sad, Glad Time by Lenore Hetrick
"Autumn is a fruitful season, and yet a little sad."
9. Autumn by Alexander Posey
"In the dreamy silence."
Best Fall Poems for Middle School and High School Students
10. Nothing Gold Can Stay by Robert Frost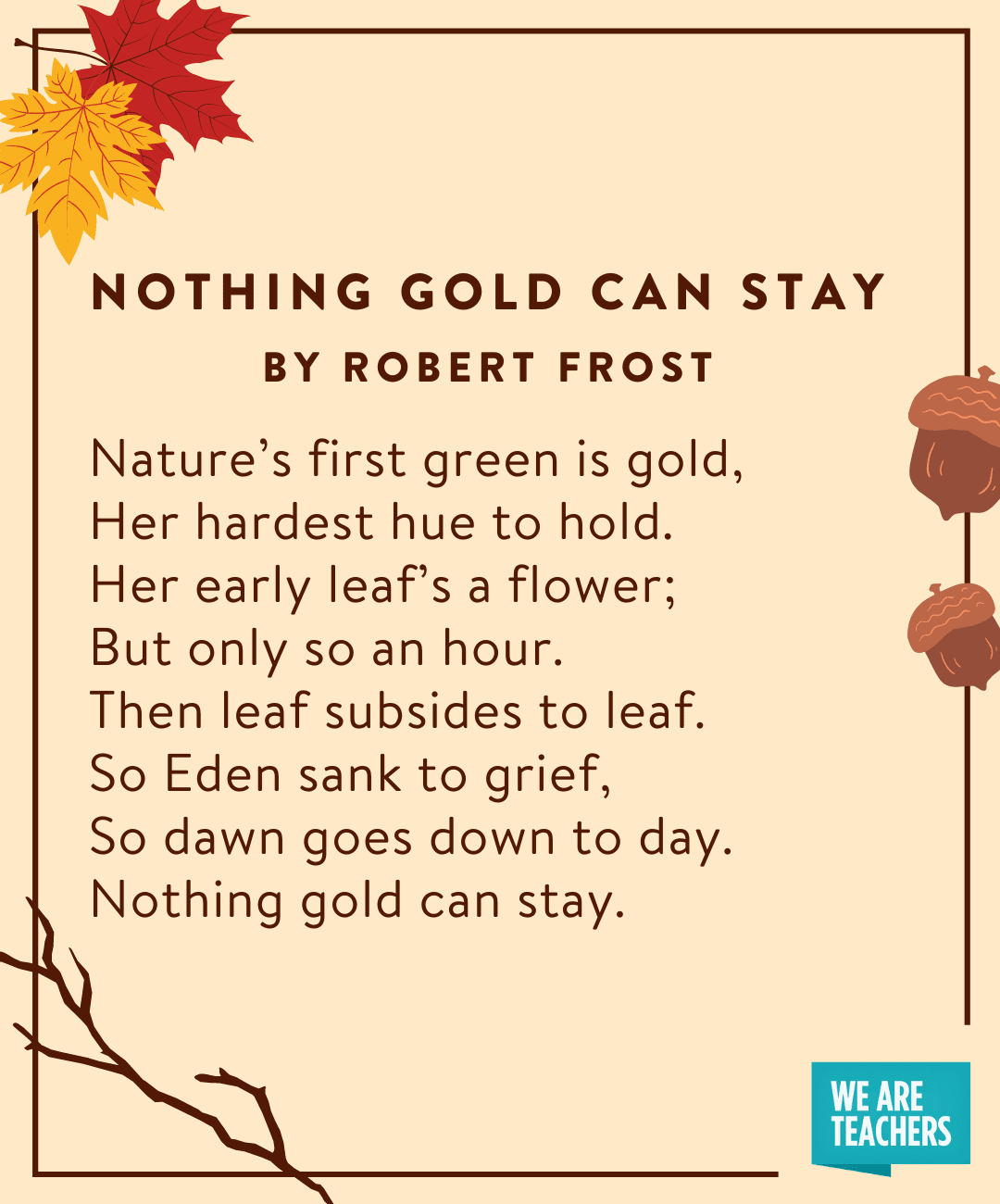 "Nature's first green is gold."
11. Autumn by Alice Cary
"She lies on pillows of the yellow leaves."
12. Dark Eye in September by Paul Celan
"A second time the chestnut blooms."
13. Merry Autumn by Paul Laurence Dunbar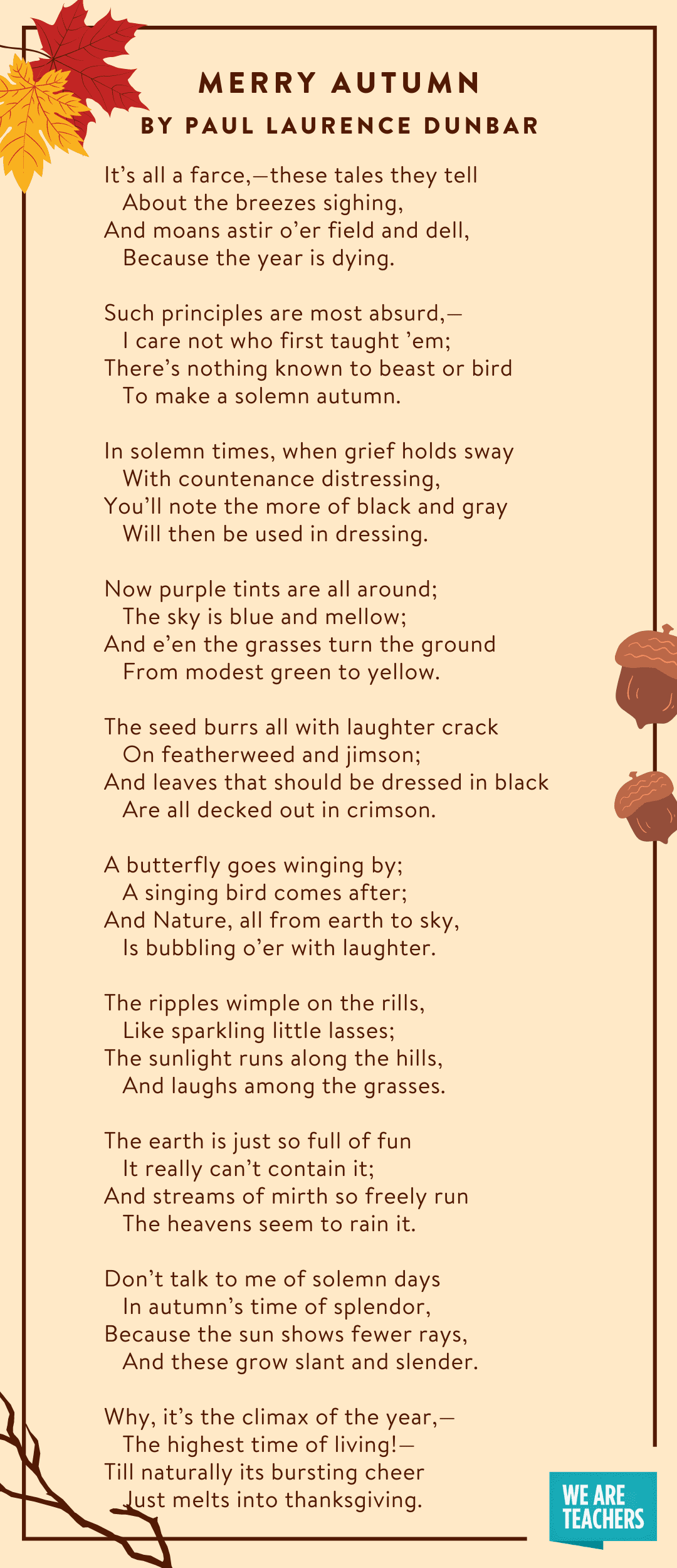 "It's all a farce,—these tales they tell."
14. Kid, these are train tracks, by Jeffrey Bean
"The train never comes."
15. Fall Leaves Fall by Emily Brontë
"Fall, leaves, fall; die, flowers, away."
16. Autumn Leaves by Marilyn Chin
"The dead piled up, thick, fragrant, on the fire escape."
17. Of Things and Home by b: william bearhart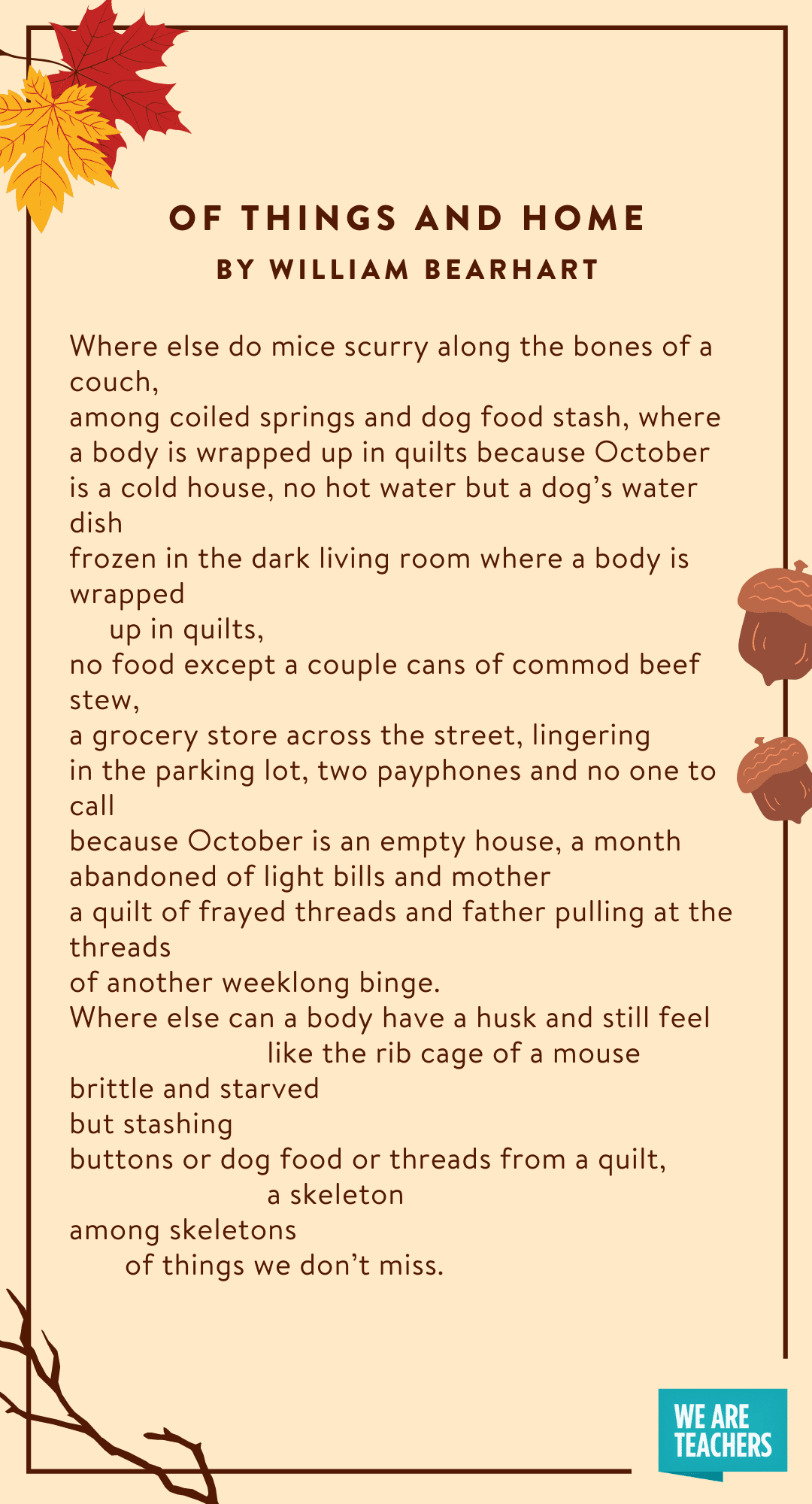 "…a body is wrapped up in quilts because October."
18. October Evening by Robinson Jeffers
"Wet with the young season's first rain."
19. In Envy of Cows by Joseph Auslander
"With beauty of motion slow and succinct like some grave privilege."
20. Thinking of Frost by Major Jackson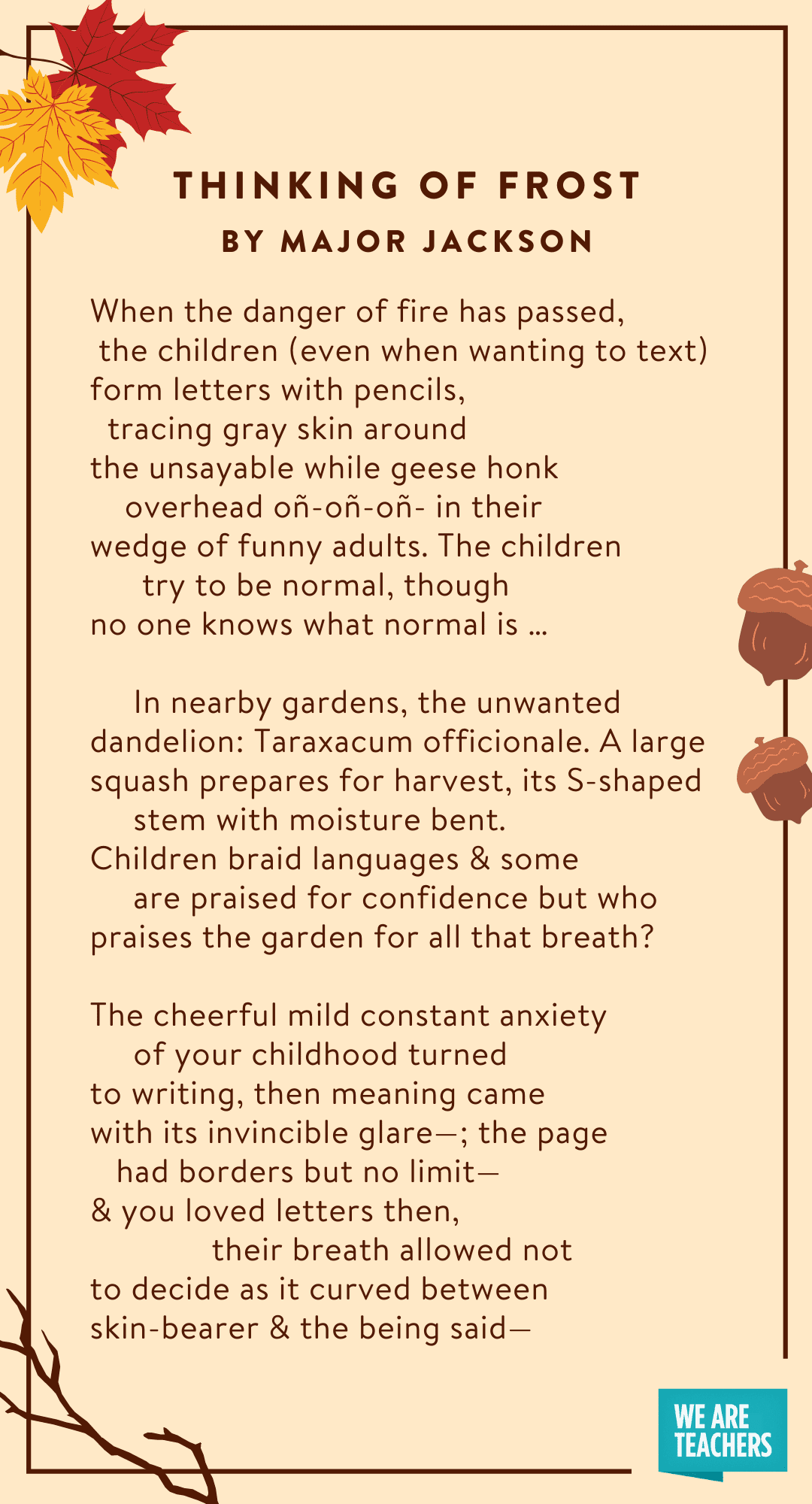 "I thought by now my reverence would have waned…"
21. Fall by Didi Jackson
"How many times in a life will we witness…"
22. Kid, this is the first rain by Jeffrey Bean
"It strips off the rest of the leaves, reminds trees how to shiver."
23. Between Autumn Equinox and Winter Solstice, Today by Emily Jungmin Yoon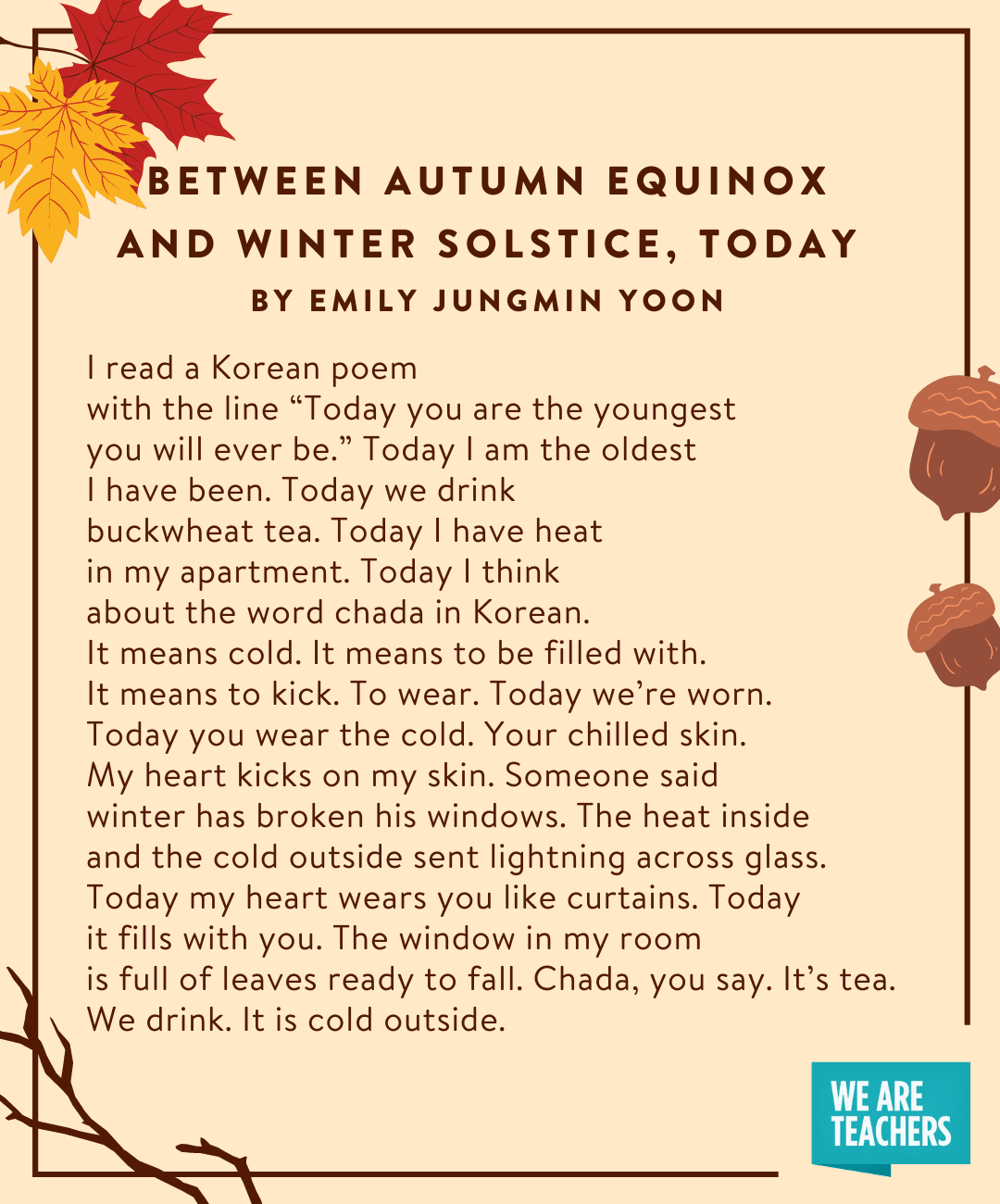 "Today you wear the cold. Your chilled skin."
24. November by Edward Thomas
"Those thirty days, from first to last."
25. Autumn by Siegfried Sassoon
"October's bellowing anger breaks and cleaves."
26. Gone is Gone by Mark Wunderlich
"I was there at the edge of Never, of Once Been, bearing the night's hide…"
27. The Letters Learn to Breathe Twice by Brenda Hillman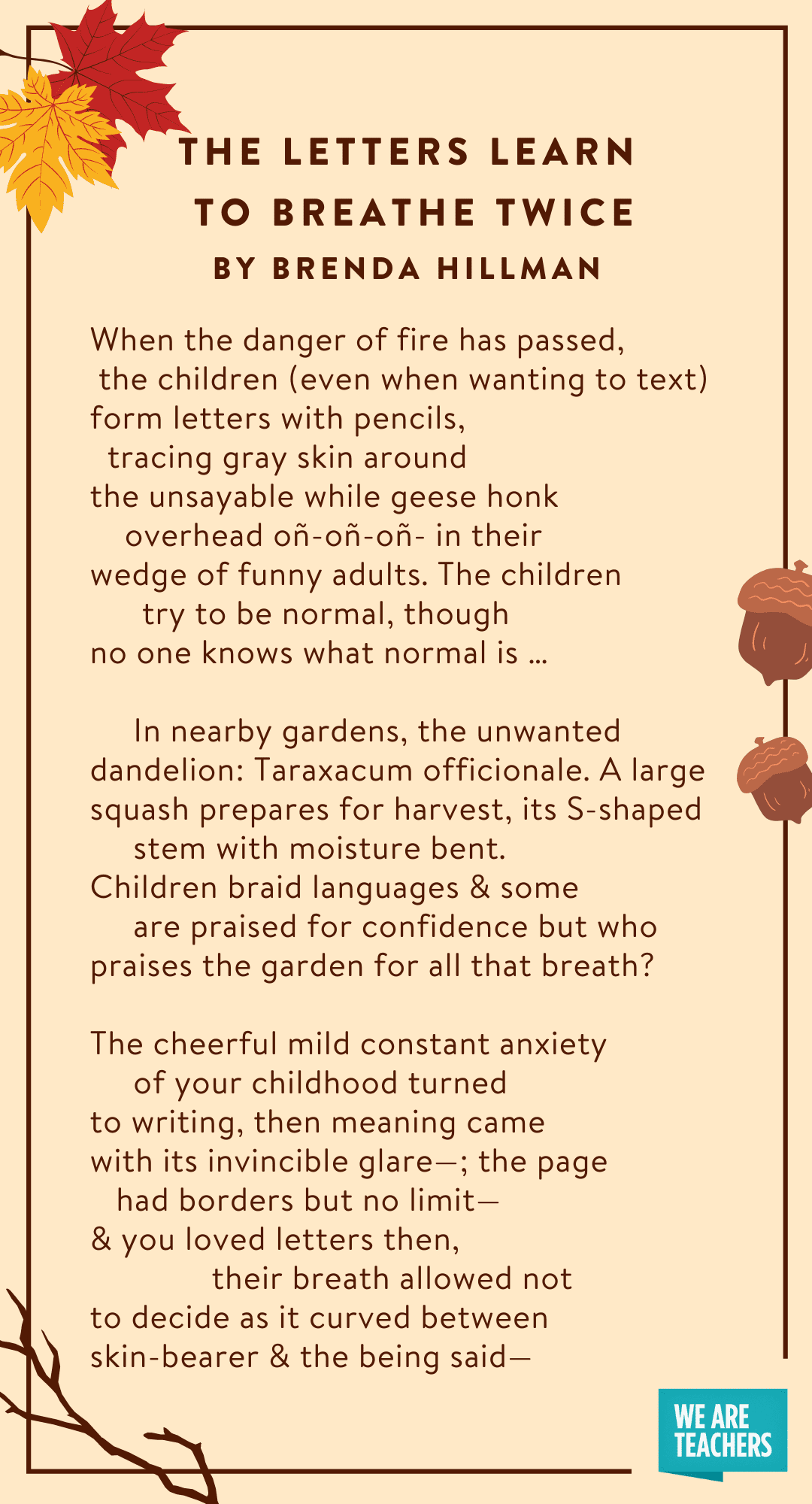 "When the danger of fire has passed…"
28. Kid, this is October, by Jeffrey Bean
"you can make the maples blaze…"
29. The Seasons Moralized by Philip Freneau
"Like Youth to lead the festive dance."
30. Nature Aria by Yi Lei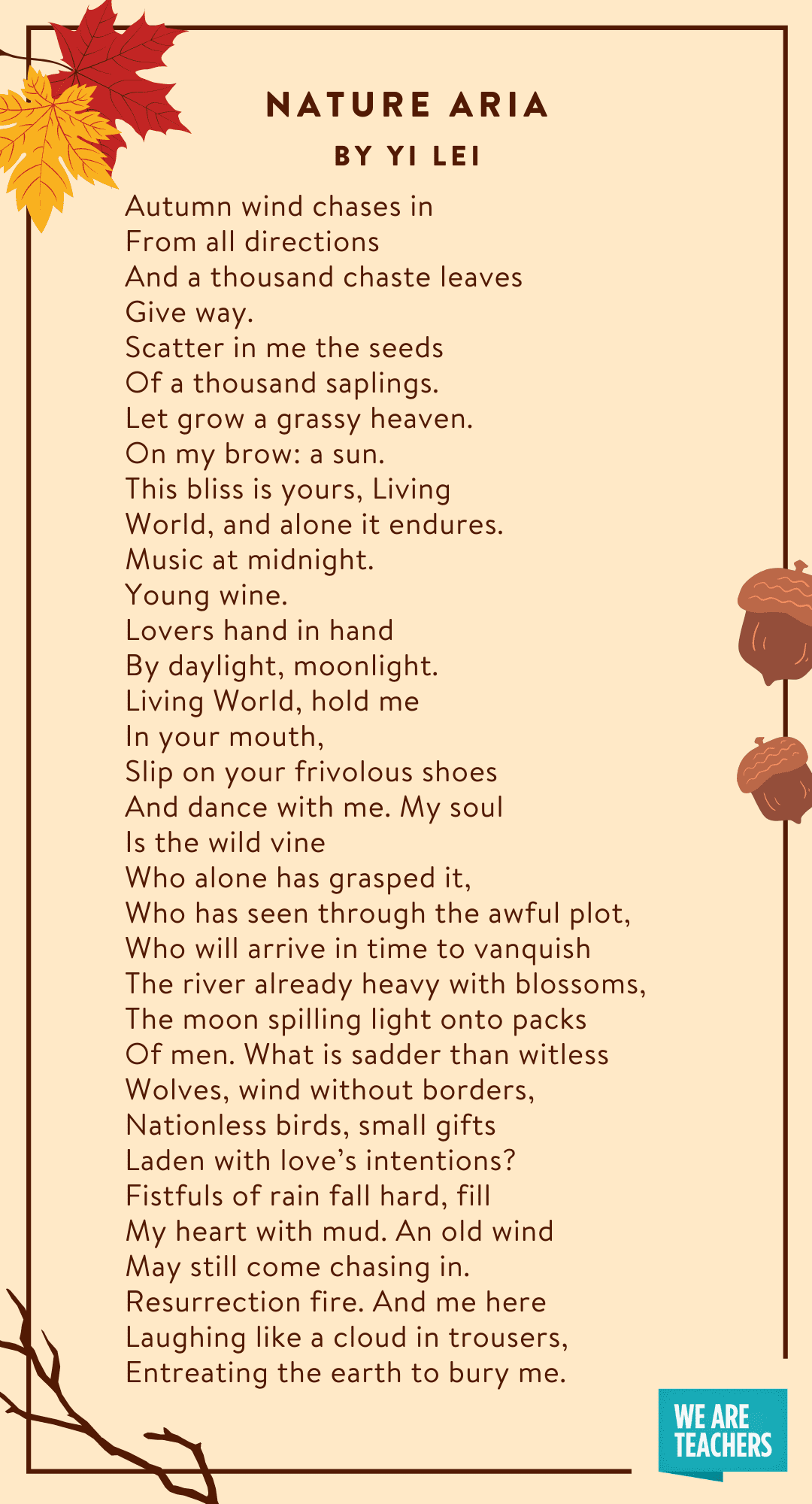 "Autumn wind chases in."
31. Autumn by Christina Rossetti
"I dwell alone—I dwell alone, alone."
32. My November Guest by Robert Frost
"My sorrow, when she's here with me."
33. The Blower of Leaves by January Gill O'Neil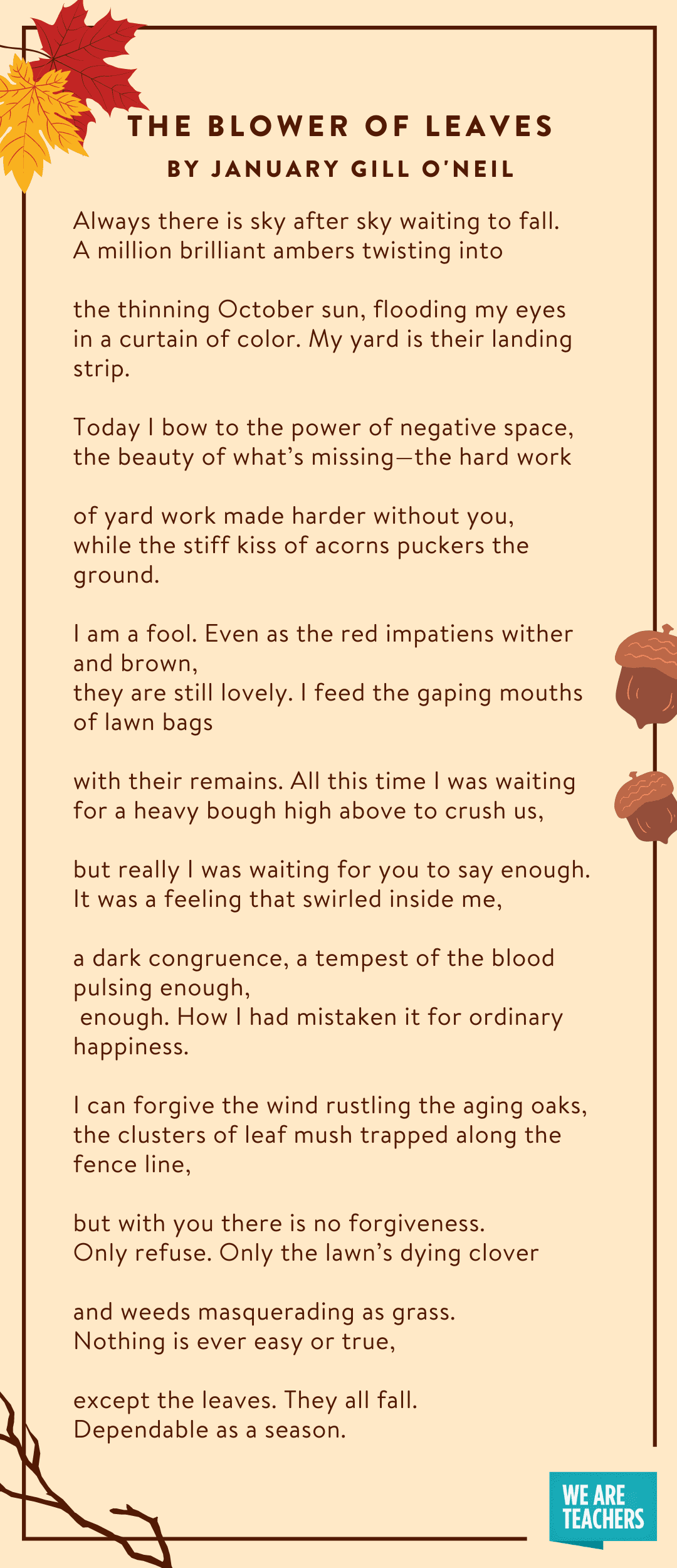 "Always there is sky after sky waiting to fall."
Want more poetry suggestions? Be sure to subscribe to our newsletter so you can get our latest picks.
21 Picture Books to Celebrate Fall25 of Our Favorite String Lights Sets for the Classroom(Opens in a new browser tab)(Opens in a new browser tab)