The fall is such a fun and festive time of year. Apple picking, cider sipping, and trips to the pumpkin patch. It's hard to beat! It's also a great time for thrills and scares, which is why we've come up with this list of spooky Halloween poems for kids of all ages. Share these to bring some fright (and delight) to your classroom!
Halloween Poems for Elementary Students
1. Boo by Emma Walsh
"Here you are dressed up for the night…"
2. Spooky Halloween by Julia Martin
"Jack o'lanterns yellow glow."
3. Nothing to be Afraid of by Clara Denton
"I hear them tell that witches run…"
4. Halloween Fun by Ada Clark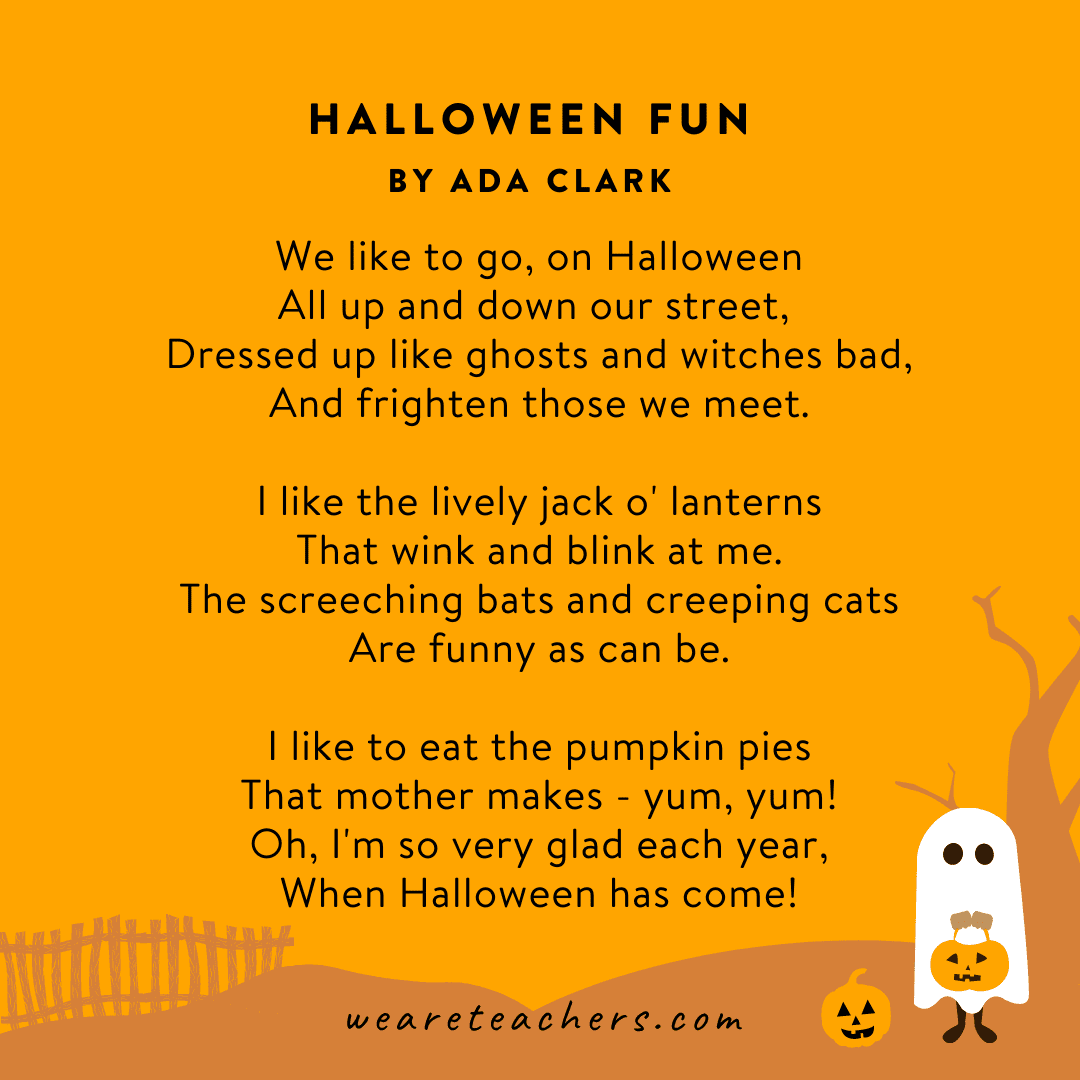 "Dressed up like ghosts and witches bad…"
5. Ghost Bus by Joe Wayman
"Underneath the lamp post, in the middle of the night…"
6. My Next Door Neighbor Is A Witch by Samiya Vallee
"And she lives way down in a ditch."
7. Mystic Magination Night! by Patricia L. Cisco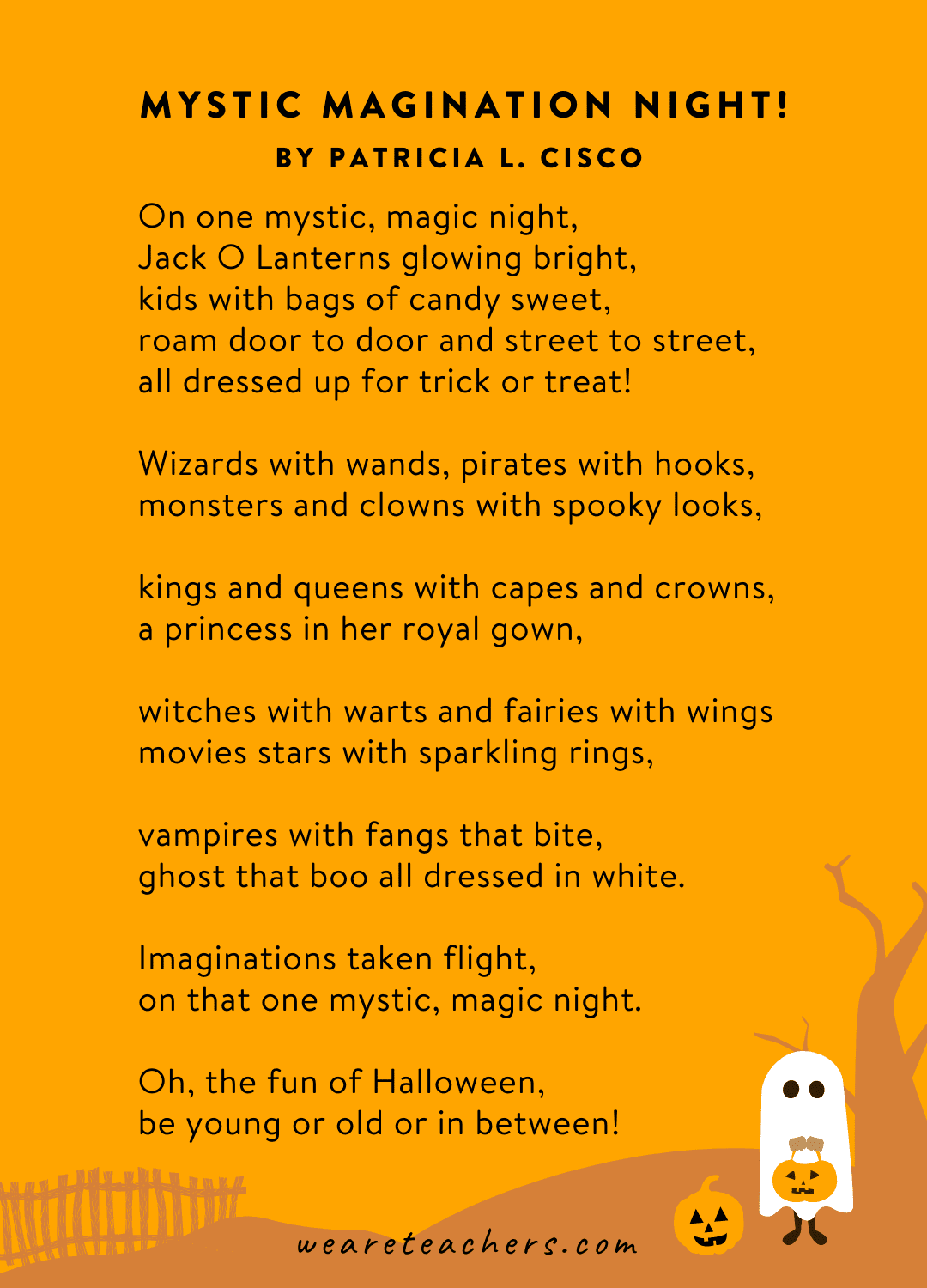 "On one mystic, magic night…"
8. Spooky Halloween Night by Jacey Vantimmeren
"It's very spooky on Halloween night."
9. Halloween Chills by Denise M. Cocchiaro
"On this night of spooks and gnomes…"
10. Homecoming by Anne Pollock
"Shiver me timbers, rattle me bones."
Halloween Poems for Middle School Students
11. I Wouldn't Live In A Haunted House by Rick W. Cotton
"It's something I just wouldn't do."
12. Black Hood by Amy Pan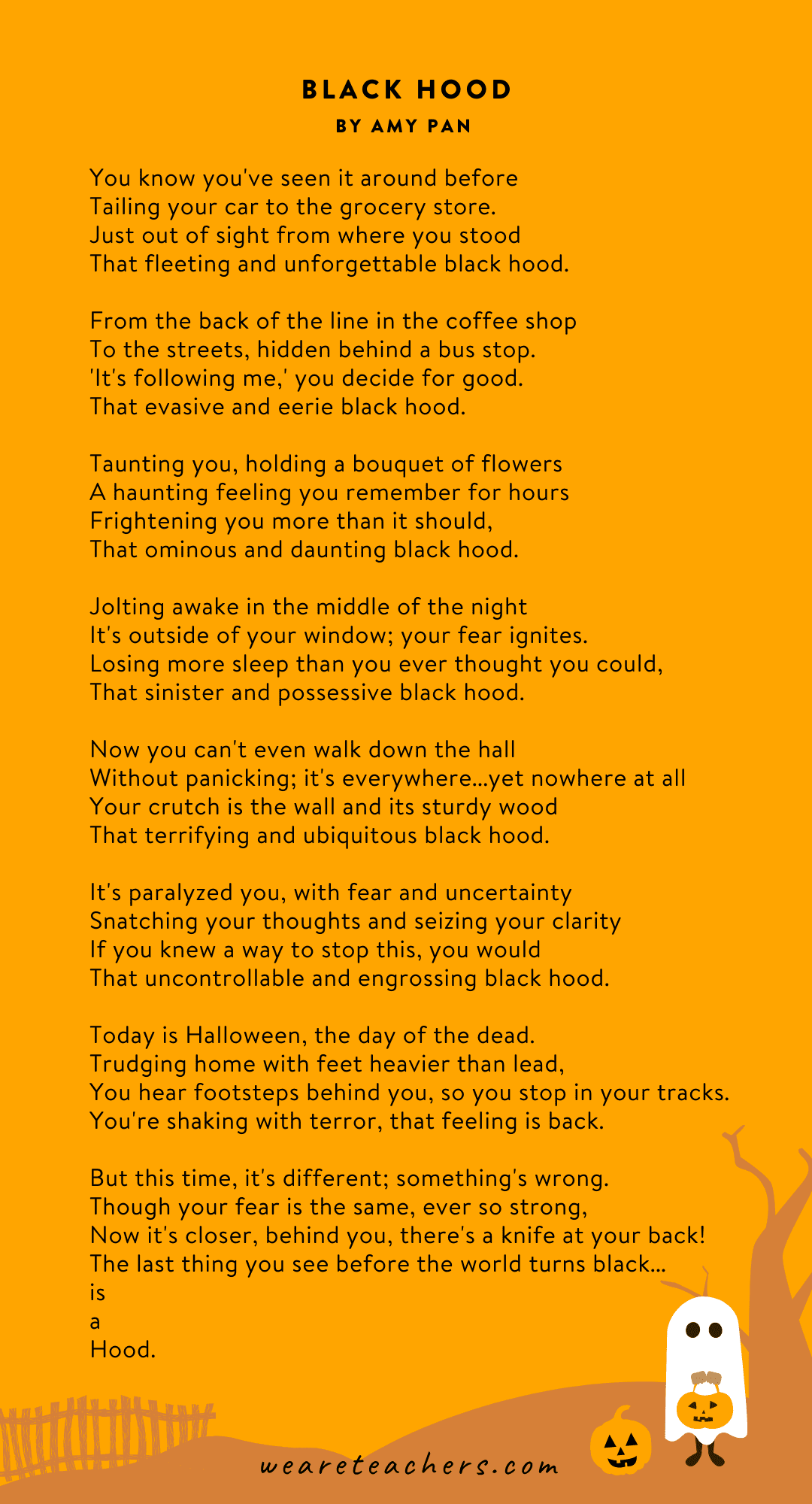 "You know you've seen it around before…"
13. Hallowe'en by Joel Benton
"Pixie, kobold, elf, and sprite…"
14. November 2: Día de los muertos by Alberto Ríos
"It is not simply the Day of the Dead—loud, and parties."
15. The Raven by Edgar Allan Poe
"Once upon a midnight dreary, while I pondered, weak and weary…"
16. Haunted Houses by Henry Wadsworth Longfellow
"All houses wherein men have lived and died…"
17. Ghosts and Fashion by Elaine Equi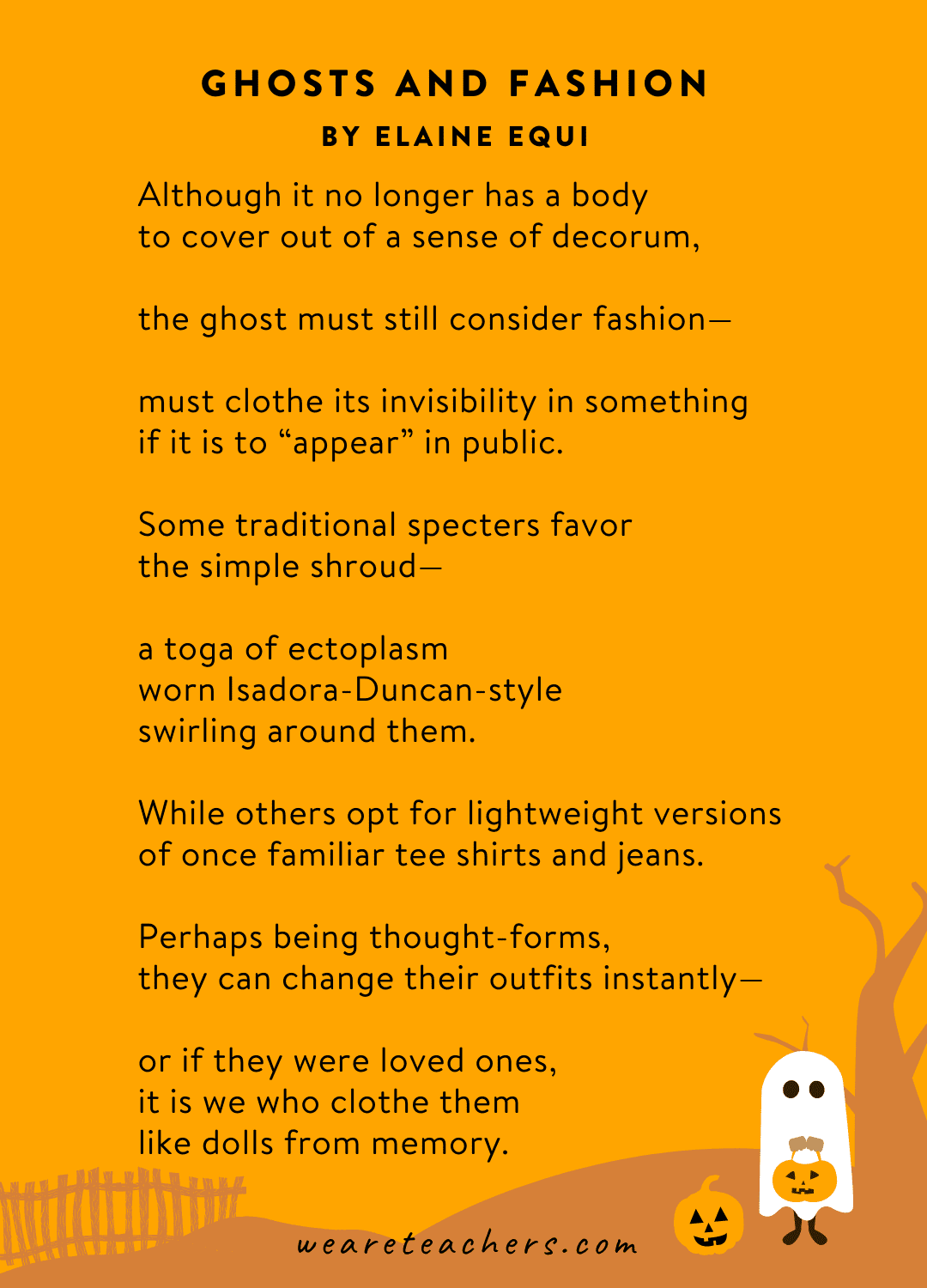 "…the ghost must still consider fashion—"
18. Hallowe'en Charm by Arthur Guiterman
"Fern seed, hemp seed, water of the well…"
19. All Hallows' Eve by Dorothea Tanning
"Be perfect, make it otherwise."
20. Will-O'-The-Wisp by Madison Cawein
"There in the calamus he stands…"
Halloween Poems for High School Students
21. Ghost Music by Robert Graves
"Gloomy and bare the organ-loft…"
22. The Demiurge's Laugh by Robert Frost
"I was running with joy on the Demon's trail…"
23. Dusk in Autumn by Sara Teasdale
"The moon is like a scimitar…"
24. Halloween in the Anthropocene by Craig Santos Perez
"Darkness spills across the sky like an oil plume."
25. Samhain by Annie Finch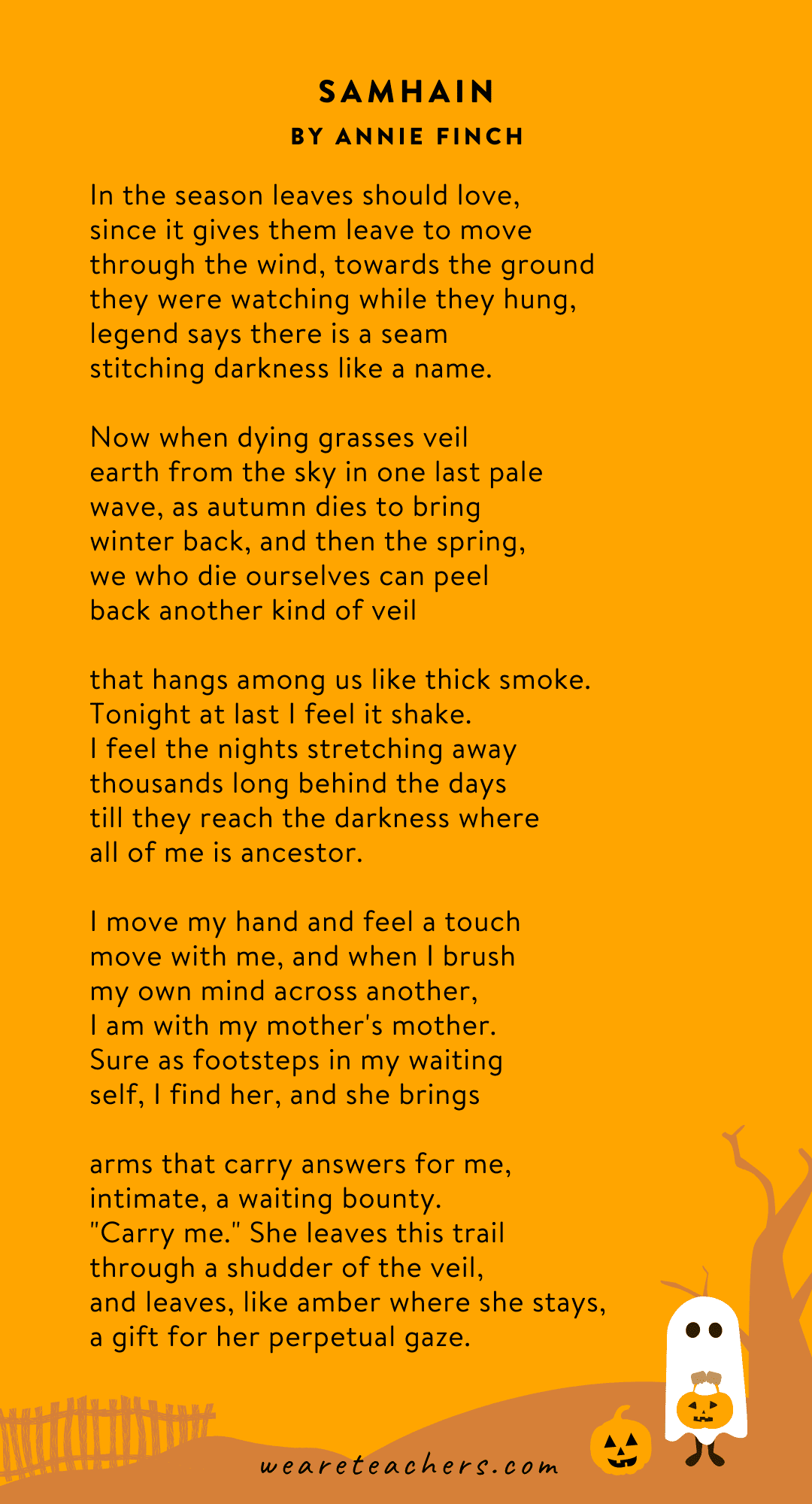 "In the season leaves should love…"
26. "This living hand, now warm and capable" by John Keats
"This living hand, now warm and capable…"
27. To Live in the Zombie Apocalypse by Burlee Vang
"The moon will shine for God knows how long."
28. Ghost Prisoner by Heid E. Erdich
"The ghost prisoner, a murderer…"
29. Macbeth, Act IV, Scene I [Round about the cauldron go] by William Shakespeare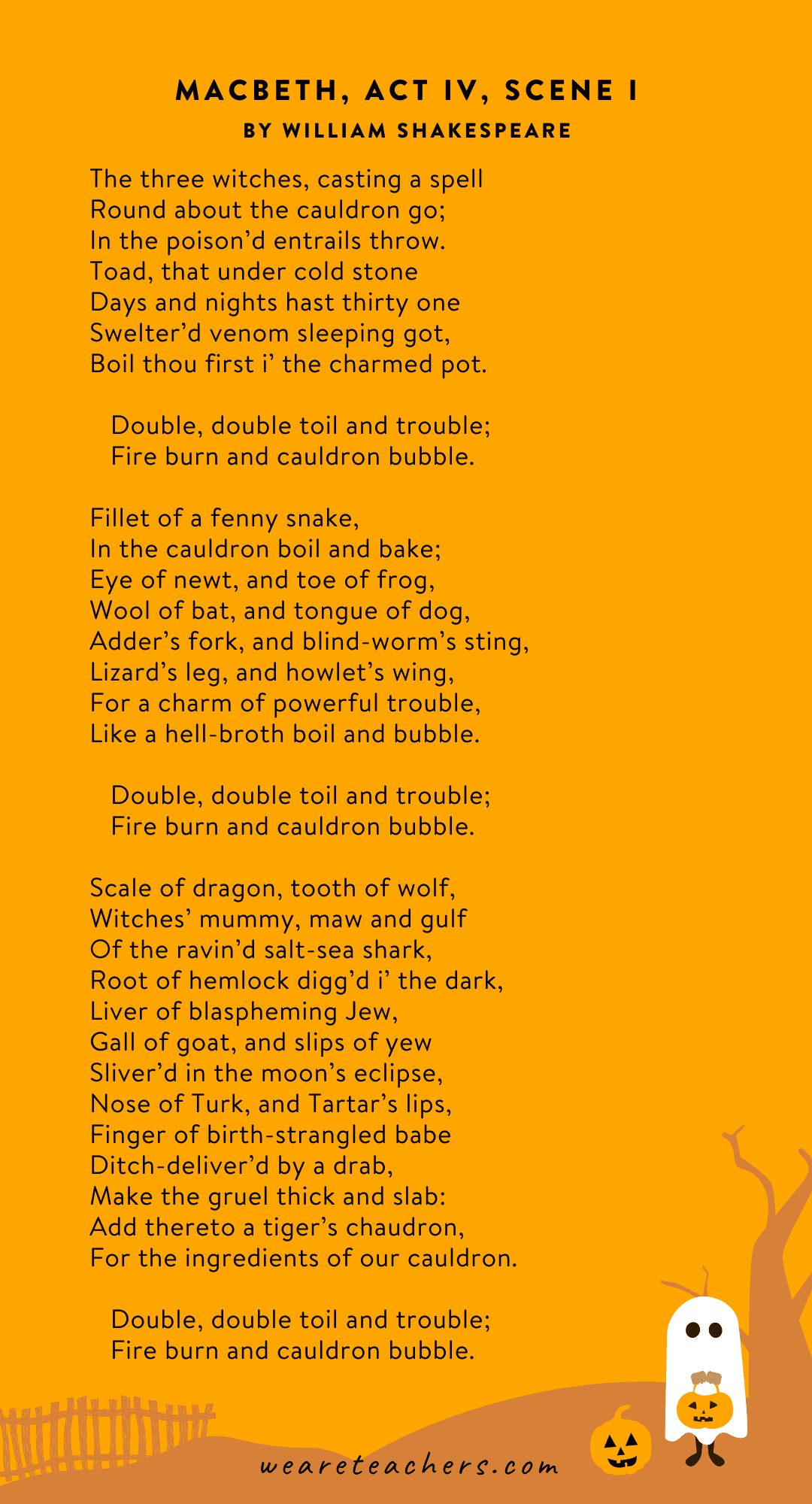 The three witches, casting a spell.
30. Lamia [Left to herself] by John Keats 
"Left to herself, the serpent now began…"
Enjoy these Halloween poems? Want more suggestions? Be sure to subscribe to our newsletter so you can get our latest picks.