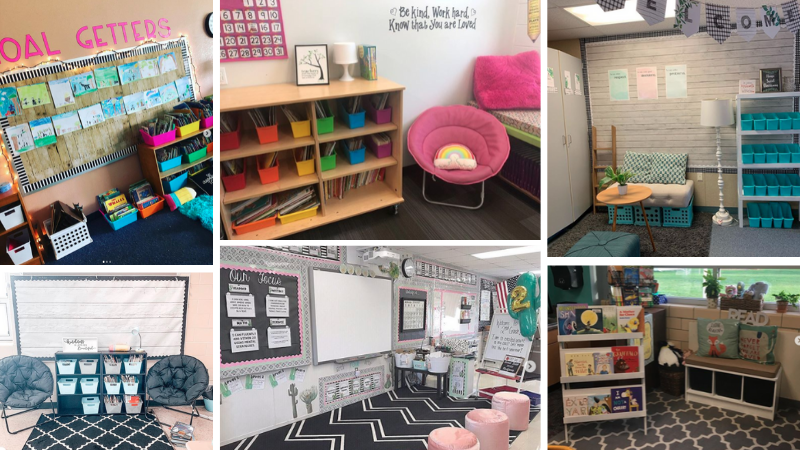 Ready to transform your classroom into a learning environment that's fun and engaging for you and your students? Say no more! We've done the research to get you motivated to take on a fantastic and affordable makeover. Check out this list of 22 vibrant and inspiring second grade classroom ideas to help you get started!
1. Know your classroom rules
Set the tone by letting your students know exactly what you expect in your second grade classroom.
2. Make it chic, but affordable
View this post on Instagram

This was my classroom last year on meet the teacher, and I was so excited to meet my first group of 2nd graders , since I had only taught 4th and 5th graders for 4 years. They were all so excited to come into my classroom, and I was probably even more excited to welcome 18 adorable 7 year olds! . . However, this year, I am truly so anxious, nervous, and confused about this school year. I usually have everything planned out, my classroom is fully decorated by now, and all the centers cleaned and organized. But unfortunately I have 0 clue if we will be even able to use anything, I know we won't be able to even have a gathering area rug 😫 and let me tell, that rug has a lot of learning and memories on it 😭 and probably snot too 🤪🤣. . . But in all seriousness, are you just as anxious and nervous about this upcoming school year!? . . . . . #classroom #classroomdecor #targetdollarspot #tpt #teacherspayteachers #secondgrade #iteachtoo #secondgradeclassroom #teachersofinstagram #cactusclassroom #cricut #classroomlibrary #bigjoe #classroomorganization #target #michaels #tjmaxx #homegoods #marshalls #fivebelow #classroomsetup

A post shared by carley🌸 (@cma1291) on Jul 10, 2020 at 6:06am PDT
Yes, you can absolutely replicate this posh look by raiding the budget sections at Target, TJ Maxx, and even Five Below!
3. Show them your support
Let your students know that they can "follow their arrow" wherever it points and you'll be right there cheering them on!
4. Make math fun!
Math can be intimidating, but this adorable wall makes it feel more accessible!
5. Create a safe space
We all hit rough patches throughout our day, so give your students a space where they can decompress.
6. Offer some inspiration
Who doesn't need a sweet reminder to keep going and reach higher?
7. Life's better with pom poms
Even the most drab classrooms can get a boost from hanging some fun decorations.
8. Give them a soft place to land
Adding a plush rug (dark colors hide A LOT) to your library area makes it feel cozier.
9. Reading Corners Are The Best
Give your students multiple seating options, kind words, and good books.
10. Elevate your flexible seating
Don't shy away from elegant decor for your fabulous second grade classroom!
11. Focus on setting goals
Dedicate an entire space to support your students' dreams!
12. Recycle, reuse, re-purpose!
Get creative about your DIY classroom decor. This old tire makes a unique seat!
13. Keep it simple
You don't have to spend tons of money or clutter your room to create a great space.
14. No cubby? No problem!
Use tabletop organizers to help kids keep track of their work.
15. Go with classic and understated
Give your students a neutral reading space and let their imaginations soar!
16. Let them explore
What do they want to see? How do they want to sit? Create a second grade classroom with options.
17. Make it magical
Cute little accents and string lights add some whimsy to your classroom.
18. Get Hooked On Book Nooks
Providing a wonderful reading nook can help students get hooked on books.
19. Up, up and away!
Use bright colors to make STEM topics more exciting (we love those hot air balloons, too)!
20. Use your wall space
Short on floor space? Use your walls to create informative and engaging sections of content.
21. All are welcome
A comfy rug, organized shelves, and a well-used chalkboard invite curiosity.
22. Show some love
We can't control what happens outside our classroom, but we can let our students know that they are loved when they are with us.
Plus check out the ultimate checklist for setting up your second grade classroom.
If these ideas inspired you, join our WeAreTeachers HELPLINE group and come talk with the very teachers who suggested them!
Share this post if you enjoyed! 🙂