Flexible seating is here to stay.
Teachers (and students) love having options when it comes to classroom seating. Long gone are the days of single desks in straight rows. Now you can choose from standing desks, collaboration tables, stability balls, wobble stools, and a whole lot more. 
"There's also a lot research showing a correlation between the subtle movements that flexible seating allows and an increase in student focus and engagement," says Joe Russell, principal at Washington Elementary School in Wauwatosa, Wisconsin. "It makes classrooms more accessible for students, increases student engagement, and opens the room to a variety of learning styles." 
Here are some of the latest, greatest, coolest, and most recommended flexible-seating options to consider for your own classroom. Happy shopping!
Just a heads up, WeAreTeachers may collect a share of sales from the links on this page. We only recommend items our team loves!
Also known as yoga or exercise balls, these giant balls allow kids to gently bounce while seated and encourage good posture. You can get a single ball or choose one with an inflatable base to keep it from rolling away. (We hear a pool noodle makes a great base, too.) A stability ball is one of the most affordable flexible-seating options. You can get one for about $20. Plus there are so many great colors to choose from.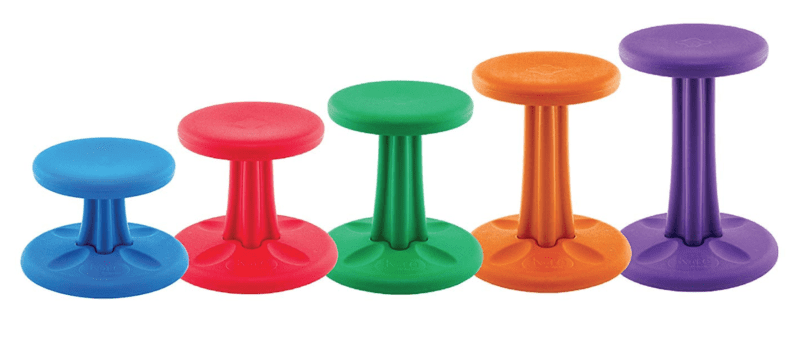 These wobble stools are in classrooms all over the country. Teachers love them because they're easy to set up (seriously, it just takes a few seconds once you get it out of the box), and they work for students of all ages. They are durable, have lots of colors, and can easily replace your regular chairs. These stools are usually $60–$80 each . 
If you don't have the budget for wobble stools, then try wobble cushions instead. They come in around $20 each, though you might be able to find deals on certain colors or brands. Our favorite is the Trideer cushion. Check out our Teachers Grade Everything review on these stools above. Tobias did a great job of testing them out for us! See all the color options (there are a lot) available right here.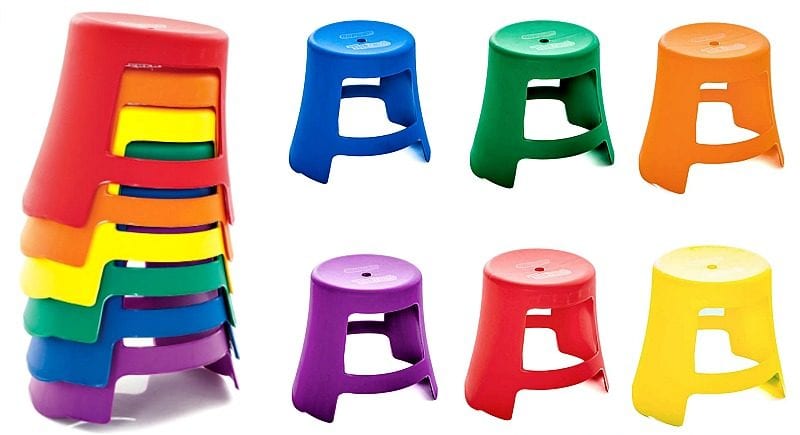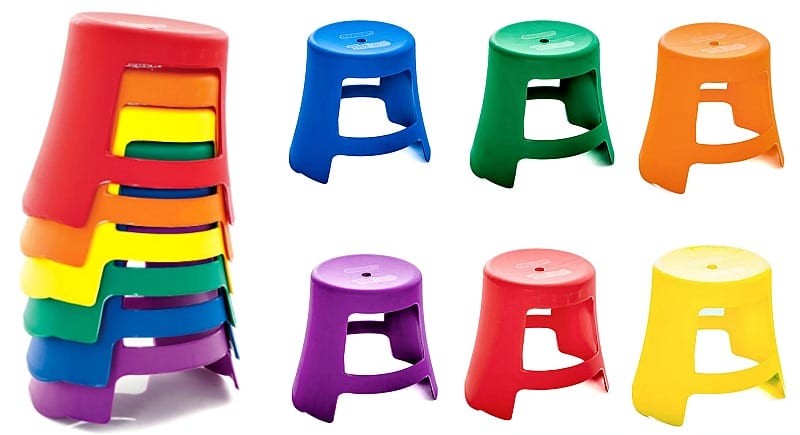 These seats from Gopher Sport have the slightest curve to them, allowing your students to rock back and forth as much as they want. Because of the backless design, they promote good posture, too. These chairs are stackable and usually sell for about $40 a piece.


These ball chairs from Safco have a sleek, modern look and come in a colorful polyester (spot clean only) or black vinyl covering and with removable legs that glide across floors. When fully inflated, the chair measures about 23 inches high. This one comes with a pump, so you can reinflate it anytime. They usually range in price, starting at about $100. Check out the different color options on Amazon.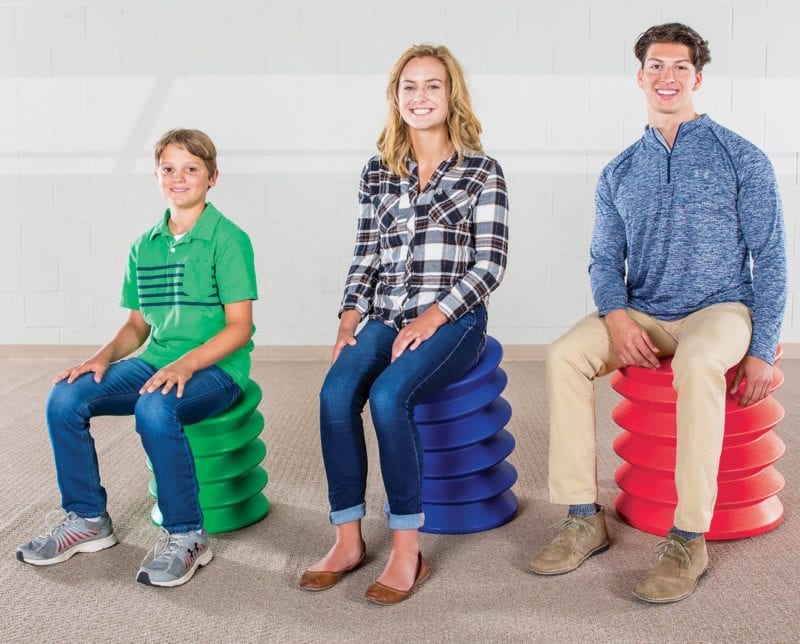 Who could resist sitting on one of these? The accordion-style base compresses slightly to allow continuous small movements forward, back, and side to side. Available in three sizes and multiple colors, starting around $75. Learn more about them on Moving Minds.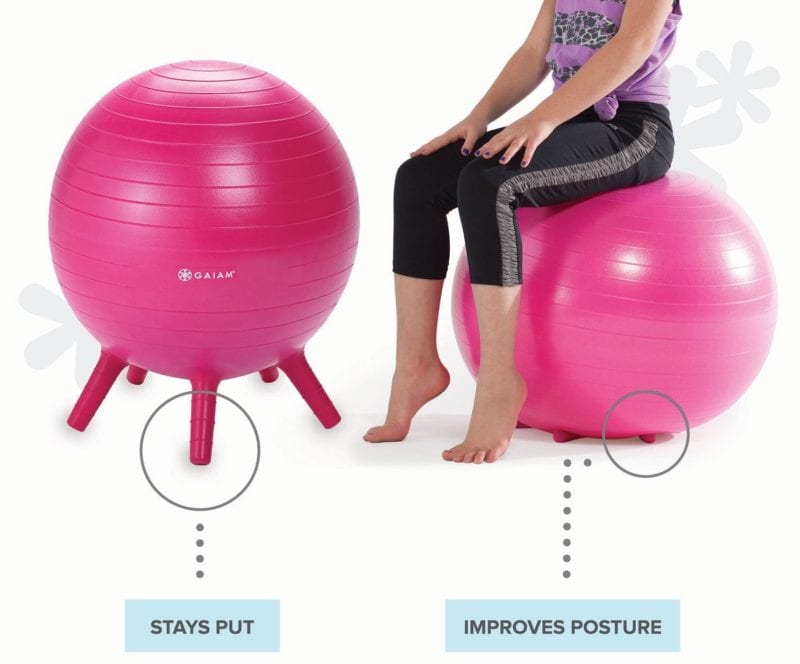 We want to tell you about one more balance ball option because this one has legs to keep it from rocking. It's also a really affordable flexible-seating option, at around $20. It gets great ratings on Amazon, and it's definitely worth trying out if you want to start small. Learn more.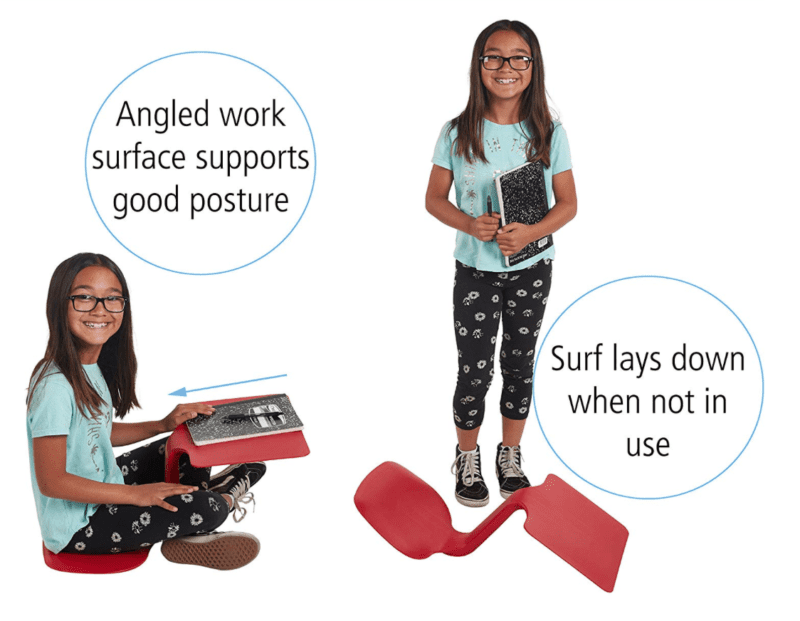 Here's another affordable option to get your students out of their traditional desks and on the floor to work, write, read, and more. There are more than 10 colors to choose from on Amazon, and all start around $25 each. They also have 10-packs available in certain colors.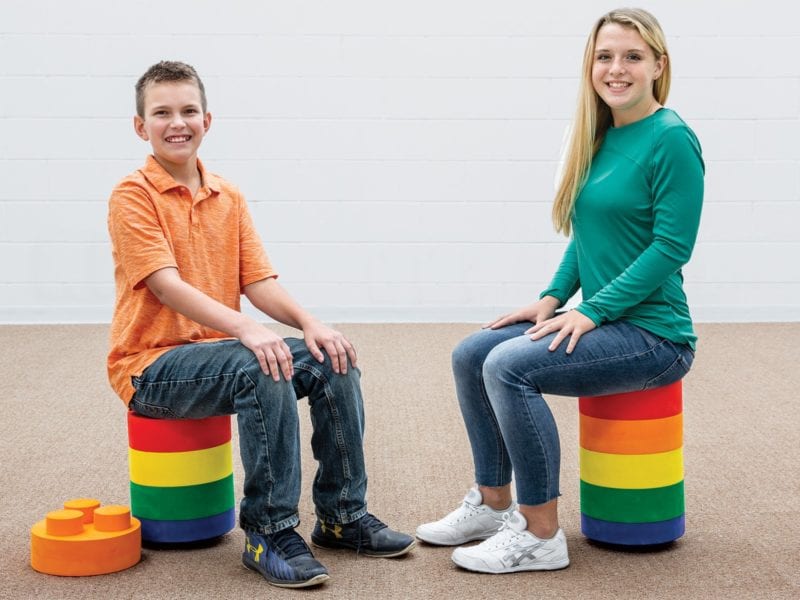 They are colorful, stackable, and made of foam. These are fairly new to the market, and we love how you can make them taller or shorter with the different pieces. These would be perfect for a group table or a reading area. They start at about $100.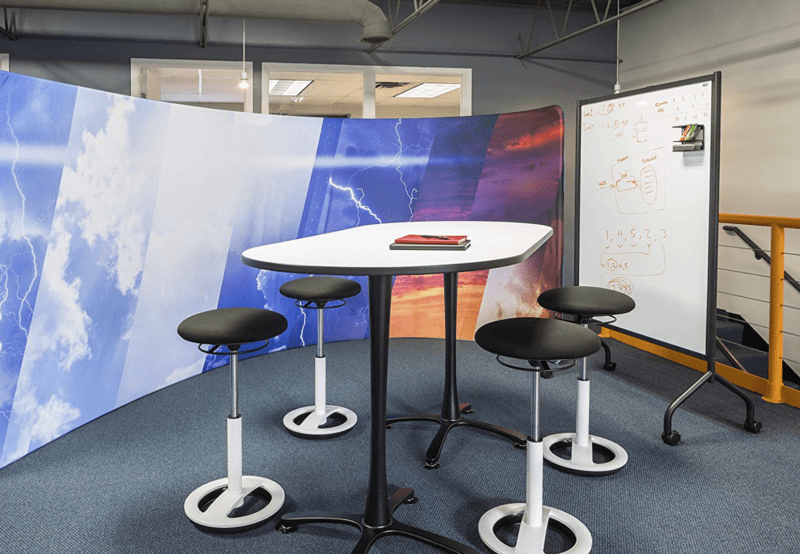 If you're looking for stools for older students, especially to use at high tables or standing desks, then try the Twixt Active Seating stools from Safco. They come in several colors and are easy to move around your room. They start at about $120. Learn more about them here.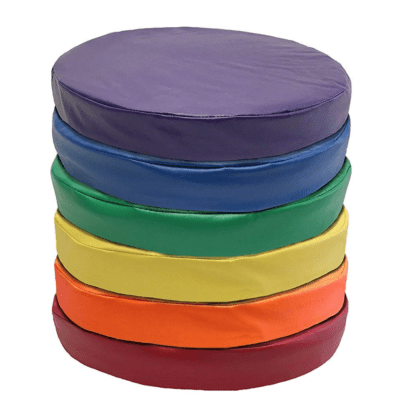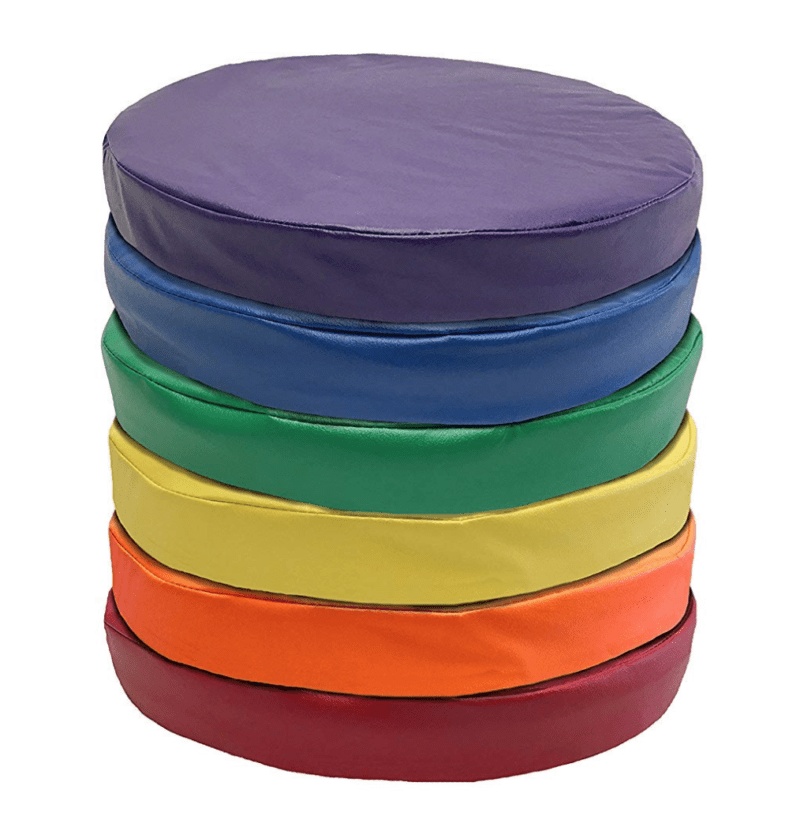 For floor activities, these are a great option for your young learners. They come in packs of four and six. The six-pack starts at around $70. These are perfect for reading, for individual activities, and even for some of the floor desks out on the market.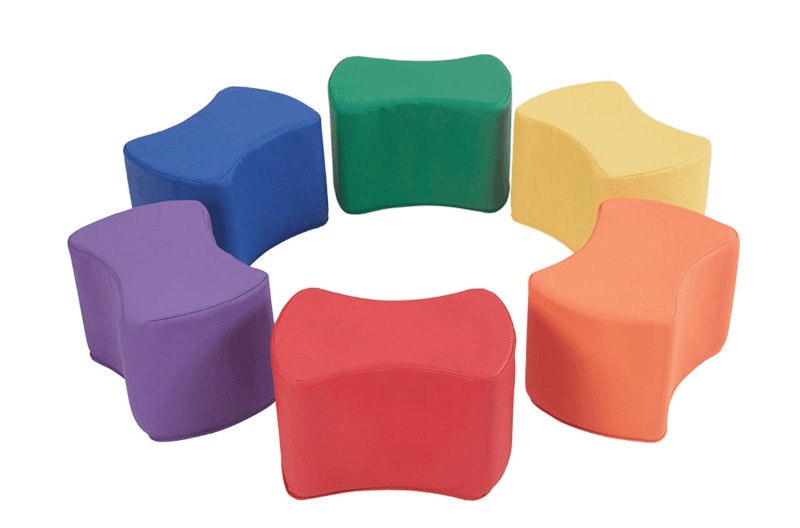 You'll get six seats in this flexible-seating pack. All are lightweight, so they're easy to move around or rearrange. And the leather-like covering that makes them easy to clean. This set is best for younger kids. You can choose from three different color schemes, including this rainbow one. They start around $130. Get them here.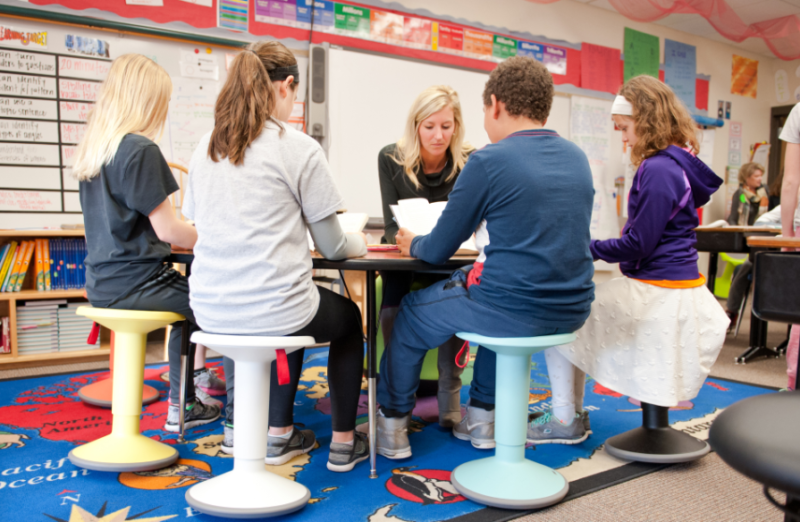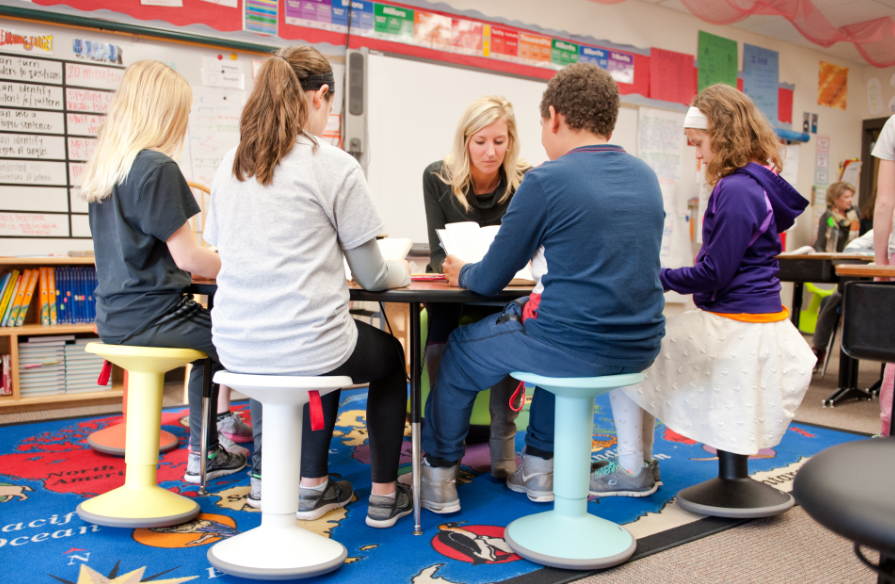 Just pull the strap to change the height of this stool. Its wobbly base lets kids twist and rock, too. It's at a higher price point than other stools, starting at $199. But it's durable, and the adjustable feature is such a great benefit. Learn more about them here.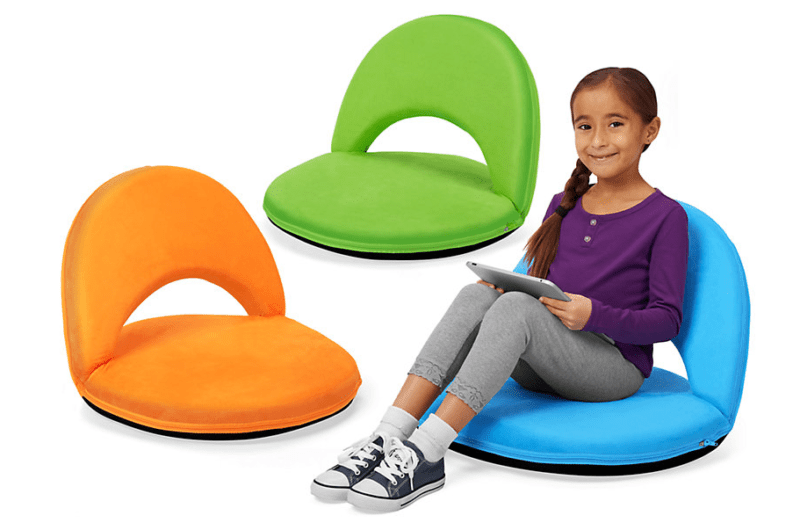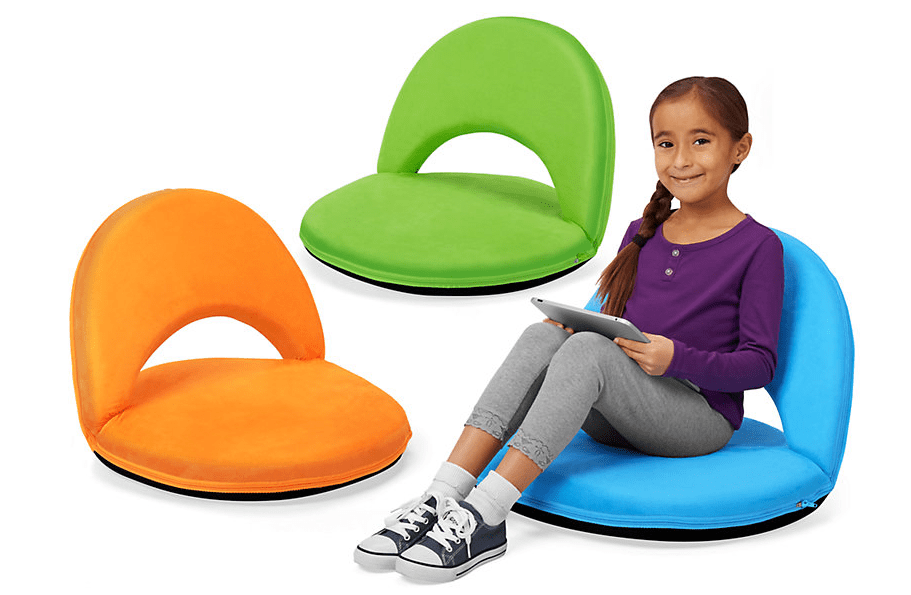 Sit comfortably on the floor anytime, anywhere with this adjustable cushioned seat that's ideal for ages eight and up. At the end of the day, lay them flat and stack them up. Fortunately, the fabric cover is removable and machine washable. They start around $50. Learn more about them here.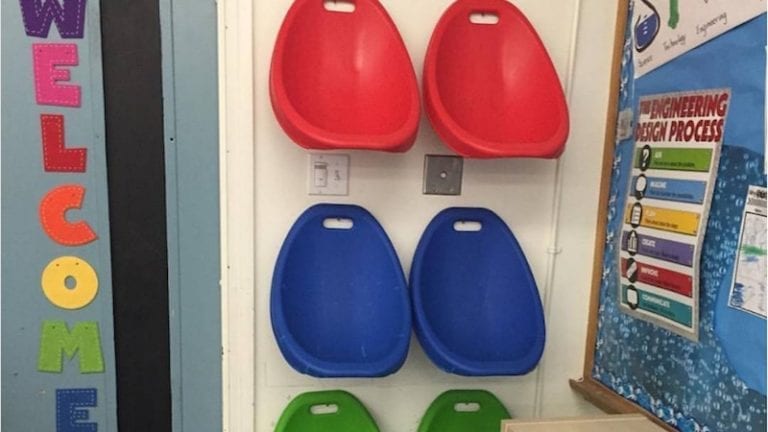 Teachers love scoop rockers! Set these on the floor, and kids are ready to rock and recline as they work independently or in a group. You can get a pack of six for about $40, making this one of the most affordable flexible-seating options. Take a look on Amazon.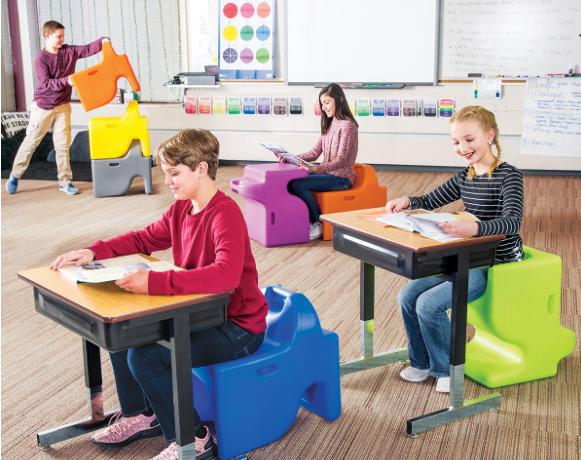 This versatile stool can provide a gentle rocking motion, it can be a static stool, or it can become a workspace. Recessed handles with nobs makes them easy to carry and give hands something to fiddle with. Recommended for ages 6–9 and starts around $129.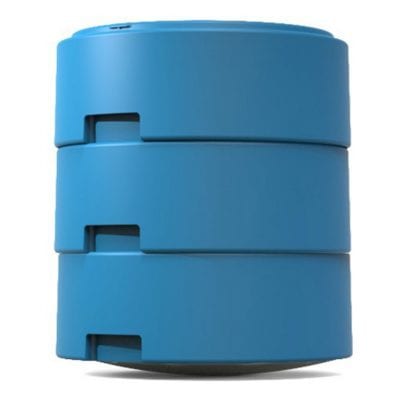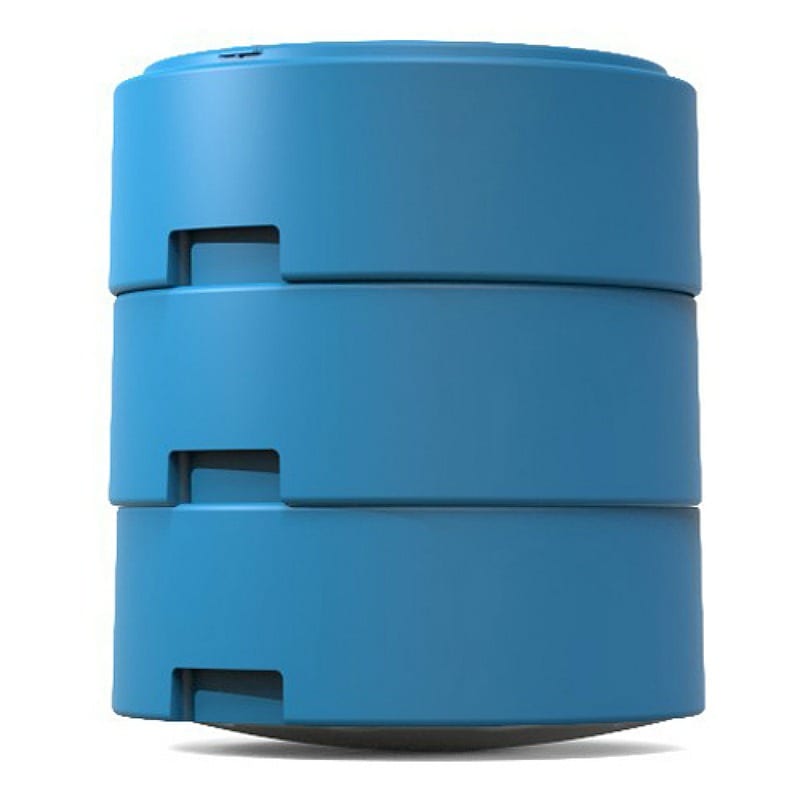 It's three stools in one with this rocking, twisting seat that can be stacked tall or broken apart into smaller stools. Want a static bottom instead of one that rocks? Just flip it over. Each set of three stools only comes with one curved base (movement disc), so be sure to order more if needed. A set of three starts around $180. Learn more here.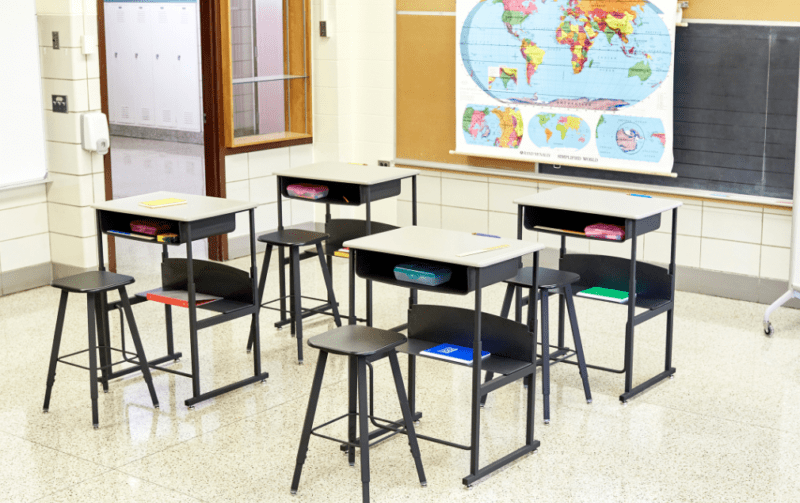 Give kids a break from sitting by giving them a stand-up desk with built-in storage. This one comes with a swinging footrest bar that lets students redirect excess energy and engage in continuous motion. These desks usually start around $225. You can learn more about them here. Or check out the WeAreTeachers article about teachers who tried these desks for themselves .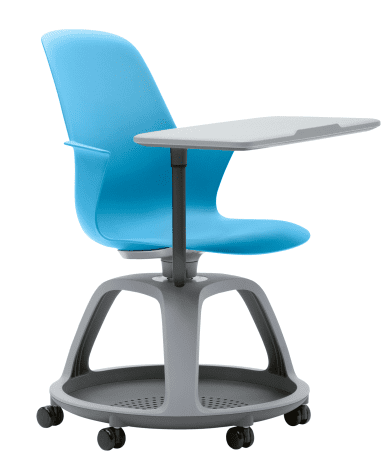 It's a chair and desk in one that can scoot around the room as needed. The armrests are the perfect place to hang backpacks, the storage tray below holds everything else, and the work surface is designed for right- or left-handed students. These cool desks start around $450. Check them out here.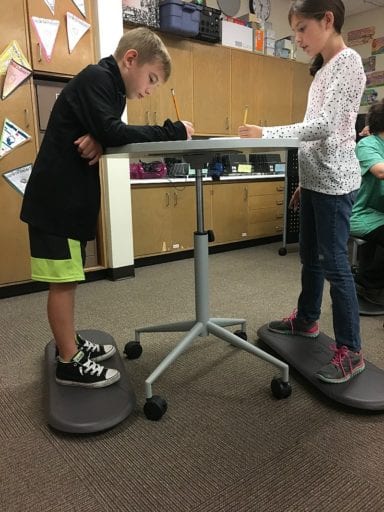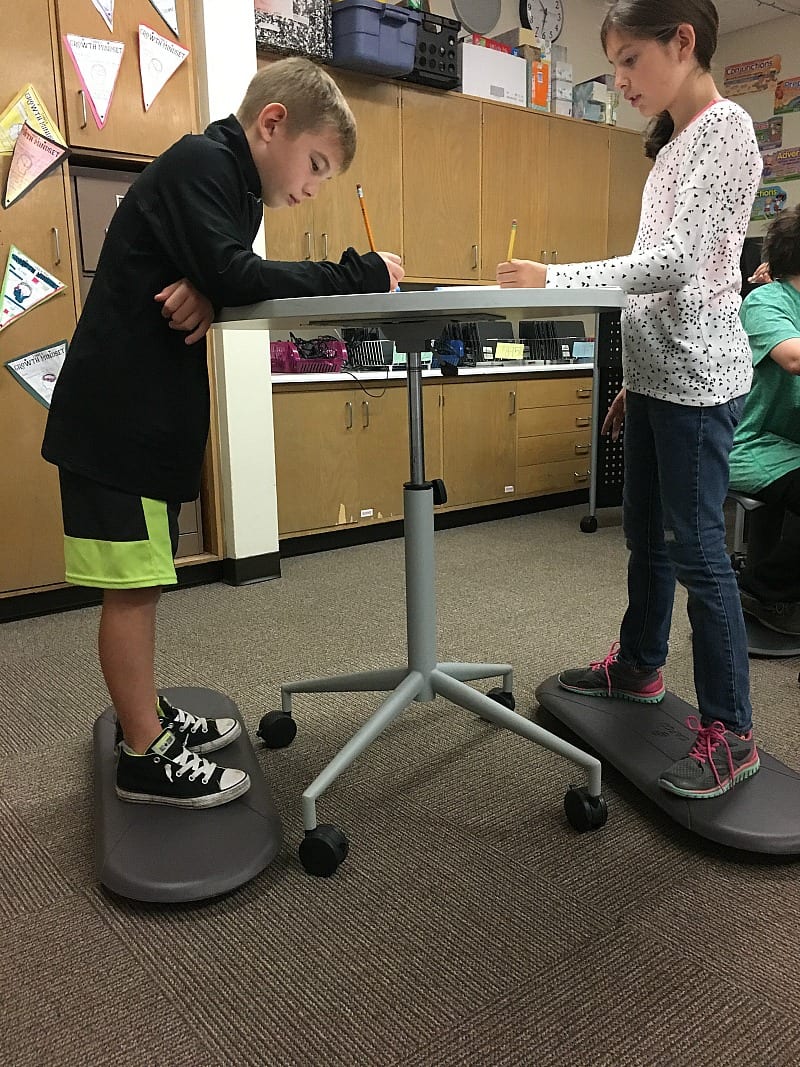 It's the perfect partner for standing desks or counter-height work stations. The curved base allows for side-to-side and forward-back motions, while providing plenty of stability. It's lightweight and comes with handles, so moving it from place to place is a cinch. They start around $125, and you can learn more about them here.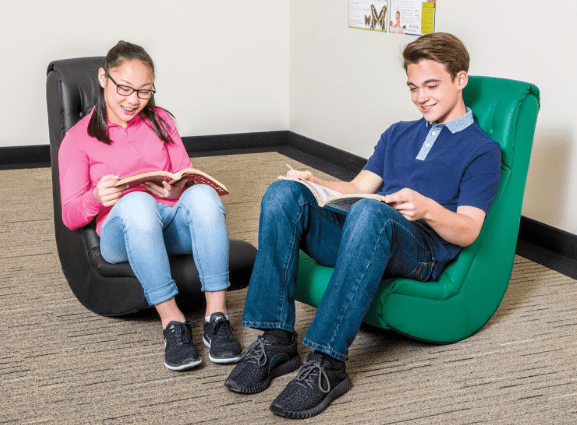 These are going to be popular in your classroom. You might even use them as a reward by having students earn the right to use them or for special occasions. These start at $135, and you can choose from red, blue, or green. Learn more about them from Moving Minds. 
We'd like to know—what are your favorite flexible-seating options for the classroom? Come share in our WeAreTeachers HELPLINE group on Facebook. 
Plus, why some teachers are ditching their desks in favor of aprons.