Rather that focusing on general travel, or international or domestic locations, why not choose a particular country? We love this Spanish teacher's homage to Mexico! 
> SOURCE: https://cassiestephens.blogspot.com[/caption]
Art teacher Cassie Stephens adopts a different destination classroom theme each year. For her ancient Egypt theme, she sponge-stamped dollar store straw mats and painted her windows. During the year she incorporated ancient Egyptian techniques and history into her students' art lessons.
13. Jazz up a neutral palette with colorful flags. 
If in years past you stuck to a neutral theme, such as black and white or beige and brown, just add colorful international or U.S. state flags for some pops of color. 
14. Study world flags and then invite students to design their own flags. 
You can also offer a lesson on the flags of different countries by inviting students to research flag designs. After they learn about what the colors and symbols represent, invite them to create their own flags that symbolize their own lives and origins. Then all you have to do is display the students' work. Don't you love it when assignments become classroom art?
15. Add an international skyline display to a frame for a "window" into another land. 
A large picture frame or unused window can reveal a skyline to another land. Crafty teacher Gennai Henning of Bungalow 327 asked her art teacher colleague to draw the Paris skyline so her students would feel like they were really there. Wow! You could also create a group project with your students to recreate or create a skyline, or you could hang a panoramic photograph poster. 
16. Use a map to showcase the settings of books your students will read in the coming year.
This school library decoration links the books on display to their international settings. A map, yarn, and color copies of book covers come together to provide beautiful reading inspiration. Another piece of inspiring reading material is the free EF Tours Journal. Every issue includes inspiration for your classroom, interviews, and unique perspectives on travel. The journal is a celebration of globally minded educators. 
If it's time for you to order a new classroom rug, search for a world map design. You can also pick up a world map welcome map, so that when students cross your classroom threshold they subtly enter a new world of learning.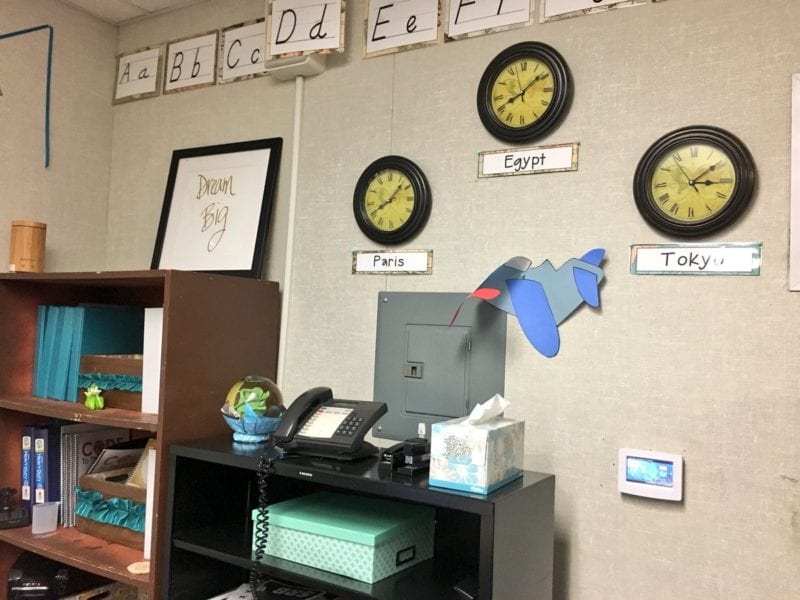 Make your classroom feel like a cosmopolitan hotel and teach your students about time zones with a display of multiple clocks. Set each clock to a different local time in the world or within your country and label the time zones.